Do you know what Shieldme is?
Numerous adverts and pop-ups appearing within your browser might be the consequences of an adware application known as Shieldme running on your PC. Quite a few users are fooled into installing this utterly useless application due to the misleading marketing tactics employed by the vendors of Shieldme. The slogans on the website state that Shieldme will help you protect your browser from unwanted content. It might sound tempting to have an app like this, unfortunately, Shieldme does nothing like that. In fact, it could do the exact opposite as it was discovered that this adware might expose your system to suspicious web content. Do not hesitate and remove this intrusive program as soon as possible as it is your best bet if you want to operate a secure and clean PC.
Shieldme is closely related to adware programs such as FoxyLyrics ads and Remarkit; thus, it is not surprising that all of the mentioned applications function in a very similar way. First of all, once this intrusive adware program is up and running you will notice tons of adverts and pop-ups within your browser. The ads and pop-ups will make using the Internet to its fullest virtually impossible as you will constantly have to fight your way through them. Complete removal of Shieldme is the only way to stop this annoying activity promoted by this intrusive adware program.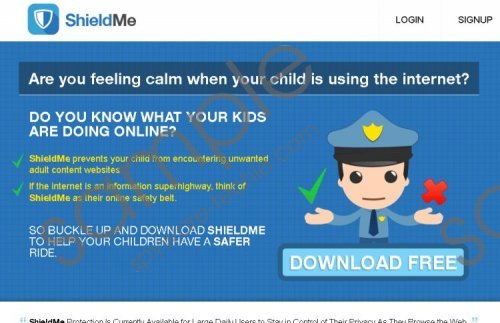 Shieldme screenshot
Scroll down for full removal instructions
Unfortunately, annoyance caused by Shieldme is not the only thing. The research conducted at Spyware-Techie.com internal labs has revealed that Shieldme might expose your PC to other Internet-based infections. Often adware programs are capable of updating themselves silently, this imposes a risk of getting your PC infected with some unknown malware, as the update download could also trigger a download of some other unknown setup file. This is not extremely common but it always remains a possibility as long as Shieldme is present on your computer. Do not take any chances as consequences could be devastating. Remove Shieldme in order to restore the virtual security on your PC.
The removal process of Shieldme should be carried out with caution as just one mistake could mean that the infection was not removed entirely. It is very important to remove every bit of the infection if you wish to have a normally functioning system. Sometimes leftovers could make your system run significantly slower. Malware experts at Spyware-Techie.com recommend analyzing your PC for potential leftovers in order to completely remove Shieldme.
Remove Shieldme from your PC
How to delete Shieldme from Windows Vista and Windows 7
Tap the Windows key on your keyboard.
Select Control Panel and click Uninstall a program.
Remove Shieldme.
How to delete Shieldme from Windows XP
Click the Start button.
Select Control Panel.
Click Add or Remove Programs.
Double-click Shieldme to remove it.
How to delete Shieldme from Windows 8
Move the mouse pointer to the lower-left corner of the screen.
Right-click and Select Control Panel.
Click Uninstall a program.
Select Shieldme and click Uninstall.
In-non techie terms:
If you do not want to perform manual removal or are simply uncomfortable of executing it we provide an alternative automatic removal method. Follow the instructions provided below and get rid of Shieldme in not time.