Do you know what SerfSearch.com is?
SerfSearch.com is a search engine that is considered a browser hijacker. It is an extremely intrusive computer infection that changes the basic Internet Explorer settings and, as a result, you cannot perform some of the main operations. It is a must to remove SerfSearch.com from your computer right now because this browser hijacker can eventually expose you to malicious computer security threats that can seriously damage your system. It might take some time to delete SerfSearch.com, but we provide extensive removal instructions below. If that is not enough, you can always invest in a reliable antispyware application.
According to our research, SerfSearch.com program is just another version of Search Toolbar, although not all samples of this program install the offered toolbar. It depends on where you download SerfSearch.com from, and what comes with it. It is more than obvious that users never download SerfSearch.com directly; as such infections do not get distributed in such a way. It is very likely that you installed the hijacker together with some freeware application that came from a third-party website. In other words, you have initiated the installation yourself, even if you were not aware of the potential dangers behind freeware download.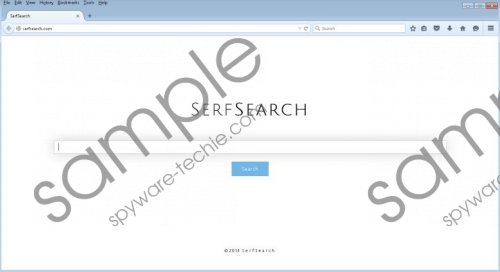 SerfSearch.com screenshot
Scroll down for full removal instructions
The browser hijacker's behavior differs according to your default web browser. For example, it changes the homepage and default search engine on Google Chrome, set itself as default search engine on Mozilla Firefox, and messes up the Internet Explorer browser restrictions, which results in the following message appearing on your screen:
This operation has been cancelled due to restrictions in effect on this computer. Please contact your system administrator.
This is definitely very disturbing, considering that an unfamiliar program can affect your system in such a way, so it is clear that you should not tolerate it any longer. The sooner you remove SerfSearch.com, the better.
Browser hijackers like SerfSearch.com try to make an impression that they can help you improve your web search experience, providing you with the best service there is. But that is obviously not true. SerfSearch.com looks like a genuine search engine, but the only thing it does is collect information on your web browsing habits via tracking cookies. This information is later on used for online marketing purposes, to expose you to commercial content that might be related to your most recent search keywords. This way, third parties make use of SerfSearch.com to promote their content.
Naturally, there is nothing illegal about that, but this practice might be also exploited by cyber criminals to distribute malware, and that is one of the main reasons you must get rid of SerfSearch.com as soon as possible. While you are at it, please make sure you scan your PC with a licensed antispyware tool because you are bound to have at least several other unwanted applications on-board. It goes without saying that you must remove them as well.
If you encounter any difficulties while trying to get rid of SerfSearch.com, please do not hesitate to contact us by leaving a comment below. And do not forget to acquire a legitimate computer security program that would protect your PC from similar infections.
Remove SerfSearch.com From Your Computer
Windows 8 & Windows 8.1
Move the mouse cursor to the bottom right of your screen.
Click Settings on the Charm bar and go to Control Panel.
Open Uninstall a program and remove Search Toolbar.
Windows Vista & Windows 7
Open the Start menu and click Control Panel.
Select Uninstall a program and remove Search Toolbar.
Windows XP
Click the Start menu button and navigate to Control Panel.
Go to Add or remove programs and uninstall Search Toolbar.
Reset Browser Settings to Default
Internet Explorer
Press Alt+T and go to Internet options.
Open the Advanced tab and click Reset.
Mark Delete personal settings and press Reset.
Click Close.
Google Chrome
Press Alt+F and go to Settings.
Scroll down the bottom and click Show advanced settings.
Scroll down again and click Reset Settings.
Press Reset.
Mozilla Firefox
Press Alt+H and click Troubleshooting information.
Click Refresh Firefox at the top right of the new tab.
Click Refresh Firefox again and press Finish.
Fix Internet Explorer Restrictions
Open the Start menu (and click Run for Win XP) and type regedit. Click OK.
Go to HKEY_LOCAL_MACHINE\SOFTWARE\Policies\Microsoft\Internet Explorer\Restrictions.
Delete the NoBrowserOptions value.
Go to HKEY_CURRENT_USER\SOFTWARE\Policies\Microsoft\Internet Explorer\Restrictions.
Delete the NoBrowserOptions value.
For 64 bit Windows: go to HKEY_LOCAL_MACHINE\SOFTWARE\Wow6432Node\Policies\Microsoft\Internet Explorer\Restrictions.
Delete the NoBrowserOptions value.
Restart your computer.
In non-techie terms:
SerfSearch.com is a malicious computer infection that modifies your browser settings without your permission. It trespasses your privacy and exposes you to a number of potential computer security threats. If you do not remove SerfSearch.com right now, you will have to deal with far more dangerous infections in the future. Thus, do everything in your power to get rid of this browser hijacker.