Do you know what Serenefind.com is?
Serenefind.com is a search engine that may also have a browser hijacker's qualities. Which means, it can appear on your system out of nowhere, pretending to be a genuine search provider. You should know better than to trust the likes of Serenefind.com because the longer this intruder to remains on your system, the more damage its affiliated parties could cause you. From this statement, you can probably tell that the search engine itself is not your worst nightmare, but it might as well begin with it, so your best option right now is to remove this program from your PC for good.
When this search engine enters your computers and settles on your browser, it connects to the Internet without your permission and displays commercial advertisements. These advertisements will always be related to your most recent web search queries. If you wonder how come this is happening, the answer is that Serenefind.com makes use of tracking cookies to collect information on your web browsing habits. When it has your online profile ready, it targets specific advertisements at you that should cater to your likes and preferences. Were you looking for a specific floss just a few hours ago? Well, now you have multiple floss-related ads on your screen whichever website you open, and most of those ads are delivered via Serenefind.com.
Is it safe to click those ads? Not really. For the most part, you should be redirected to commercial websites that may or may not distribute the goods and produce you are looking for. The problem is that the search engine cannot guarantee that you will land on a safe website. It is simply not interested in that, nor does it cover the third-party content in its privacy policy. Thus, the moment you click an outgoing link, you are entirely on your own, and if you happen to open a website that is part of some malware scam, you have no one else, but yourself to blame for it.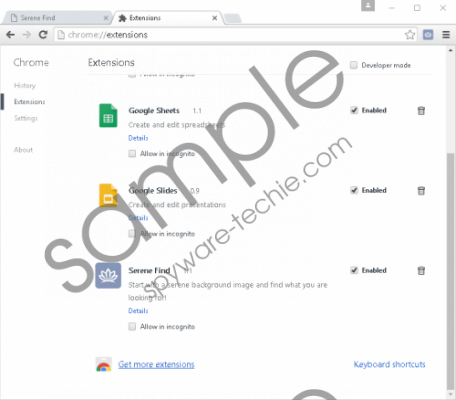 Serenefind.com screenshot
Scroll down for full removal instructions
But wait, is it just Serenefind.com you should worry about? Unfortunately, this search engine might be just one of the many intruders that are currently installed on your PC. During our research, we have found that it is usually bundled with freeware, and it mostly affects users in the United States. The program itself works only on the Chrome browser, but it does not mean it cannot be installed on your PC even if you use some other browser. After all, the search engine comes bundled with additional applications, and so it means you install several programs at the same time.
Another important thing to note is that Serenefind.com is not "silent." In other words, it does not enter your PC behind your back, and it needs your permission to be installed on the system. Now, you might say that you do not remember installing this application, but you might have missed it when you installed some freeware application. Such programs often travel in packs, and so the third-party installers that distribute them suggest installing them all at once. If you go through freeware installation automatically, the chances are that you did not even notice that one step which offered you to avoid setting Serenefind.com as your default homepage.
Once again, we are lucky that this search engine is not a severe security threat. It means that you can remove it yourself. In fact, all you have to do is delete it via the Chrome extensions menu. If you find that it is not enough to restore your browser settings, consider resetting your browser to default. Both types of instructions will be given below this article.
Again, when you are done with Serenefind.com, you should take care of other unwanted programs, too. If you think that you cannot find all of you on your own, scan your PC with the SpyHunter free scanner. You will find the download link for the scanner right below this description. During the scan, the application will detect all the potential threats you need to delete from your PC ASAP. Do what is best for you and your system's security by terminating unwanted apps and safeguarding your computer against other unwanted intruders.
How to Remove Serenefind.com
Open the Chrome browser.
Press Alt+F and click More tools.
Select Extensions and delete Serene Find from the list.
Restart your browser.
How to Reset Browser Settings
Press Alt+F and click Settings on the drop-down menu.
Scroll down and click Show advanced settings.
Go down to the bottom and press the Reset settings button.
Click Reset.
In non-techie terms:
Serenefind.com must have entered your computer accidentally when you downloaded and installed some random freeware application. Now it is time to take the matter of your computer's security into your own hands and deal with this potential issue. While it is not complicated to remove Serenefind.com from the system, you should also acquire a legitimate security application that would ensure no other unwanted programs enter your PC again.