Do you know what SelectionToolkit is?
SelectionToolkit is an application that should allow users to read and do research on the web with ease. If you visit the official website of this application, you will notice immediately that this program promises to enable you to highlight a particular piece of text and then black out the rest. In addition, it says that you will be able to magnify the letters of the text to be able to read it more conveniently. Finally, you could share particular texts with friends via the social-networking websites. Even though this program claims that you will "gain control over the way you read, share and search", the truth is that you might not be able to use your computer in a usual way after you install this application. Our specialists do not trust this program and do not think that you should believe its promises because it is a typical advertising-supported application. In other words, this program has been published to show commercial ads and it is not going to stop doing that.
Advertising-supported applications are not very dangerous themselves. Of course, they might still cause you some problems. First of all, they might ruin your browsing session; you will simply not be able to perform your daily activities because of the heavy presence of ads. Secondly, research has shown that they might redirect to unreliable web pages. Nobody can indicate which of these ads are reliable and which are not, so it is better not to click on any of them. If you listen to our advice, you will definitely reduce the possibility of encountering malicious software. Actually, it is better to stop ads from appearing than ignore them. You can do that by erasing SelectionToolkit. If you delete this program, it will not be able to perform other activities too. According to our researchers, it will not record details about you anymore. As you have probably understood, it is not advisable to postpone the removal process if your privacy is a priority for you.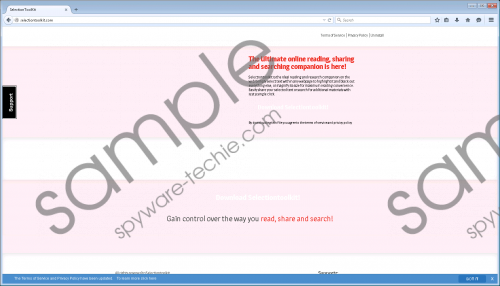 SelectionToolkit screenshot
Scroll down for full removal instructions
Like other adware programs from the Lyrics family (SelectionToolkit belongs to it), this adware cannot be downloaded from its official website. Therefore, we believe that it comes in software bundles. You can download such a bundle from a third-party web page or torrent mainly. Unfortunately, there might be really untrustworthy programs in such bundles. Thus, if you have detected SelectionToolkit, you have to check what other programs have been installed on your computer. You can try to find them yourself, but we highly recommend that you use a reliable scanner for this matter. An automatic tool will detect suspicious software in the blink of an eye. The only thing that you will have to do is to scan the system once.
You can remove SelectionToolkit via Control Panel. If you feel that you need help, you can use our manual removal instructions (see below). In case the removal process still seems too complicated, you can delete this adware automatically. In other words, you should scan your system with SpyHunter.
Delete SelectionToolkit
Windows XP
Click the Start button.
Select Control Panel.
Click Add or Remove Programs and select the application.
Click Remove.
Windows 7 and Vista
Open the menu and select Control Panel.
Click Uninstall a program.
Right-click on SelectionToolkit and then click Uninstall.
Windows 8/Windows 8.1/Windows 10
Launch RUN (tap the Windows key + R).
Enter Control Panel in the box and click OK.
Click Uninstall a program.
Select the program that you wish to erase.
Click Uninstall.
In non-techie terms:
There are hundreds of similar advertising-supported applications on the web; all of them can enter your system rather easily. If you do not want this to happen, you have to install a security tool on the system and stop downloading programs from third-party web pages. In addition, it is advisable not to surf untrustworthy web pages because you might download malware by clicking on the wrong link once.