Do you know what Seekforsearch.com is?
This browser hijacker is one of the many security threats developed by ClientConnect Ltd. We have discussed a number of other infections from the same family. In a way, it is a relief to deal with a program we know so well about. On the other hand, it does not mean we have to lower our guard because this browser hijacker can easily expose us to something nasty. Therefore, your job right now is to remove Seekforsearch.com from your computer, consequently ensuring that your system remains protected against similar threats. Your computer's security should be one of your top priorities.
While you get rid of this browser hijacker, you should scan your computer with the SpyHunter free scanner to search for other unwanted applications. You cannot think that this infection is the only unwanted app on-board, now can you? Browser hijackers often travel with an entire list of other undesirable applications, and users have to be careful not to fall victim to multiple infections at once. Of course, when you download a program from its direct source, that is a different story. However, when it comes to this browser hijacker, we are more than convince it is not the case here.
This browser hijacker will spread around via pop-up ads. These pop-up ads will be displayed on your desktop by a number of unwanted applications. During our research, we have found that TermTrident, InteliTerm, and SwiftSearch are just few of the applications that are involved in this hijacker distribution business. Needless to say, these are the programs you need to remove from your system as well, the moment you get rid of the browser hijacker. However, if you are not sure which programs installed on your computer are dangerous and which are safe, you will do yourself a favor if you scan your PC right now.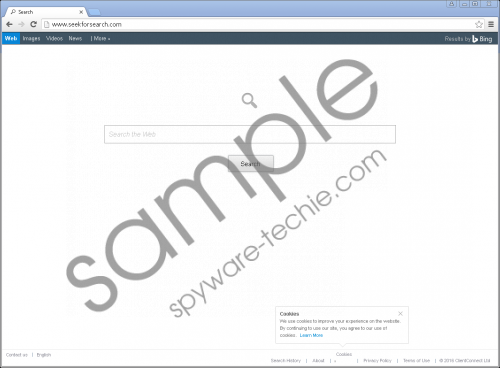 Seekforsearch.com screenshot
Scroll down for full removal instructions
If you wonder whether Seekforsearch.com can cause a lot of security-related issues, we might as well give you a short review of what happens when this browser hijacker enters a target system. For starters, the program modifies the default homepage and search engine on the main browser. It affects Firefox, Chrome, and Internet Explorer, so it is possible to assume that almost any user will feel the repercussions of the infection once the program arrives at the target computer.
Aside from modifying your browser settings without your permission, this browser hijacker can also monitor your online activities. By "monitor," we mean tracking your web traffic via tracking cookies. The infection will know the websites you visit, how often you visit them, and what you usually search for online. We are lucky that Seekforsearch.com and other browser hijackers are not sophisticated enough to collect your banking information, but it does not mean they cannot expose you to something that might!
In other words, rather than being a dangerous threat by itself, a browser hijacker can be exploited by cyber criminals to promote dangerous content and distribute malware. It can be easily achieved because any browser hijacker does not care what kind of content it promotes. So the program might be used as a vehicle by cyber criminals to redirect you to malicious websites or make you click specific links to download unwanted programs.
These are just few of the negative aspects of keeping a browser hijacker on your computer, and there are definitely many more. So before this program takes your system hostage, remove Seekforsearch.com once and for all.
You can terminate this hijacker by following the instructions you will find below. On the other hand, if you do not feel comfortable about working with Registry Editor by yourself, you can leave the removal to a professional antispyware tool. What's more, by choosing to delete unwanted programs automatically, you will no longer need to worry about the additional programs that could have entered your PC with Seekforsearch.com.
After a full system scan, a computer security tool of your choice will wipe out all the unwanted programs and files, successfully protecting your PC against similar threats. However, you need to remember to stay away from unfamiliar file-sharing websites that could be part of freeware and adware distribution network. Your web browsing habits are also important if you want to stay out of trouble.
How to Delete Seekforsearch.com
Firefox
Press Win+R and type %AppData%.
Click OK and navigate to Roaming\Mozilla\Firefox\Profiles\[Unique Mozilla user ID].
Find and open the prefs.js file.
Remove this string: user_pref("browser.startup.homepage", "http://seekforsearch.com");
Save changes and close the file.
Internet Explorer
Press Win+R and type regedit into the Open box. Click OK.
Navigate to HKEY_CURRENT_USER\Software\Microsoft\Internet Explorer\Main.
On the right, right-click the Start Page value.
Choose Modify and change your startup page address.
Click OK.
Chrome
Press Win+R and the Run prompt will open.
Type %AppData% and click OK.
Navigate to Local\Google\Chrome\User Data\Default.
Delete the Preferences, Secure Preferences, and Web Data files.
In non-techie terms:
There is nothing nice about your homepage changing all of a sudden. If you homepage suddenly changes to Seekforsearch.com, then you have a dangerous programs on your computer. You need to remove this program and restore your browser's settings. If you do not do that, then you will soon find yourself on a dangerous website that will infect you with malware. Once that happens, you could lose your personal information and go through an ultimate system crash. Do not let that happen.