Do you know what Searchwho.com is?
Searchwho.com is a search engine that our researchers have classified as a browser hijacker since it is distributed in a manner that does not require permission to install it. Thus, removing is of utmost importance, because failure to do so may result in undesirable consequences. Make no mistake — Searchwho.com is an unsafe website because its only purpose is to generate advertising revenue. Therefore, its owners are likely to do business with shady entities and thus the content this search engine promotes may prove to be a threat to your computer's security. We have gathered as much information about this infection as possible which is presented in simple terms. Furthermore, we have composed a universal removal guide since this hijacker may come in many different forms, but its goal is always the same — hijack the browser's homepage.
This hijacker was created by an unknown entity which is hardly surprising. For obvious reasons malware developer never include their real credentials or contact information in their software and website. In the case of Searchwho.com, there is not even a fake company name or mailing address. However, this has little importance, since it is obvious that it would be very difficult to litigate with this entity in the event of identity theft which came as a result of using this malicious search engine.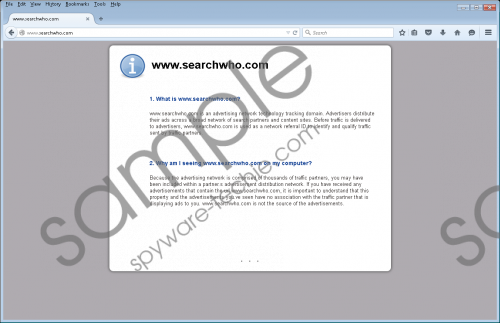 Searchwho.com screenshot
Scroll down for full removal instructions
However, our malware researchers believe this infection should be bundled with freeware bundles. Freeware bundles are installers that contain not one but several applications. This is all well and good when you can choose which programs to install. However, Searchwho.com is known to be installed without the user's consent. So you will not have the option to remove it from the installation process. Furthermore, this program is not known to come with a browser extension or program that would manage the hijacking process and prevent you from changing the homepage. It is most likely that the installer itself modifies the browser's settings and hijacks the homepage. Take note that this hijacker is compatible with Internet Explorer, Chrome, and Firefox. Given that it is compatible with the top three most used browsers it is crucial to know what it does and what dangers of having it on your browser are.
The information provided on this hijacker states that "www.searchwho.com is an advertising network technology tracking domain. Advertisers distribute their ads across a broad network of search partners and content sites." Our researchers argue that this hijacker can promote unreliable content that may come in the form of annoying adware. However, they did not rule out the possibility of it being associated with cyber criminals who might use it to distribute various Trojans (for example JS.Crypto Ransomware or Radamant Ransomware.)
Also, this browser hijacker has the ability to collect non-personally identifiable information about you and use it to further advance its agenda i.e. display tailored advertisements. Thus, it can be said that this hijacker should collect information, such as your approximate location, Internet Protocol address, ISP information, computer specifications, and so on. Note that the ads can be injected into Searchwho.com's search results and even unrelated websites, so you just cannot know which ads are legitimate.
As you can see, this search engine/browser hijacker is bound to cause you trouble that can lead to serious security issues. There is no telling what kind of content this hijacker will promote next, and it would be for the best if you did not have to find out. So feel free to make use of our universal removal instructions that should help you delete Searchwho.com for good. But if they do not help, then use our recommended anti-malware program that will make short work of this infection.
How to get rid of this browser hijacker from your computer
Windows XP
Open the Start menu and click Control Panel.
Open Add or Remove Programs.
Locate application and click the Remove button.
Windows 7 and Vista
Click the Start button.
Open Control Panel.
Click Uninstall a program.
Locate the program and click the Uninstall button.
Windows 8 and 8.1
Open the Charm bar.
Click Search, then type Uninstall a Program and open it.
Locate the malware and right-click on it.
Click Uninstall.
Windows 10
Right-click on the Start menu.
Click Control Panel and go to Uninstall a program.
Locate the application and double-click on it.
Uninstall.
Reset your browser's settings to default
Microsoft Internet Explorer
Press the Alt+T keys and select Internet Options.
Open the Advanced tab and click Reset.
Tick the checkbox.
Click Reset and click Close.
Mozilla Firefox
Press the Alt+H keys and select Troubleshooting Information.
Click Refresh Firefox.
In the dialog box, click Refresh Firefox again.
Click Finish.
Google Chrome
Press the Alt+F keys and choose Settings.
Select Show advanced settings.
Click Reset settings and then click Reset again.
In non-techie terms:
Searchwho.com is a search engine that has been classified as a browser hijacker due to the deceptive manner it is distributed. It comes in software bundles that secretly inject it into your computer, thus changing your browser's homepage. Using this hijacker to conduct your searches poses a risk to your computer's security and your privacy since it is known to promote malicious advertisements. Therefore, it is crucial that you remove it from your PC as soon as possible.