Do you know what Searchult search is?
Has your browser homepage and search provider been recently changed to Searchult search? If so, then you would probably want to remove it, because it might cause you a lot of trouble. Even though this search engine appears to be legitimate we are obliged to inform you that it has been linked to unreliable third parties, because Searchult search displays a fair amount of advertisements when you use it. This third-party content may infect you with undesirable malware. So, we recommend removing it by changing your homepage and search engine back to your previous ones.
Searchult search is undesirable, because it utilizes Yahoo search results with added third-party content. As mentioned, the reliability of the ads it provides is questionable as they are created by various third parties, which could be misleading or fake. Needless to say, your computer might get infected with all kinds of malware, ranging from adware and Trojans to rogue antimalware scanners. Since Searchult search has no credibility whatsoever, the most sensible solution would be to simply remove it.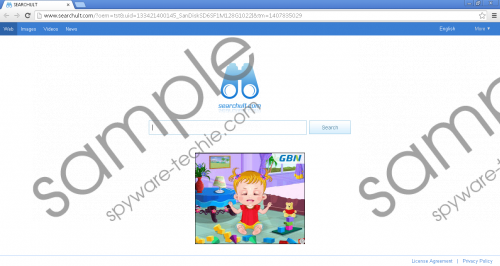 Searchult search screenshot
Scroll down for full removal instructions
Our specialists have determined that you would most likely face potentially dangerous ads by using Searchult search to search shopping websites such as Amazon.com, or Bestbuy.com. You might be showed advertisements marked with "Ads by Yahoo." Searchult search may also provide sponsored links to third-party websites not related to online shopping.
In addition, the Privacy policy of Searchult search states that it collects non-personally identifiable information about the user. It claims that it collects that information on a voluntary basis when you register on their website. However, any personal information that you may disclose while visiting their website is collected by Searchult.com and then used for marketing purposes. Moreover, Searchult search may use cookies that are said to provide convenient methods for it to personalize your browsing experience. Needless to say, those cookies might be used to collect the information you may not want to be collected. It is also important to note that you may receive spam email from Searchult search, but you may choose to opt out this offer. Nevertheless, we advocate users to remove Searchult search anyway as the emails may contain malicious content.
Lastly, our researchers have revealed that Searchult has been developed by Navigation network co., limited, ann infamous company based in Brazil. This company has also developed search engines similar to Searchult search such as PortalSepeti.com and Nettritue.com, and because they all share similar functionality traits, you should also delete them if you happen to encounter any of them.
All in all, Searchult search is an unreliable search engine that users ought to remove if they wish not to subject their computers to potentially hazardous malware. The content promoted by Searchult search is usually supplied by third parties and it may be used for illicit activities. Furthermore, you should remove Searchult search because it collects personal information and bombards you with email spam, which can also infect your computer if you open an attachment.
How to remove Searchult search
Internet Explorer
Press Alt+T and click Internet Options.
Open the Advanced tab and click Reset.
Select the Check box.
Click Reset and then click Close.
Done.
Mozilla Firefox
Press Alt+H and click Troubleshooting Information.
Click Reset Firefox.
In the dialog box, click Reset Firefox.
Click Finish.
Done.
Google Chrome
Press Alt+F and click Settings.
Click Show advanced settings.
Click Reset settings.
Click Reset.
Done.
In non-techie terms:
Searchult search is an unreliable search engine that generates potentially dangerous ads, because the content promoted by it is without exception developed by all kinds of third parties. Needless to say that these dangerous ads may infect your computer with malware that could seriously damage your computer. In addition to that, Searchult search collects information about the user in order to display tailored ads. Regardless whether you find this search engine useful, it is unreliable and deserves to be removed.