Do you know what SearchSwapper.com is?
If you have noticed that your browser settings have changed and a new search page greets you with a nice background image, it is possible that SearchSwapper.com has slithered onto your system. Our researchers have classified this browser plugin as a potentially unwanted program or in short, PUP, due to certain traits it showed during the test in our internal lab. This tool offers you an opportunity to choose from major search engines to do your web searches through as well as to have a customized background image. As a matter of fact, you can do all these functions simply using your browsers' settings; thus, this application is totally useless. But this is not the main reason why our researchers advise you to remove SearchSwapper.com. If you want to know more about the potential risks and how you can avoid such infections in the future, please read our full article.
Our research and user reports show that this PUP mainly travels the web in freeware bundles. You need to know that such a software package may contain a number of malware infections as well. The most likely components of a malicious bundle can be browser hijackers, adware applications, Trojans, and, of course, PUPs. There are mainly two ways for you to end up with such an undesirable package. One, your computer has been infected with adware and this infection displays corrupt third-party ads for you while you are browsing the web. Two, you are presented such unreliable advertisements (banners and pop-ups) through viewing suspicious file-sharing and gaming websites. You may think that you would never visit unsafe sites, but let us tell you this: You may easily end up on one if you do a web search on any free software or movie you want to download. If you check the first page of results, you will definitely find a number of unreliable and downright fake websites. If you are unfamiliar with these sites, you can click on their links in a belief that you will get what you want. However, you will only download a bundle packed with malware from such pages even if they may contain a legitimate free program on top. If you have no idea how this plugin emerged in your browsers, we suggest that you scan your system with a reliable malware scanner right after you delete SearchSwapper.com from your browsers.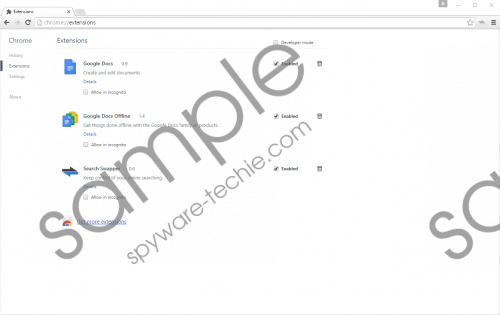 SearchSwapper.com screenshot
Scroll down for full removal instructions
We also need to mention that there are official channels, too, through which you can install this useless tool even if we do not think too many users use these. One is, of course, the promotional website, SearchSwapper.com. The other, the Chrome web store, chrome.google.com/webstore/detail/search-swapper/cjbcfallgciioplgkfabocdnnnibbfln. Before you ever install any tool directly, you should make sure what rights you give to your target browser extension or plugin. That is why we suggest that you read the pop-up window carefully before pressing the "Add extension" button.
Once this PUP infiltrates your system, it makes changes to your browser settings, namely, to your home page, new tab page, and default search provider settings. This way you could be exposed to potentially risky third-party content anytime you launch your browsers. Although this search tool offers a choice from the three most popular three search engines through a drop-down box, including Google, Yahoo, and Bing, you should not trust the results you will be shown. It is possible that this plugin gathers data about you and your browsing activities. This is needed if the creators and their third parties want to present to you customized advertisements. Unfortunately, cyber criminals can easily take advantage of this and mislead you with relevant-looking ads or links.
Even if you land on a reputable search page, you should remember that you are going there through SearchSwapper.com. This simply means that the search results you see could be manipulated by this questionable browser plugin to include promoted third-party ads and links. Obviously, the emphasis is not on the promotion part since this method is used by all search engines most probably. The main question is always reliability. You would not doubt either Google or Yahoo about their results and the reliability of the displayed ads and links. However, you should definitely doubt any content related to this tool to be on the safe side. In fact, you might land on malicious websites operated by crooks simply by clicking on corrupt ads or links. This may end with more infections on board or less money on your bank account; or worse. If you would like to protect your virtual world, your files, and your privacy as well, we recommend that you remove SearchSwapper.com right now.
If you have made up your mind about this worthless browser plugin, we are here to help you with the cure. There are actually a couple of ways for you to eliminate this threat source. You can use its own removal option from its menu that you can access by clicking on its icon at the top-right corner of your browser window. You can remove the extension from the Settings menu of your browsers and restore the search engine settings, too. Or, you can simply reset all your browsers to undo all changes with a few clicks. We have prepared a guide for you that helps you with the latter option. If you want to make sure that all infections are gone and your PC is protected, we advise you to use a powerful anti-malware program, such as SpyHunter.
SearchSwapper.com Removal from Browsers
Google Chrome
Press Alt+F and go to Settings.
Scroll down and click Show advanced settings.
Scroll down and click Reset settings.
Click Reset in the pop-up.
Mozilla Firefox
Press Alt+H and open Troubleshooting Information.
Press Refresh Firefox and press Refresh Firefox again.
Click Finish.
Internet Explorer
Press Alt+T and access Internet Options.
Choose the Advanced tab and click Reset.
Mark the Delete personal settings checkbox and press Reset.
Click Close.
In non-techie terms:
SearchSwapper.com is an unreliable browser plugin that has been categorized as a potentially unwanted program by our researchers. This search page is totally unnecessary as well as potentially harmful. This tool can show you advertisements and sponsored links on modified search results pages that can redirect you to malicious websites. Furthermore, this PUP can enter your PC with malware infections, such as adware apps, browser hijackers, and other PUPs; therefore, its presence is more than undesirable. We suggest that you remove SearchSwapper.com from your browsers and eliminate all other potential threats, too. If you do not want to go for manual removal, we recommend that you download and install a professional anti-malware program to protect your PC from all known infections.