Do you know what Searchpause.com is?
Searchpause.com has the logo that resembles the Google Search logo – mainly because of the colors and the font – and it represents Google Custom Search. It would seem that this search tool is somehow linked to Google, but, in reality, it is not. In fact, the creator of this tool is unknown, and that is quite unnerving. Our research team has discovered that the search tool does not disclose any information about itself, and that might mean that some things are kept in secret. Do you know how this search tool works? Do you know if it uses intrusive tracking cookies? Do you know if you can trust it? These and many other questions should be raised when the suspicious search tool is set as your homepage. Whether or not it is set without your permission, there are reasons to remove Searchpause.com, and you can learn all about that by reading this report.
According to our research, Searchpause.com is identical to searchgle.com, myinfosearch.biz, and other browser hijackers that, of course, we recommend removing due to the reasons discussed in this report. As mentioned previously, these hijackers do not reveal information about themselves, which makes it very difficult to understand fully how they work. Sure, you can check the cookies list to see which cookies are installed, and you understand that Searchpause.com displays search results by redirecting you to Google Custom Search, but there are so many things you do not know. For example, are the cookies installed malicious and are they capable of leaking personal information to unknown parties. Is the developer of the hijacker working with advertisers who might exploit the search platform to showcase unreliable product advertisements or links to malicious sites? There are many assumptions we could make because there is no official information to fall back onto and check these things. Obviously, if you cannot trust a program, there should be no hesitation about deleting it.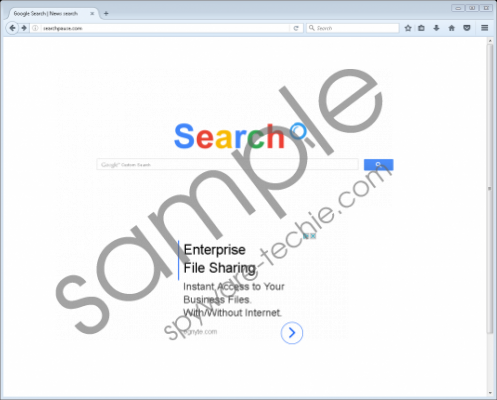 Searchpause.com screenshot
Scroll down for full removal instructions
The Google Custom Search engine is created by Google for third parties. Obviously, this company did not create the search tool to help out malware creators or unreliable advertisers, but that is exactly who might exploit it. And because the name "Google" has a good reputation, some users might think that Searchpause.com is completely reliable and harmless. As you now know, that might not be the case. In fact, you need to be very cautious about the software that might look harmless. Considering that the hijacker is most likely to be spread via software bundles, it is possible that you will encounter many other unfamiliar programs that look harmless. Whether or not they are truly harmless, you can learn by doing research or by employing a trusted malware scanner. Obviously, we recommend the latter option because it is quicker and more efficient. If you do not want to install a scanner just because you do not have any money, remember that there is at least one reliable malware scanner that is free of charge.
Our recommendation for you is to reset your browsers. By resetting the browsers, you will successfully delete Searchpause.com along with tracking cookies that must have been installed along with the hijacker. These cookies might be malicious, intrusive, and so erasing them is also important. Automatic removal is another option you have, and you should at least consider it. Sure, you will need to invest in a legitimate anti-malware tool, but don't you want to invest in your virtual security? If you employ anti-malware software, you will not only not need to worry about existing threats but also all other infections that might target your operating system in the future.
Remove Searchpause.com
Internet Explorer
Open the browser and tap Alt+T keys together to launch the Tools menu.
Select Internet options and then click the Advanced tab.
Click the Reset button and select Delete personal settings.
Click Reset for confirmation and then restart the browsers.
Google Chrome
Open the browser and tap Alt+F keys together to launch the Chrome menu.
Select Settings to access the chrome://settings/ menu and scroll to the bottom.
Click Show advanced settings, scroll down, and then click Reset settings.
Click Reset for confirmation and then restart the browsers.
Mozilla Firefox
Open the browser and tap Alt+H keys together to launch the Help menu.
Choose Troubleshooting Information to access the about:support menu.
Click the Refresh Firefox button on the right.
Click Refresh Firefox for confirmation and then restart the browser.
In non-techie terms:
Searchpause.com is a browser hijacker that you need to delete from your operating system. This search tool, at first sight, looks normal, but there are signs indicating that it cannot be trusted. For one, the hijacker does not reveal any information about itself. Second, it redirects to a third-party engine that can be manipulated to showcase potentially unreliable sponsored links. Needless to say, we strongly advise eliminating the hijacker from your browsers, and you can do so using the manual removal guide above. You can also employ automated malware detection and removal software, and this option is ideal for those whose operating systems are also infected by other threats.