Do you know what Searchcyborg.com is?
You may be given the impression that Searchcyborg.com is an innovative search engine set to improve your online browsing experience. In reality, however, it is a mere browser hijacker that you ought to remove. We want to warn you that its search results are bound to include many commercial advertisements of unverified legitimacy, so chances are that some of its content is malicious in nature. We believe that cyber criminals might use this hijacker to promote malicious software that can cause you many problems.
Traditionally, browser hijackers come bundled with malicious installers and software downloaders, but this one is somewhat unique. Our malware analysts have found that Searchcyborg.com is disseminated using a Trojan whose files are dropped in %LOCALAPPDATA%\kirmada and %UserProfile%\Local Settings\Application Data\kirmada. Therefore, you have to delete this Trojan as well.
The research has also revealed that this browser hijacker was created by the same group of developers responsible for releasing potentially unwanted programs, such as JunkSweeper, PC Junk Optimiser, and One10 PC Cleaner, among others. Note that the name of the company or the group of developers is unknown, but the information we have obtained suggests that this hijacker and the potentially unwanted programs are made by the same entity. And, because this program's developers are unknown and that you cannot contact them makes Searchcyborg.com highly suspicious.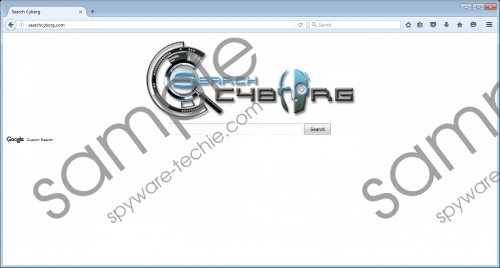 Searchcyborg.com screenshot
Scroll down for full removal instructions
And why would not it be suspicious when one of its core purposes is to subject you to commercial advertisements that are likely to come from illegitimate sources. Now, using Searchcyborg.com is very frustrating because the second you start typing in your search query it will register that and render a region-specific pop-up ad, and it will do so on the first time you launch your web browser. It is also worth mentioning that this hijacker uses Google Custom Search. The word "Custom" here is very important because it means that this hijacker's search results can include promotional links. Usually, these promoted links are located at the top of the window separated from the main search results, but that may not always be the case. At any rate, there is no way to determine which link is genuine and which was added for promotional purposes.
Currently, this hijacker is configured to hijack the homepage of Microsoft Internet Explorer, but our researchers say that it is capable of doing the same for Mozilla Firefox and Google Chrome, but for some reason compatibility with these web browsers has been disabled. Regardless, we are going to include a removal guide for Chrome and Firefox in the event this hijacker's developers decide to enable their compatibility.
Now let us talk privacy. Unsurprisingly, our malware analysts have found that Searchcyborg.com has been configured to collect certain information about you. This information includes your IP address and by extension your approximate geographical location, device information, browser information, search and browsing history, and so on. All of this information is required to tailor the ads because, as we have mentioned earlier, at least some of them are region-specific.
All in all, Searchcyborg.com has absolutely nothing to offer to the end-user because its only purpose is to generate advertising revenue for its secretive developers. Its search results contain promotional links and annoying pop-up ads that come from third-party sources and are often region-specific. This is a malicious combination of factors that you have to consider. However, we recommend that you get rid of it using our removal instructions we have included below.
Note that you can remove Searchcyborg.com by simply changing the homepage address in the browser settings. However, we suggest resetting the web browser's to default settings as this method works more often. Nevertheless, you should not forget to delete the files of the Trojan that injected this browser hijacker. Alternatively, you can use a antimalware program called SpyHunter which will eradicate all traces of this infection automatically.
Reset browsers
Google Chrome
Open your browser and simultaneously press Alt+F.
Open Settings and select Show advanced settings.
Click Reset settings.
In the dialog box, click Reset again.
Mozilla Firefox
Launch the browser, and simultaneously press Alt+H.
Select Troubleshooting Information.
Click Reset Firefox.
In the dialog box, click Reset Firefox again.
Click Finish.
Microsoft Internet Explorer
Launch the browser, and simultaneously press Alt+T.
Click Internet Options.
Open the Advanced tab and click Reset.
Select the checkbox.
Click Reset and then click Close.
Delete the Trojan
Simultaneously press Windows+E keys.
In the resulting Explorer window's address box enter the following addresses.

%LOCALAPPDATA%\kirmada
%UserProfile%\Local Settings\Application Data\kirmada

Delete the contents of those folders.
Empty the Recycle bin.
In non-techie terms:
Our researchers have classified Searchcyborg.com as a browser hijacker because it comes with a Trojan that drops it in your computer without your knowledge or consent. This hijacker is set to change your web browser's homepage and subject you to promotional links and pop-up ads that come from unknown sources. Its seemingly innocent ads might in reality promote malicious software and other undesirable content, so we suggest that you remove ASAP.