Do you know what SearchAholic is?
We often feel pressure to do the best and use the best, which is why PUPs like SearchAholic are thriving. This potentially unwanted program is an extension that promises to provide you with the "best way to search" the web, and that alone can intrigue Google Chrome users. Unfortunately, people are often attracted by polished descriptions and loud slogans, and they often forget to do research and figure out what it is that they are installing. According to our research team, this allegedly beneficial search tool is completely useless. Not only that. If you use it, you could expose yourself to unfamiliar advertisers, and information about you and your browsing activities could be leaked. These are the two main reasons we advise removing SearchAholic immediately. If you want to learn how to delete this PUP, keep reading.
The official download page of SearchAholic is install.search-aholic.com. The installer is found on the Chrome Web Store (chrome.google.com/webstore/detail/searchaholic/offhihkplcdcegfhcmoiicdfoplmoafg). If you choose to proceed with the installation, you are informed that the extension can read browsing history and change search settings. This does not sound too bad, does it? Well, if you take time to check the Privacy Policy, you can learn that undisclosed parties (advertisers, most likely) have access to the information that the PUP collects using web cookies and other data-tracking instruments. This is not criminal activity; however, if you agree to have information about yourself shared with unknown parties, you have to make sure that the service provider is trustworthy. We can tell you right away that it is not. The developer of SearchAholic is the infamous webcoapps, and it stands behind SearchHD, SearchWizard, Searchize, SearchStreams, and numerous other supposedly amazing search tools. If they were so amazing, one would suffice.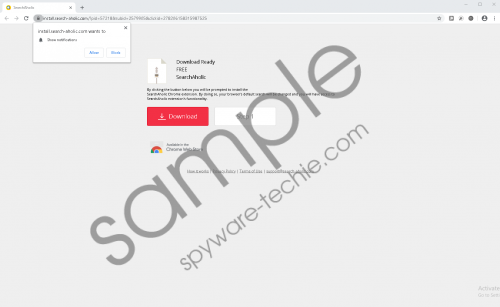 SearchAholic screenshot
Scroll down for full removal instructions
When you install SearchAholic, feed.search-aholic.com is set as the default search provider. If you browse the web with the help of this allegedly great search tool, you are redirected to yahoo.search.com. That already tells us that the extension is useless. At the end of the day, it takes about 10 seconds to set Yahoo Search as the default search provider on any web browser, and this search engine is certainly much more trustworthy. SearchAholic is meant to enhance the search results you see, but it cannot do anything more than modify the results you are shown by injecting third-party advertisements. Does this sound like a good service to you? We are sure that it does not. If you used portal.search-aholic.com, perhaps you could reason the use of this suspicious tool for the access to free file conversion and currency conversion tools, but even these tools are not worth the risk. Well, how risky could it be to click on ads? Since we do not know who the advertisers linked to the PUP are, we have to consider the worst-case scenario, in which advertisers are actual schemers.
It is your choice whether to delete SearchAholic or keep it around. Our recommendation is that you get rid of this potentially unwanted program because it is neither reliable nor useful. Sure, it can show you search results, but only after redirecting you to Yahoo Search and modifying the results to serve the agenda of third-party advertisers. If you choose to remove SearchAholic from Google Chrome, we suggest following the guide below. This is the ideal solution for those who know that other threats do not exist and those who are not yet ready to implement security software. If you want to secure your system and if you know that other threats exist, there is only one logical move, and that is to install trustworthy anti-malware software.
Remove SearchAholic from Google Chrome
Launch the browser.
Simultaneously tap Alt+F keys.
Click More tools (expands a menu).
Click Extensions.
Click the Remove button next to the undesirable extension.
In non-techie terms:
SearchAholic is meant to offer beneficial services and enhance the web browsing experience. It cannot do that because this PUP was designed to redirect to Yahoo Search (so that you would find some results) and also inject advertisements into them (so that money for advertisement services could be earned). The extension is not useful at all, and it certainly cannot offer better services than Yahoo Search, for example. Therefore, we advise deleting SearchAholic right away. Follow the guide above if you are interested in manual removal, or implement anti-malware software that will take care of your system and existing threats automatically.