Do you know what Search.yourrecipescenter.com is?
Search.yourrecipescenter.com is nothing short of a browser hijacker because it is set to replace your web browser's homepage address, new tab page, and search provider settings. However, you can remove it, and we very much encourage you to do so because we have found that it can show you modified search results that include promotional links to various third-party websites. Also, these promotional links may be of unreliable nature, so we are of the opinion that this hijacker can jeopardize your computer's security. In this article, we are going to cover this hijacker's dissemination methods, functions, privacy issues, and removal methods.
This browser hijacker is yet another release by the infamous malware publisher known as SaferBrowser. This entity has published dozens of browser hijackers in the past including Search.yourspeedtestcenter.com, Search.yourmovietimenow.com, and Search.searchwag.com to name a few. This company sets up dozens of similar search engines with the intention of forcefully injecting them into your computer, and Search.yourrecipescenter.com is just a tiny gear in a relatively massive online advertising apparatus.
Now let us talk distribution methods. Much like its clones, Search.yourrecipescenter.com is disseminated with the help of malicious pop-up ads. We do not know where exactly these specific advertisements come from, but we think that they are most likely injected into your web browser by adware-type software that is present on your PC. Of course, we do not rule out the possibility of this hijacker being injected by malicious software installers found on freeware websites because some of its earliest clones were distributed in this manner. Most importantly, regardless of the method used to distribute this hijacker, it is always injected into your web browser without your knowledge or authorization. Therefore, it may seem that it has come out of nowhere.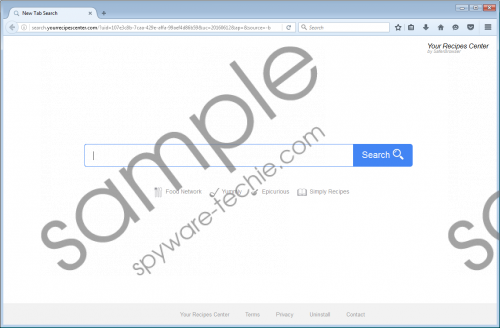 Search.yourrecipescenter.com screenshot
Scroll down for full removal instructions
Once this hijacker is on your PC, it will immediately hijack the homepage of Firefox and Internet Explorer, the new tab page of Chrome, and the search provider of Firefox and Chrome. Our security analysts have discovered that this browser comes with a dedicated browser extension and in the case of Internet Explorer it modifies and adds strings in Windows Registry, but apart from the other two web browsers, you can uninstall it from Control Panel.
You may be given the impression that Search.yourrecipescenter.com is a legitimate search engine because it can process all of your search queries and present relevant results. However, you should also notice that it redirects them to Yahoo.com, so, essentially, you are using Yahoo.com — not Search.yourrecipescenter.com. Nevertheless, this does not mean that the search results are entirely safe. Even though this hijacker redirects the search queries to a third-party search engine, it also provides addition instructions to show modified search results which, according to our researchers, are unreliable. They say that this browser hijacker is apt to advertise questionable websites that might feature downloads of potentially unwanted programs, as well as adware, and other mildly malicious software.
Before we conclude this short description, we would like to say a few things regarding this hijacker's privacy policy. According to this document, the company behind this hijacker says that they can "collect personally-identifiable information through the use of our Services upon your contacting us so that we may respond to your questions or comments." We do not think that they will use it only for responding to questions and comments, but for advertising related things as well. In any case, the information they might obtain includes "your name, email or mailing address, or other information you include when contacting us." So you should be wary of what information you provide.
Nevertheless, there is some information that is collected automatically, and this information includes information about the use of their services and the frequency of their use, how you use them, when you visit them, responses to offerings and advertisements, browser type, IP address, geographic location, and so on. As you can see, the information available for this hijacker's developers to collect is quite extensive and rest assured that they will use it for advertising purposes because the sole purpose of Search.yourrecipescenter.com is to make a profit for its owners.
There is no doubt about the intentions of SaferBrowser. This search engine is not reliable because its search results contain advertisements and it is distributed using dishonest methods. If you use Internet Explorer, then you have to uninstall it from Control Panel, but if you use Chrome on Firefox, then you have to remove it from their extensions list. In closing, getting rid of this browser hijacker is crucial to restoring your computer's safety, so feel free to use the instructions provided below.
How to remove this browser hijacker from your PC
Windows 10
Right-click on the Start menu.
Go to Programs and Features.
Find the software and right-click on it.
Click Uninstall.
Windows 8 & 8.1
Open the Charm bar.
Click Settings and select Control Panel.
Find the unwanted program and right-click on it.
Click the Uninstall button.
Windows 7 & Vista
Click Start on the Taskbar.
Select Control Panel.
Click Uninstall a program.
Find the unreliable application.
Click Uninstall.
Windows XP
Click the Start menu button.
Click Control Panel and go to Add or Remove Programs.
Find the application and click the Remove button.
Remove the browser extension
Google Chrome
Press Alt+F.
Go to More tools and select Extensions.
Find the add-on and remove it.
Mozilla Firefox
Press Ctrl+Shift+A.
Choose Extensions.
Find the extension and remove it.
Microsoft Internet Explorer
Press Alt+T.
Open Internet Options.
Open the Advanced tab and click Reset.
Tick the checkbox.
Click Reset and click Close.
In non-techie terms:
Our malware analysts have tested Search.yourrecipescenter.com and concluded that it is a browser hijacker because of its dishonest distribution methods involve installing it and its accompanying browser extension or application without your knowledge or consent. Furthermore, it features shady promotions in its search results and collects information about your usage of its services and some personal information. Thus, we recommend that you delete it.