Do you know what search.webssearches.com is?
Sometimes a browser hijacker may have more than just one web address used to modify your browser settings and then constantly redirect you to potentially corrupted websites. Webssearches is a browser hijacker that is known to have istart.webssearches.com, webssearches.com and search.webssearches.com addresses. Whichever address you may see on your browser's address bar, the bottom line is that you are infected with a browser hijacker and you need to remove the infection as soon as possible.
As it has been indicated by security research, search.webssearches.com is set as your default search engine provider when the browser hijacker arrives at your system bundled with freeware. Quick Start potentially unwanted program is indicated as an application that is most often used to distribute search.webssearches.com. It should be said that when browser hijackers enter computer systems bundled with freeware, it is computer users themselves who install the applications. The main problem is that users quite often go through the installation process automatically and they fail to see that there are some additional (and most probably dangerous) applications about to be installed on their PCs as well.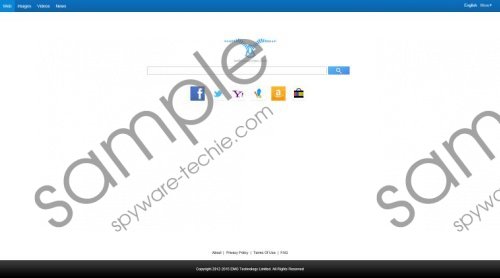 Search.webssearches.com screenshot
Scroll down for full removal instructions
What is more, at first sight search.webssearches.com does not seem like a malicious browser hijacker at all. In fact, browser hijackers cannot do much harm to your computer on their own. It is a type of computer infection that is most often used as a vehicle for other malware distribution, or it is simply exploited by corrupted third party to expose you to potentially harmful content.
Thus, you need to refrain from performing online searches via search.webssearches.com. This search engine may provide you with relevant search results, but you will also be displayed a lot of third party commercial advertisements. Once click on such ads and you will be redirected to an unfamiliar website that has been created for a sole purpose of making money.
Although technically your security is not threatened directly by visiting these unreliable websites, you need to take into consideration the fact that with a browser hijacker installed on your computer, your system becomes vulnerable to multiple third party threats, and if you want to keep your PC safe, you need to terminate search.webssearches.com immediately.
To remove search.webssearches.com manually, simply uninstall Webssearches uninstall via Control Panel, and then restore your browser settings by following the instructions below. However, there is also a high chance that you have a number of other potentially unwanted or even dangerous applications installed on your PC, so to check whether your system is not threatened by other applications, scan it with SpyHunter free scanner.
Uninstall search.webssearches.com
Windows 8
Move mouse cursor to the bottom right of the screen.
Click Settings on Charm bar and go to Control Panel.
Select Uninstall a program and remove Webssearches uninstaller.
Windows Vista & Windows 7
Open Start menu and click Control Panel.
Go to Uninstall a program and remove Webssearches uninstaller.
Windows XP
Click Start menu button and navigate to Control Panel.
Access Add or remove programs and uninstall Webssearches uninstaller.
How to restore browser settings
Mozilla Firefox
Press Firefox button and click Options.
Under General tab change your default home page address.
Next to When Firefox Starts select Show my homepage. Click OK.
Click search engine icon on the left of search box (top right corner).
Select Manage search engines on drop-down menu.
Remove search.webssearches.com from the list and click OK.
Press Ctrl+Shift+A and Add-ons manager tab will open.
Remove Quick Start from Extensions and restart your browser.
Internet Explorer
Press Alt+X and go to Manage add-ons.
Remove Quick Start from Toolbars and Extensions.
Click Search providers on the left pane.
Set a new default search engine and remove search.webssearches.com. Click Close.
Press Alt+X and go to Internet options.
Under General tab, enter a new home page address and click OK.
Restart browser.
Google Chrome
Press Alt+F and click Tools.
Select Extensions and remove Quick Start from the list.
Click Settings on the left.
Mark Open a specific page or set of pages under On Startup.
Click Set pages, and change your home page address. Click OK.
Under Appearance, click Change next to Show home button.
Remove search.webssearches.com, enter a new home page address and click OK.
Under Search select Manage search engines.
Set a new default search engine, delete search.webssearches.com and click Done.
In non-techie terms:
If your default search engine is changed to search.webssearches.com, you are infected with browser hijacker. It is necessary to remove this infection as soon as possible. The best way to do it is to use a licensed antimalware tool, but if you have any questions regarding search.webssearches.com you can leave me a comment below.
Aliases: istart.webssearches.com.