Do you know what Search.trackmyflight.co is?
Search.trackmyflight.co may appear in your browsers after a browser hijacker manages to sneak onto your system. This new featured website is nothing new really to our researchers who identified it as a newcomer in a growing browser hijacker family created by Polarity Technologies Ltd. This family includes Search.searchfzlm.com and Search.superspeedtester.com among dozens of other similar or downright identical search engines. You should not trust this search website even if it looks useful with its quick links to flight-related sites. This hijacker may present to you questionable third-party content through its search results that could result in further infections and online scams if you should engage with them. Therefore, we suggest that you remove Search.trackmyflight.co from your computer. Please read our full report to find out more about this malware infection.
Our researchers inspected this browser hijacker in our internal lab and found that it could be mostly distributed via freeware bundles. Of course, it is also possible that you directly install this infection by clicking on corrupt third-party ads or links displayed on suspicious websites or by malware hiding on your system. Obviously, it is much worse when you download and install a software package because it may contain several potentially unwanted programs and malware threats, including browser hijackers, adware programs, Trojans, keyloggers, and more. Imagine when such threats start operating behind your back on your system. You could be spied on, your information shared with third parties, your files may get damaged, you could be exposed to dangerous web content, and so on. This is why you need to scan your system with a trustworthy online malware scanner – if you do not have one installed – right after you delete Search.trackmyflight.co.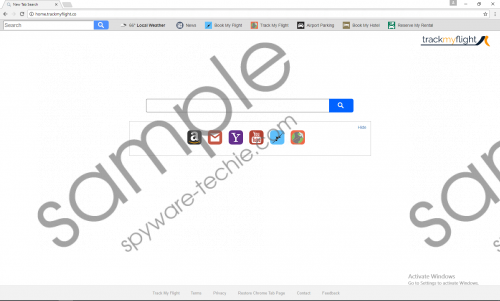 Search.trackmyflight.co screenshot
Scroll down for full removal instructions
Most computer users may still not understand the risk of clicking on questionable content. As a matter of fact, most of such bundled infections take place after you click on unsafe third-party ads, corrupt links on modified search results pages, or when you download free software from suspicious torrent or freeware pages. It is essential that you stick with official websites when it comes to downloading free software and updates. Many users turn to questionable torrent and freeware pages because after a web search they will find mostly such hits among the results. Even if you are using reputable search engines like Google, Yahoo, or Bing, there is a chance that you will be exposed to fake and malicious file-sharing pages. Such suspicious file-sharing pages can infect you on other fronts as well and not only by promoting malicious bundles for download. These sites are infamous for hosting unsafe third-party ads and disguised contents that can drop infections or redirect you to malicious pages. This is also true for other websites that tend to promote and make money out of third-party contents (online gaming, gambling, dating, and porn). All in all, we believe that after you remove Search.trackmyflight.co from your system, you should really run a malware scanner to identify all other threats.
This featured search website presents to you a fake toolbar with the usual tools: search box, news, and local weather forecast information. Apart from these characteristic tools you can also find quick links to flight-related pages (google.com/flights/ and flightstats.com/go/Home/home.do). Although the latter pages may be reliable ones, the former pages could be risky to visit. For example the local weather page is indeed a widget page (search.trackmyflight.co/Widgets/WeatherMap) that contains several third-party ads, which are not only annoying but they may also redirect you to questionable websites. Below the main search box in the middle of the page, you can also find a bar with thumbnail link to popular websites.
We do not advise you to use this page to search the web because your search keywords are always forwarded to a possible manipulated Yahoo search results page that could contain unreliable third-party advertisements and links as well. If you click on such content, you could infect your system directly or open malicious pages on new tabs or in new browser windows. Such pages may easily cost you a lot since cyber criminals can gain access to your banking details on a fake online shop, for instance. If you do not want to experience any of these scenarios, we suggest that you remove Search.trackmyflight.co as soon as possible.
Finally, it is time for us to share with you how you can clean this browser hijacker from your system. We have included our instructions below so that you can restore your home page settings in the affected browsers. These steps are really easy to follow even if you are not an experienced user. However, as you may have noticed, it is not that easy to keep your PC all clean. If you do not believe that you can protect it efficiently enough, we recommend that you install an up-to-date anti-malware program, such as SpyHunter.
Remove Search.trackmyflight.co from your browsers
Internet Explorer
Press Alt+T.
Select Internet options.
Choose the General tab and click Use default.
Click OK.
Mozilla Firefox
Press Alt+T.
Open Options.
In the left panel, choose General.
Click Restore to Default.
Google Chrome
Press Alt+F.
Pick Settings.
Mark Open a specific page or set of pages in the On startup section.
Click Add a new page.
Type in a new home page address.
Delete the unwanted URL.
In non-techie terms:
Search.trackmyflight.co is yet another useless featured search website that may pose a threat to your system. This search page is indeed a browser hijacker that can modify your major browsers' home page setting and thus appear in them. This hijacker provides you with easy access to flight related websites among others on a fake tool bar and a thumbnail panel. Since the search results this page may show you could be filled with potentially unreliable third-party ads and links, you could endanger your computer if you keep this browser hijacker on board. We suggest that you remove Search.trackmyflight.co as soon as possible. If you cannot seem to eliminate this threat and the other infections that may be on your system manually, we recommend that you start using a reliable anti-malware program.