Do you know what Search-select.co is?
It probably does not take long for you to realize that Search-select.co is a browser hijacker. It is a kind of program that modifies your browser's settings without your permission, and then constantly exposes you to potentially harmful content. You should terminate this program without any further ado, and while you are at it, do yourself a favor and run a full system scan with the SpyHunter free scanner. We are sure you have several other unwanted and potentially dangerous programs on-board. If you want to continue browsing the Internet uninterrupted, you have to do everything you can to get rid of the intruders.
Users often are very confused how such applications manage to enter their systems. Of course, no one would want to deal with a browser hijacker willingly. But such applications have multiple other ways to enter target computers. What's more, if Search-select.co appears on your browser, you might as well grab an antispyware tool and scan your computer for other threats because the browser hijacker usually spreads through pop-ups that are displayed by adware applications. In turn, these adware and potentially unwanted programs get distributed in software bundles via file-sharing sites. In other words, you need to be attentive when you download software from third-party sources, as this might be the reason you get the likes of Search-select.co on your system.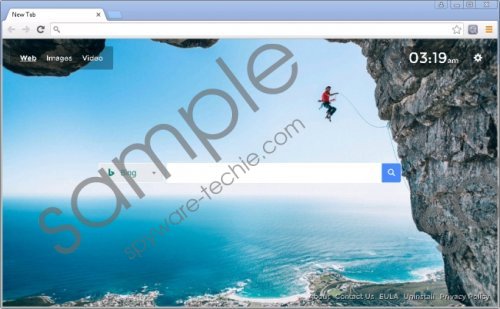 Search-select.co screenshot
Scroll down for full removal instructions
We can consider ourselves lucky because this browser hijacker affects only the Chrome browser. On the other hand, if it comes bundled with additional software, you might end up with a bunch of unnecessary and potentially dangerous apps on your system, too.
When it enters your system, Search-select.co changes your homepage and new tab settings. It also installs the Search Select extension on the Chrome browser. After that, the hijacker starts collecting information on what websites you visit and what you usually search for online. This is the common hijacker behavior. All browser hijackers do that because they need to generate a financial profit for their creators. The good news is that Search-select.co will not steal your banking logins or passwords. The hijacker simply does not have the capacity to do that.
Instead, it can be exploited by cyber criminals to distribute malware. Of course, that would be done in an indirect way, and it would still require your input, but the bottom line is that it is not safe to have a browser hijacker on your computer. After all, it is still an invasion of your privacy, even if it does not log your keystrokes like a keylogger Trojan would.
Therefore, your best option right now would be removing this hijacker from your system for good. You may encounter various obstacles when you try to do that, but that should not discourage you. Simply acquire a powerful antispyware tool that will help you delete Search-select.co and other related applications automatically. Certainly, you did not think that deleting this one hijacker would be enough to protect your PC from harm, did you?
Rather, you should be ready to deal with a list of potential threats that might seriously damage your system. Sometimes, it is possible to delete those programs via Control Panel, but you can never know what additional files might come with them. That is why, once again, we urge you to rely on a legitimate antispyware tool. Not only would it terminate various threats, but it would also safeguard your system against other unwanted applications you might encounter in the future.
Of course, a security tool alone would not ensure complete system safety. You should also consider changing your web browsing habits. Stay away from unfamiliar websites that are full of random pop-ups. Also, if you must download a program, be sure you download it from a reliable and official website. And even so, take your time to check every single step in the installation wizard, because sometimes even legitimate programs are bundled with additional apps.
Finally, if you require any assistance, you can always leave us a comment below. Please do not ignore Search-select.co just because the hijacker does not look dangerous. It might as well be a start of something ugly.
How to Remove Search-select.co
Open your Chrome browser.
Press Alt+F and click More tools.
Go to Extensions and mark Search Select.
Click Delete and restart your browser.
In non-techie terms:
Search-select.co perches on your browser trying to pass for a legitimate search engine, but that is very far from the truth. In reality, the program is there to make easy money out of you, by redirecting you to affiliated websites. This is a risky business that can seriously jeopardize your system's security. Therefore, terminate Search-select.co right now and protect your system from similar intruders.