Do you know what Search.searchytds.com is?
Search.searchytds.com is a suspicious search tool that, at the moment, does not have a clear source. It was designed by Polarity Technologies Ltd., and the search tools that come from this group are usually represented by extensions that have official download pages and that are promoted via the Chrome app store. This particular search tool is likely to be represented along with the extension called "TubeTab," however, at the moment, it is promoting an entirely different hijacker, Search.searchytdvta.com. Of course, this could change in the future, and if it does, we will inform you about it as soon as possible. Right now, we need to focus on the suspicious search tool that our research team – as you might have gathered already – classifies as a browser hijacker. It is strongly recommended that you remove Search.searchytds.com from your browser, and if you do not understand why that is the outcome, you should continue reading this report, where we try to answer all hijacker-related questions.
There is no doubt that Search.searchytds.com comes from the same family as other hijackers, including Search.hfreeforms.co, Search.hfreeliveradio.co, or Search.searchgetlnn.com. First of all, the interfaces of these threats are very similar. Second, they all follow the same Privacy Policy. The chances are you have not paid any attention to it, and that is a mistake. This document reveals that private information is recorded while using the hijacker. Also, it informs that third-party advertisers can record information using their own tools, as well as use the information collected by Polarity Technologies Ltd. cookies to introduce you to personalized content. That is why using Search.searchytds.com is not recommended. Even if you do not interact with the search results that are shown to you, someone might be spying on you. And if you interact with the links shown via Yahoo Search, you could end up on unreliable pages. You also cannot ignore the fact that the hijacker redirects to Yahoo Search without your permission; not to mention that it also can modify the results that are shown to you.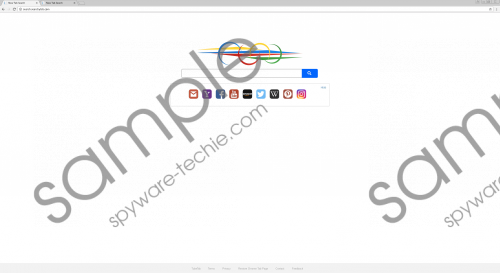 Search.searchytds.com screenshot
Scroll down for full removal instructions
Besides providing you with an unreliable search service, Search.searchytds.com also displays easy-access links to Gmail, Yahoo Mail, YouTube, Facebook, Amazon, Twitter, Wikipedia, Pinterest, and Instagram. Since these sites are popular and used by everyone, the victims of the hijacker might consider it to be quite useful. While it is possible that the creator of the hijacker is promoting these services for a fee, there is no doubt that they are also employed to make the hijacker look more trustworthy. That is the same reason why it also exploits Yahoo Search. This might be harder to understand if you installed the threat yourself, but if it corrupted your browser without your permission, you should realize right away that the hijacker is not to be trusted. One more thing to figure out before you remove this hijacker is whether or not other threats were installed along with it. Do not assume that you do not need to delete additional malware because you do not notice it. Instead, install a trusted malware scanner to perform a quick inspection.
If other threats exist, you have to make a decision regarding their removal. Will you try to delete them manually, or are you going to implement an anti-malware tool? If you choose the first option, hopefully, you will find the guides you need on our website. You can delete Search.searchytds.com using the instructions available below. Of course, if you decide to employ anti-malware software – and you have to make sure you pick reliable software – you will have all threats and unreliable programs eliminated automatically. We recommend the latter option because anti-malware software primarily functions as a guardian against malicious threats, and, of course, you need to protect your PC if you wish to avoid malware in the future.
Remove Search.searchytds.com
Internet Explorer
Simultaneously tap Win+R to launch RUN.
Enter regedit.exe into the dialog box to launch Registry Editor.
Navigate to HKEY_CURRENT_USER\Software\Microsoft\Internet Explorer\Main.
Double-click Start Page to open the value.
Overwrite the hijacker's URL and then select OK.
Mozilla Firefox
Simultaneously tap Win+E to launch Windows Explorer.
Enter %AppData%\Mozilla\Firefox\Profiles\ into the bar at the top.
Open the folder with random characters that represents your Firefox Profile.
Open the file named prefs.js using any text reader, such as Notepad.
In the user_pref("browser.startup.homepage", "http://search.searchytds.com) string overwrite the hijacker's URL and then save the file.
Google Chrome
Simultaneously tap Win+E to launch Windows Explorer.
Enter %LocalAppData%\Google\Chrome\User Data\ into the bar at the top.
If profiles exist, open the folder representing your Chrome Profile. Otherwise, go to Default.
Either Delete the files named Preferences, Secure Preferences, and Web Data or open them using a text reader and overwrite the hijacker's URL within them.
In non-techie terms:
Whether or not you installed Search.searchytds.com yourself, you should consider removing this hijacker because it is not reliable. First and foremost, it can spy on you to record information that might also include personal data. Secondly, the hijacker redirects to Yahoo Search without your permission to display search results that are modified. Needless to say, there is nothing great about this search tool, and you should not hesitate to eliminate it right away. If you decide that you want to delete Search.searchytds.com manually, you should be able to get rid of it using the guides above. Obviously, if other threats exist, you will need to erase them manually as well. If you want to save time, install a trusted anti-malware tool that will simultaneously eliminate threats and reestablish full-time protection.