Do you know what Search.searchsterjosoft.com is?
Search.searchsterjosoft.com is an undesirable search tool users often discover set on their browsers these days. Since they often cannot remember allowing this to happen, Search.searchsterjosoft.com is classified as a browser hijacker by a number of specialists working in the field of cyber security. Our specialists were not surprised at all when they found out that this search tool appears on Internet Explorer, Google Chrome, and Mozilla Firefox browsers without a user's consent in most cases because it was immediately noticed that Search.searchsterjosoft.com shares similarities with other similar search engines, e.g. search.yourmapscenter.com, search.youremailnow.com, and search.searchlttrn.com which all act the same. As in the case of these aforementioned search providers, users who find Search.searchsterjosoft.com set on their browsers should go to erase it as soon as possible. They should do that so that they could set a preferred search engine in its place. Also, its deletion is the only way to avoid problems which might arise out of using this search tool as a default search engine. Of course, this tool for searching the web is far from dangerous malicious applications, but we are sure you will agree with specialists that Search.searchsterjosoft.com is not a reputable search tool and decide to get rid of it after reading this description.
Researchers have thoroughly tested Search.searchsterjosoft.com to find out whether it is a trustworthy search tool or not. Findings they have made are quite shocking. First of all, it has been revealed that this search engine might show the so-called sponsored search results, which are, generally speaking, simple advertisements promoting third-party websites, on the search results page together with decent Yahoo! search results. They usually do not differ the way they look from those Yahoo! search results much, and they are located among those harmless search results based on the entered search query, so it is an extremely difficult job to recognize them. Of course, users do not even suspect that they might be provided with untrustworthy search results. Therefore, there is a very huge possibility that users of Search.searchsterjosoft.com will eventually click on these promotional links. According to our security specialists, clicking on these ads might be quite a dangerous activity because an untrustworthy website might be opened immediately. Websites which install malicious software on visitors' computers on their arrival also exist, meaning that a second spent on a certain third-party website might result in the presence of harmful software. We do not try to say here that ALL websites promoted by promotional links appearing on the search results page of Search.searchsterjosoft.com are bad, but you can never be sure that you click on a decent search result if you continue using this search engine as your default search tool.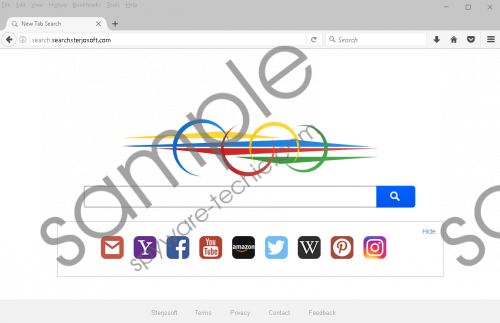 Search.searchsterjosoft.com screenshot
Scroll down for full removal instructions
Decent search providers should not show ads which have a potential of taking users to untrustworthy third-party websites, so, needless to say, Search.searchsterjosoft.com cannot be called reliable. To be honest, these sponsored search results is not the only reason it is called an untrustworthy search tool. It has also become clear after checking the Privacy Policy document of this search engine that it is also going to record information about users. Unlike other search tools, it not only records non-personally identifiable information consisting of such details as the type of browser, the type of operating system, and geographic location, but might also record personally-identifiable information if it is entered by a user in the search box of Search.searchsterjosoft.com. In order not to scare users off, it is stated in this document that this information will be recorded just as a component of search data. Believe us, it does not mean that it is a less dangerous activity.
We hope we have proved that keeping Search.searchsterjosoft.com set on browsers and using it to search the web is a bad idea. If so, eliminate this undesirable search provider from all your browsers as soon as possible. One of the easiest ways to do that is to reset browsers to their default settings. Of course, this method is not as quick as the automatic one, so users who do not have time for the manual deletion of this undesirable search tool should go to scan their PCs with an automatic malware remover, e.g. SpyHunter.
Delete Search.searchsterjosoft.com
Internet Explorer
Open Internet Explorer.
Click on the Tools button at the top and then select Internet Options.
In the Internet Options window, click on the Advanced tab to open it.
Click Reset.
In the Reset Internet Explorer Settings window, mark Delete personal settings and click Reset.
Click Close.
Mozilla Firefox
Click on the menu button (top-right corner) after opening your browser.
Click on the blue Help icon (a question mark) at the bottom.
Click Restart with Add-ons Disabled…
Click Restart in a small window.
Click Refresh Firefox.
Click again on this button in a pop-up window.
Click Finish.
Google Chrome
Launch Google Chrome.
Click on the button having three lines in the top-right corner.
Click Settings.
At the bottom, click Show advanced settings.
Click on the Reset settings button.
Click Reset in the Reset browser settings pop-up confirmation window.
In non-techie terms:
Users find undesirable search tools set on their browsers after the installation of free software from a dubious website or after clicking on a malicious pop-up ad the most frequently. As a consequence, security specialists suggest downloading programs from trustworthy third-party websites only. On top of that, users should not click on all ads they see while surfing the web. Finally and most importantly, all users should have a security application enabled on their computers to prevent malware from entering their systems.