Do you know what Search.searchsolod.com is?
If your homepage is changed to Search.searchsolod.com without your permission, you should realize very quickly that it is unreliable. If your homepage was modified with your permission, you might identify it as a reliable and useful search tool. Our research team disagrees. After thoroughly researching this browser hijacker, it has become obvious that it can be dangerous to your virtual security, which is why we are recommending its removal. The problem is that this hijacker looks harmless, and many of its users are likely to use its services without even suspecting an issue. While it is possible that some users will successfully use this search tool without facing major security problems, no one can guarantee that. Unfortunately, it is possible that your virtual security will be jeopardized if you do not delete Search.searchsolod.com, which is why we advise doing that ASAP.
Have you heard of the company named "Polarity Technologies Ltd?" This company has recently unleashed Search.searchlivesp.com, Search.searchfindactivec.com, and, of course, Search.searchsolod.com. These hijackers are not only visually similar; they work in the same ways as well. First of all, it is important to mention that these hijackers have add-ons that are introducing them to the users. For example, the one we are talking about in this report is represented via Descargar. The official website for this extension has not been found, and so it is unclear what it offers, but it is possible that it promises to help download files or find information related to taxes. This is because Search.searchsolod.com represents easy-access links to such websites as filebistro.com, taxact.com, turbotax.intuit.com, and hrblock.com. It also promotes links to such popular services as Facebook, Gmail, and Yahoo Mail. Considering that these sites can be accessed directly from your browser, you probably do not recognize the add-on or the hijacker as very useful.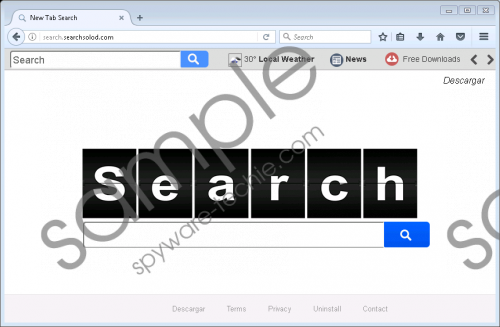 Search.searchsolod.com screenshot
Scroll down for full removal instructions
Do you think that Search.searchsolod.com offers beneficial search services? Although it redirects to Yahoo Search, it is not trustworthy because the results that it shows you can be modified. Due to this, you might click a link hoping it will route you to a page representing information you need, but, instead, you might be redirected to a page that does not offer any useful information at all. In fact, some of these links could be malicious, and you might put your virtual security at risk by interacting with them. Yahoo Search is a reputable search provider, and you can trust it, but not when a suspicious hijacker redirects to it. Another reason not to use Search.searchsolod.com is its ability to record and share information that might include personally-identifiable information. If unreliable parties get this data, they could use it to scam you or even impersonate you, and we are sure that you do not want to experience that.
It is easy to change the homepage URL, and you can check out the guides below if you want to replace Search.searchsolod.com with the preferred alternative. Of course, this might not work if a specific extension is linked to the hijacker. If that is the case, you need to remove Search.searchsolod.com add-on first. If you want us to add instructions on how to erase add-ons, post a comment below. Needless to say, manual removal is not the only option you should consider, especially if other unreliable programs have managed to slither in. What about an anti-malware tool? It can scan your PC and delete the found infections, and it can keep your vulnerable operating system guarded against malware thereafter.
Delete Search.searchsolod.com
Google Chrome
Open the browser and tap keys Alt+F.
Move to the On Startup section.
Select Open a specific page or set of pages.
Click Set pages.
Overwrite the undesirable startup URL.
Click OK and then restart the browser.
Internet Explorer
Open the browser and tap keys Alt+T.
Select Internet options.
Click the General tab.
Navigate to the Home Page section.
Overwrite the URL under Home Page.
Click OK and then restart the browser.
Mozilla Firefox
Open the browser and tap keys Alt+T.
In the Tools menu select Options.
Navigate to the General menu.
Find the Home Page section.
Overwrite the undesirable URL.
Restart the browser.
In non-techie terms:
What are you waiting for to remove Search.searchsolod.com? Are you still not convinced that this suspicious browser hijacker is not a reliable or beneficial tool? If you want to discuss this further, we are open for discussion via the comments section. Overall, if you keep this hijacker installed – most likely along with the suspicious extension – you need to remember that personal information you enter could be recorded and that unreliable links could be presented to you once the hijacker redirects you to Yahoo Search. To delete the hijacker, either follow the instructions above, or install a tool that will automatically scan your operating system and delete all found threats.