Do you know what Search.searchidd.com is?
Search.searchidd.com is a search tool that is bundled with an extension called Instant Directions. These were created by Polarity Technologies Ltd., and they are unlikely to be spread separately. The extension has one purpose only, which is to present the hijacker, and the hijacker itself is unlikely to spread on its own. In either case, removal of both of these tools is recommended, and you can learn all about this by reading the report. Right off the bat, we have to warn that the company has built hundreds of hijackers and extensions that are similar to the ones discussed in this report. A few include Search.hgetsports.net, Search.hemailinboxlogin.com, and Search.searchwtii.com. If you encounter another program or add-on created by Polarity Technologies Ltd., we suggest ignoring the offer. Right now, we need to discuss why you should delete Search.searchidd.com and Instant Directions.
Have you downloaded Instant Directions from instantdirections.com or the Chrome web store, at chrome.google.com/webstore/detail/instant-driving-direction/nfpmojbgngfodfmkleldefadckhilmie? If you have, how were you introduced to these sources? Were you redirected to them via pop-ups and ads you faced online? Or did you find the extension on your own because it appeared to be beneficial? According to the information offered on the official site, the extension can give you access to driving directions and maps "with just one click," which might attract some users. Users might also let the unwanted extension and hijacker in when interacting with malicious and unreliable software installers. In this case, scanning the system to check if other threats exist is imperative. If other threats that require removal are found, make sure you clean your operating system as soon as possible. A legitimate and up-to-date malware scanner is the right tool for this kind of a task.
Not many users choose to review privacy policies and other sensitive information when they install new applications or extensions, and that is a huge mistake. If you had reviewed the privacy policies representing Instant Directions, you would know that it can record personal information, as well as that it works with advertisers, and that the recorded browsing history can be used to target you with personalized ads. These ads can be delivered via the search tool that Search.searchidd.com offers. You cannot trust it because it redirects without permission to search.yahoo.com and because it can show sponsored content. Yahoo Search has nothing to do with all of this. Polarity Technologies is exploiting this well-known search engine to make careless users trust that these results are trustworthy.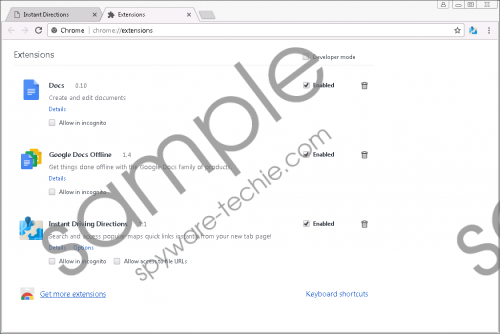 Search.searchidd.com screenshot
Scroll down for full removal instructions
You need to remove Search.searchidd.com from your operating system without further hesitation. If this hijacker has taken over Internet Explorer, you will need to uninstall an application. If it has hijacked Mozilla Firefox or Google Chrome, you will need to delete Instant Directions extension. Note that the names representing this extension and application can have slight modifications. For example, on Google Chrome it is represented as "Instant Driving Directions." You can use the instructions below to get rid of this unwanted piece, and the hijacker should go with it, but if you are dealing with multiple threats, you might want to install an anti-malware program that will automatically delete all existing threats.
Delete Search.searchidd.com from browsers and Windows
Google Chrome
Launch Chrome and enter chrome://extensions/ into the address bar.
Click the Remove button associated with the undesirable extension.
Mozilla Firefox
Launch Firefox and enter about:addons into the address bar.
Click the Remove button associated with the undesirable extension.
Internet Explorer
Click Start on the Taskbar and select Control Panel. If you are using Windows 10, place the cursor into the search field on the Taskbar, enter control panel, and click the item to open a menu.
Move to Uninstall a program and then uninstall the undesirable application.
In non-techie terms:
You do not need an extension to access Bing Maps or Google Maps, and that is the only benefit of Instant Directions. Although it is represented as an extension, in reality, it should be classified as a hijacker because it is meant to set Search.searchidd.com as homepage, search provider, or new tab on the affected web browser. The good news is that removing this extension and hijacker is very easy, and you should be able to successfully remove Search.searchidd.com using the guides above. If you discover more threats, you will need to use other guides to learn how to eliminate them all yourself, or you could install an anti-malware tool to have the system cleaned automatically. You should really consider this option because anti-malware software also can enable full-time, well-rounded Windows and browser protection.