Do you know what Search.searchetg.com is?
EasyTransitGuide is an extension that always comes with a search engine Search.searchetg.com. It means that this search tool will be set in the place of your default search engine, homepage, and the New Tab page if you install this piece of software. Some users download and install this extension themselves because it promises to enable users to easily access "maps, schedules, and fares for buses, trains, subways & more." In other words, EasyTransitGuide targets people who are traveling a lot. If you cannot call yourself a traveler or simply cannot understand why you have this extension installed on your computer, you should definitely remove it from your system. It is the only thing you can do if you wish to eliminate the questionable search engine set on your browsers as well. To be frank, our team of experts cannot call Search.searchetg.com a very trustworthy search tool. If you wish to find out why specialists have a negative opinion about this search tool, you should read this article. If you read it, you will know how to eliminate it from browsers as well.
The search tool Search.searchetg.com promoted by the extension EasyTransitGuide does not look like a bad website. You will find a search box in the middle of this web page, and it will contain links leading to uber.com, kayak.com, and expedia.com websites. You will see the local weather forecast at the top as well. To be frank, you do not need to have Search.searchetg.com set as your homepage, search engine, and the New Tab page to be able to access those websites. All you need to have to open them is a web browser. This also says that the EasyTransitGuide extension is not as beneficial as it claims to be if it only sets a new search tool and does not do anything else.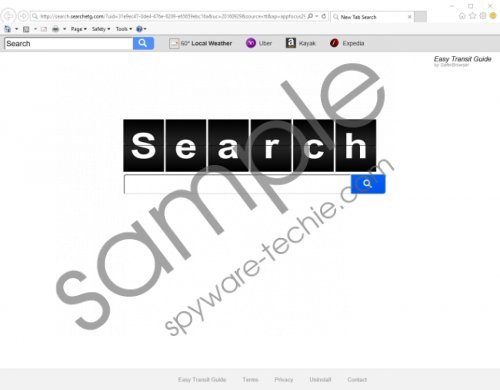 Search.searchetg.com screenshot
Scroll down for full removal instructions
Search.searchetg.com looks completely harmless; however, specialists still do not recommend keeping and using this search tool because recent research has revealed that this search engine might display the modified search results. In other words, you will see Yahoo! search results with advertisements among the reliable search results. No, Yahoo! has not inserted them itself. Instead, it is very likely that the developer of Search.searchetg.com has made this search engine to fit its needs. Advertisements you will be provided with will definitely not allow you to find the information on the web quickly. Also, according to our security specialists, these sponsored search results might redirect you to some kind of untrustworthy website one day because they promote all kinds of websites, even those that are corrupted. If you have not understood yet, you might cause harm to your computer by clicking on those sponsored search results. Unfortunately, it is not always possible to say which of these search results can take to untrustworthy websites and which cannot, so you will definitely click on any of these ads one day if you let Search.searchetg.com stay on your browsers.
The EasyTransitGuide extension which users seeing Search.searchetg.com have on their PCs can be downloaded from its official website easytransitguide.com, and it seems to be very popular in the U.S region; however, we are sure that it might enter computers illegally too. For example, the extension could have been added to all your browsers if you clicked on a malicious pop-up advertisement. If you really see ads appearing on your screen every day, it might be very true that there is an advertising-supported application installed on your system. It might be quite hard to detect it, so you should use an automatic tool for this matter. You should know that you can get a diagnostic scanner from our website too.
You will no longer see a questionable search engine on all your browsers only if you remove the EasyTransitGuide extension. If you have never deleted a browser extension before, you might find it too hard to do that, so we suggest using our instructions. If you do not find them very helpful too, scan your compute with an automatic scanner. Only a reliable malware remover can delete this untrustworthy software for you.
Delete Search.searchetg.com
Windows XP
Click on the Start button.
Select Control Panel.
Click Add or Remove Programs.
Click on the unwanted program and then remove it.
Windows 7/Vista
Open the Start menu by clicking on the button in the bottom-left corner.
Select Control Panel and then open Uninstall a program.
Right-click on the software you wish to remove.
Click Uninstall.
Windows 8/8.1/10
Right-click on the lower-left corner of your screen.
Click Control Panel.
Open Uninstall a program.
Select the application you wish to erase.
Remove it by clicking Uninstall.
Internet Explorer
Launch your browser.
Open the Tools menu and then click Internet Options.
Click on the Advanced tab.
Click Reset.
Mark the Delete personal settings box and then select Reset again.
Google Chrome
Open your browser.
Click on the button in the top-right corner to open the menu.
Click Settings.
Scroll down and then select Show advanced settings.
Click Reset settings.
Click on the Reset button.
Mozilla Firefox
Launch your browser and tap Alt+H.
Select Troubleshooting information.
Click Refresh Firefox.
In the dialog box, click again on this button.
In non-techie terms:
Even though you do not know about that, it might be very true that your system contains other untrustworthy programs. You should check Control Panel to find them; however, not all of them want that you find them and, consequently, do not have an entry there, so it would be best that you use an automatic scanner. Click on the Download button to get a reliable scanner. Once you get the scan results, you could upgrade the tool or go to delete them all manually.