Do you know what Search.search4ppl.com is?
Search.search4ppl.com is yet another suspicious search engine that comes from the infamous Polarity Technologies Ltd. family. Our research team has analyzed hundreds of potentially unwanted programs and browser hijackers associated with this company, and a few examples include Search.searchidd.com, Search.searchjmt.com, and Search.searchwtii.com. The interfaces of these hijackers are identical-looking, which is why it is not hard at all to identify them quickly. Unfortunately, that does not mean that new PUPs and associated hijackers are not being created and distributed. We wish that was the case because it really is quite bothersome to continue reporting virtually the same malware over and over again. That being said, we feel it is our duty to analyze every single sample, and that is what we have done with this browser hijacker too. If you want to learn more about it and then how to remove Search.search4ppl.com, you should continue reading.
It is pretty obvious that Search.search4ppl.com is associated with an extension called "People Search." The name of this extension is represented at the top-right corner of the home page of the hijacker, which is what we have seen with all other hijackers by Polarity Technologies Ltd. Usually, these extensions have websites representing the downloaders, and they are often represented via the Chrome webstore too. This is not the case with People Search, which is why it is most likely that this potentially unwanted program is being distributed with the help of software bundles. All in all, regardless of how it is introduced to you, you want to delete this extension. You also want to install a trusted malware scanner to quickly inspect your operating system and help you learn if you need to remove malicious threats. Hopefully, you will be warned only about Search.search4ppl.com and the extension associated with it, but if other infections are listed, you must handle them immediately.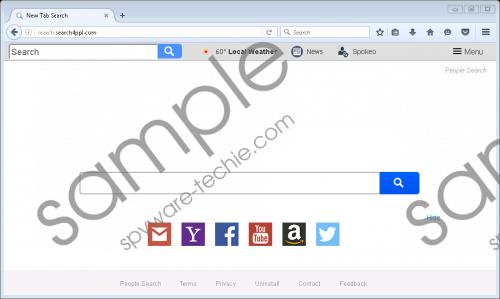 Search.search4ppl.com screenshot
Scroll down for full removal instructions
Did Search.search4ppl.com corrupt your homepage, search provider, or New Tab? Maybe the hijacker has taken over all three? That depends on the browser you use, and, for example, Google Chrome users are likely to see the threat represented via the New Tab only. Needless to say, that means that different steps might be required to perform the removal successfully. That being said, it is understandable why some users do not even think about deleting Search.search4ppl.com. You get to access Facebook, Gmail, Amazon, and other popular websites from the home page. Also, it presents easy-access links to spokeo.com, seekverify.com, and freebackgroundcheck.org, all of which are means to help you learn more about the people you are researching. This is how People Search is meant to work. On top of that, the hijacker redirects to Yahoo Search! Well, wait a minute. The hijacker redirects illegally, the results can be modified, and every move you make is recorded. Even personal information can be tracked! These are the reasons you should consider immediate removal.
The recommendation is that you delete Search.search4ppl.com, but, of course, the choice is yours. Before you decide this, you should install a malware scanner to inspect your operating system and check if malware exists. If it does, eliminate it immediately. When it comes to the removal of Search.search4ppl.com, you can choose to erase it manually (use the guides below), or you can install anti-malware software to find and automatically eliminate all malicious files and programs. You also want this software installed because of the full-time protection it can provide you with, and you must understand by now that keeping your system unprotected can lead to the invasion of all kinds of suspicious programs and malicious threats.
Remove Search.search4ppl.com/People Search
Internet Explorer
To get rid of the hijacker, you need to eliminate People Search, and it is installed as an application for Internet Explorer users. This is why it must be uninstalled.
Open the Control Panel menu. Windows 10 users can find it using the search tool on the Taskbar, and the users of previous Windows versions can click Start/Windows icon on the Taskbar and find it in the menu.
Click Uninstall a Program or double-click Add or Remove Programs (for Windows XP).
Uninstall/Remove the undesirable application.
Google Chrome
Open the browser and tap keys Alt+F at the same time to access the Chrome menu.
Select More tools and then Extensions to find all installed add-ons.
Find the undesirable one and then click the Remove button linked to it.
Mozilla Firefox
Open the browser and tap keys Ctrl+Shift+A to access the Add-ons Manager menu.
In the Extensions menu click the Remove button next to the undesirable add-on.
In non-techie terms:
Everyone knows that malware is bad, but not everyone is capable of identifying malware because of the many shapes it has. Search.search4ppl.com might not seem like a malicious threat, and, to be fair, it is not really that dangerous if you avoid interacting with it. However, if you do, it can record all kinds of information, and it can showcase potentially unreliable links via the well-known Yahoo search engine. This engine is exploited for its good name, but the hijacker can modify the results, which is why using it is not recommended. Using the hijacker altogether is not recommended, and the best thing you can do is remove it. Do you know how to delete Search.search4ppl.com manually? If you do not, check out the instructions above. Of course, it is better to employ an anti-malware tool to automatically erase the hijacker because it can also erase other infections, and it can ensure that your operating system is guarded against malware invasion.