Do you know what Search.safensearch.com is?
What can happen if your operating system is not protected? You might face Search.safensearch.com. This is a browser hijacker, and you will be lucky if you face it instead of dangerous ransomware threats, rogues, Trojans, and other malicious infections. While this hijacker is classified as a threat, there is no doubt that much more malicious threats could invade your operating system. In fact, they might have slithered in along with the hijacker as well, and because they are silent, you might have not noticed it. In case the homepage of your default web browser was modified to introduce you to the suspicious search tool, you need to scan your operating system ASAP. If you are lucky, you will find out that you only need to delete Search.safensearch.com. If you are not so lucky, you will be warned about other dangerous threats that, of course, will also require removal. Please continue reading our report to learn more about the hijacker, the accompanying threats, your system's security, and, of course, malware removal.
Search.safensearch.com might change the homepage URL with and without your permission. If you give the permission, you might not think much about this infection because it has a normal-looking interface. The Web, Images, Videos, and News tools enable quick web browsing, and the search dialog box in the middle accepts all search queries. Also, the links at the bottom represent legal statements, which is something you should check in all cases. If legal statements are hidden, you cannot trust the service. Of course, you need to review the information that is represented via them as well, and, if you find suspicious information regarding your private information or the activity of unknown parties, you have to delete the software/stop using the service immediately. Although there is no compromising information when it comes to Search.safensearch.com legal statements, you have to be very cautious about the ads that this hijacker shows. Have you noticed banner ads on the homepage and the promotional links on the search results page? These are the ads you need to avoid because clicking on them is a gamble: You might end up on reliable, useful sites, or you might be routed to malicious sites.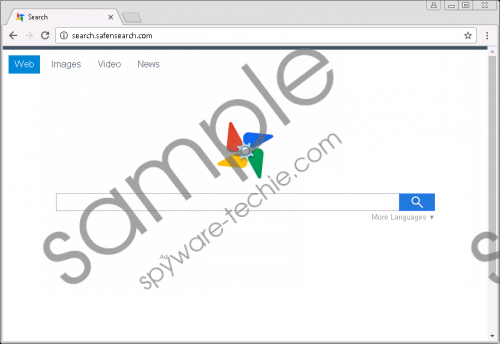 Search.safensearch.com screenshot
Scroll down for full removal instructions
The creator of Search.safensearch.com is introduced to us by the name "Pinwid Ltd.", but our research team warns that Snap.do might be involved as well. As you might know already, this is the creator of Search.tagadin.com and other recently discovered hijackers. Unsurprisingly, the company has not created an official installer for this hijacker, which is why it is usually seen spreading via third-party installers. Do you know what the biggest risk of dealing with such installers is? Unfortunately, they can package the hijacker with malware, and that is the biggest risk you are likely to face. As you already know, scanning your operating system is imperative if the hijacker is installed because you want to be aware of all threats active.
Use the manual removal guide below to erase Search.safensearch.com from any browser that it is currently compatible with. Once you think that your operating system is clean – if you go with the manual removal – scan your PC again to make sure that no leftovers are present. If your PC is clean, go ahead and utilize security software to provide you with further protection. Do not skip this step. If you cannot erase all threats by yourself, install an anti-malware tool, which will keep protecting your operating system after it is done automatically cleaning your PC from malware.
Delete Search.safensearch.com
Mozilla Firefox
Launch the browser and tap keys Alt+T.
Select Options and move to the General tab.
Overwrite the URL in the Home Page area and then restart the browser.
Internet Explorer
Launch the browser and tap keys Alt+T.
Select Internet options and then click the General tab.
Overwrite the Home Page URL, click OK, and then restart IE.
Google Chrome
Launch the browser and tap keys Alt+F.
Select Settings and then move to the On Startup section.
Mark Open a specific page or set of pages and then click Set pages.
Overwrite the hijacker's URL, click OK, and then restart the browser.
In non-techie terms:
Yes, Search.safensearch.com does not look like a threat at first sight, but this suspicious search tool can work as a hijacker, and the advertising service it is linked to is unpredictable. We cannot guarantee that the advertisers using this hijacker to display ads are authentic and reliable, which is why we advise removing Search.safensearch.com from the infected browsers immediately. Those who face the hijacker on its own or along with other low-risk threats will be able to erase it manually (check the guide above), but we advise employing anti-malware software if malicious infections are found running along with it.