Do you know what Search.pe-cmf.com is?
Search.pe-cmf.com is a search engine that might show you modified search results and change your default browser preference. Therefore, our researchers who tested the suspicious application in our internal lab decided it should be categorized as a browser hijacker. We recommend erasing such threats because they might introduce users to not just irritating, but also potentially dangerous third-party advertisements and other similar content, so provided you do not want to endanger the computer accidentally, we encourage you to use the removal guide provided below the text or a reputable antimalware tool. There is more information about Search.pe-cmf.com further in the article; thus, if you are interested in finding more about the browser hijacker, you should read the text first.
The search engine appears to be created by a company called Polarity Technologies Ltd; it is mentioned in the software's Privacy Policy paper. This is not the first time we are encountering a browser hijacker released by these developers, and it is why we do not think they can be considered as reliable. Moreover, it is enough to see a couple of the company's created tools, such as Search.hemailloginnow.com, Search.easyrecipesnow.com, Search.searchlttrn.com, Search.yourpackagesnow.com, to realize that all of these search engines are more or less just clones of one another. We do not think Search.pe-cmf.com is an exception since it has a similar appearance, provides the same functionality, and according to our researchers has a similar working manner too.
Once, the browser hijacker enters the system it may change your browser preferences, for example, your default search engine, new tab page, or homepage. This is how it makes the hijacked browser load Search.pe-cmf.com. At the moment of writing the application can applies these changes to Google Chrome, Mozilla Firefox, and Internet Explorer. If you decide to use it for surfing the Internet, with time, you could notice irritating third-party advertising content. It is possible, it might be injected into the search results or be displayed on top on the browser. As you see the application's Privacy Policy mentions the tool could gather user's anonymous information and search data to "present you with offers for other products, offerings, programs, features and/or services that may be of interest to you." It could mean the browser hijacker might show users targeted advertisements.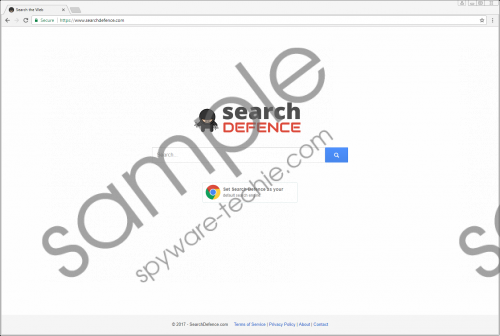 Search.pe-cmf.com screenshot
Scroll down for full removal instructions
Another thing you should know about the possible advertising content is it could come from various third-party partners. In which case, the ads might come from anywhere, including potentially dangerous web pages since Search.pe-cmf.com creators do not take any responsibility for the third-party advertised software, websites, and so on. Given the ads could be different for each user depending on the region, we cannot say what they might advertise. Probably, in the worst case scenario, the advertisements may redirect to malicious web pages containing threats like Trojans, viruses, ransomware, etc. The ads could also promote other browser hijackers, adware, potentially unwanted programs, etc. If you think it would be unwise to risk encountering such content, we advise you to erase the application with no hesitation as there are more reliable search engines to choose from.
Users who seek to eliminate the threat manually should be happy to learn it can be done by simply resetting the hijacked browser. If you are not completely sure how to perform this task, you can have a look at the provided removal guide you can see a bit below this text. The second option is to install a reputable antimalware tool and scan the system with it. Afterward, Search.pe-cmf.com should appear among the list of detections, and it could be erased together with other identified threats just by clicking the deletion button.
Eliminate Search.pe-cmf.com
Internet Explorer
Press Alt+X.
Pick Internet Options.
Navigate to the Advanced tab.
Click Reset to mark Delete personal settings.
Then press Reset again and click Close.
Mozilla Firefox
Press the Help icon.
Select Troubleshooting information.
Then click on Refresh Firefox and press Refresh Firefox again.
Click Finish.
Google Chrome
Press Alt+F.
Select Settings and slide down.
Click on Advanced and scroll down again.
Select Reset then press the Reset button.
In non-techie terms:
Search.pe-cmf.com is considered to be a browser hijacker. Such applications might be potentially dangerous as they may show modified search results injected with untrustworthy advertising content. Our researchers say they could travel with bundled software installers, which is why some users might install it accidentally without even realizing it. Thus, to keep the computer clean and avoid similar threats you might have to be more careful while downloading freeware or any other program coming from an unreliable file-sharing web page. Another way to keep the system secure is to have a reputable antimalware tool that could warn the user about potential threats. With such a tool you could get rid of the unreliable application too, but if you prefer removing it on your own, you should scroll a bit below this paragraph and use the provided removal guide instead.