Do you know what Search.myspeedtestxp.com is?
Search.myspeedtestxp.com has been categorized as a browser hijacker by our malware experts. Such categorization is mostly due to invasive activity that this program promotes. Unfortunately, our reports show that quite a few users have their PC infected with this intrusive hijacker because they are tricked into downloading and installing it. This is so because vendors of this program use devious marketing strategies. On its official website, this hijacker is advertised as a tool that should be used to test your Internet connection speed. At first it might seem like a program worthy of having but you must know that in reality this invasive hijacker is only capable of causing major disruptions while you are surfing the web. The only way that you can stop the intrusive activity that this hijacker promotes is by conducting its complete removal. Make sure to use the removal guide that we provide below to delete Search.myspeedtestxp.com in the quickest way possible.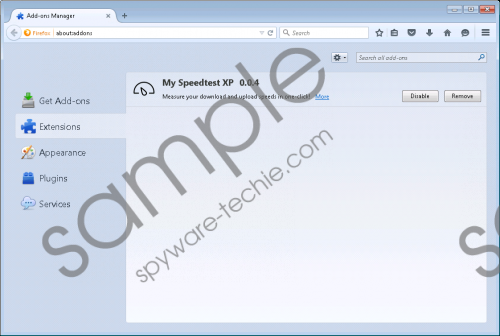 Search.myspeedtestxp.com screenshot
Scroll down for full removal instructions
The primary indication that Search.myspeedtestxp.com is up and fully running on your PC is a sudden change of your default homepage and search engine within your web browser. It is important to note that these changes take place without requiring any authorization for you; also, you are not notified about the changes that are made by this invasive hijacker, which is bothersome and frustrating to say the least. It goes without saying, that your online experience will be affected heavily by these alterations because you will no longer be able to use your default search engine; instead, you will be forced to use a new, suspicious one, which, in fact, we advise you no to use at all due to its suspicious nature. Additionally, your default homepage will become a questionable third-party website that should not be trusted entirely as well. Unfortunately all your browsing session will start on this suspicious site. By conducting a complete removal of Search.myspeedtestxp.com, you will be able to restore the default settings of your web browser and surf the web the way you are used to.
It is imperative to note that even though you can download Search.myspeedtestxp.com from its official website you must know that often this intrusive hijacker comes as a part of some software bundle. Such bundles are usually obtained from various third-party websites; thus, it is quite natural that we strongly advise you to avoid such websites at all times. For extra precaution, you should pay extra attention to every single installation procedure since you might be provided with an opportunity to cancel the installation of some suspicious third-party program. Last, but not least make sure to implement a reliable antimalware tool if you do not have one already because such a tool provides overall system security at all times.
Makes sure to conduct the removal of Search.myspeedtestxp.com carefully since a single mistake could mean that the intrusive hijacker was not removed entirely. Such situation is a dangerous one, to put it mildly because the hijacker could be silently restored by using just a few leftover registry entries or files. This is the reason we advise you to conduct an in-depth analysis of your operating system for potential leftovers as it is your best bet to be sure that everything linked to Search.myspeedtestxp.com was removed from your PC.
How to remove Search.myspeedtestxp.com from your PC
Windows Vista and Windows 7
Click the Windows button and select Control Panel.
Click the Uninstall a program option.
Select My Speedtest XP and click Uninstall.
Windows XP
Tap the Windows key on your keyboard.
Select Control Panel and click Add or Remove Programs.
Uninstall the unwanted application.
Windows 8
Move the mouse pointer to the lower-left corner of the screen.
Right-click.
Select Control Panel.
Click Uninstall a program.
Double-click My Speedtest XP.
Confirm that you want to remove it.
In non-techie terms:
Make sure to follow the instructions provided below if you find manual removal and analysis of your operating system too complicated. The alternative removal guide will help you delete this intrusive hijacker in no time at all as it will do so in an automatic way.