Do you know what Search.htrackyourpackages.co is?
If your browser's homepage address was changed to Search.htrackyourpackages.co, then you should know that you have a browser hijacker on your hands and you need to remove it. It is an another hijacker from Polarity Technologies, so it is highly unreliable as a search engine because it presents you with modified search results with promotional links that can jeopardize your computer's security since this malicious search engine can promote unreliable and even malicious websites. It also collects anonymous information about you automatically, and if you contact the developers and provide any personal information about yourself, then they will use it for marketing purposes as well. In short, there is nothing good about this search engine, but if you need for information, please see the information provided below.
As mentioned, this particular browser hijacker was created by Polarity Technologies, a company that is exclusively dedicated to creating browser hijackers. Among many of its releases, we find Search.searchquickm.com, Search.searchlivesportson.com, and Search.search1000tr.com among others. This company is based in Cyprus, allegedly, and releases hijackers on a regular basis. Its search engines are labeled as browser hijackers due to their distribution methods.
Like the hijackers that came before it, Search.htrackyourpackages.co is disseminated with the help of software bundles. According to our researchers, Polarity Technologies use bundled third-party software installers that have been set to install this hijacker. The bundled installers feature one primary application that can be legitimate and acts as the bait. The user is expected to install this hijacker while installing the primary software unknowingly. Since Search.htrackyourpackages.co is a hijacker, the bundles do not disclose the presence of the hijacker and install it automatically, without your knowledge or authorization. This way of distributing a search engine is deceptive and illegal and, thus, this search engine is considered malicious.
Another noteworthy feature that is characteristic of Search.htrackyourpackages.co is that is redirects all entered search queries to a modified Yahoo search engine that may show promotional links at the bottom of its pages as well as other locations. The promoted content is apparently legitimate, but due to the unreliable nature of the company that created it. It has been established that Polarity Technologies makes browser hijackers to replace the homepage addresses of Google Chrome, Mozilla Firefox, and Microsoft Internet Explorer so that people would use them and view and click promotional links that generate the company revenue. This company may associate itself with shady advertisers and, as a result, the content it promotes can be malicious in nature.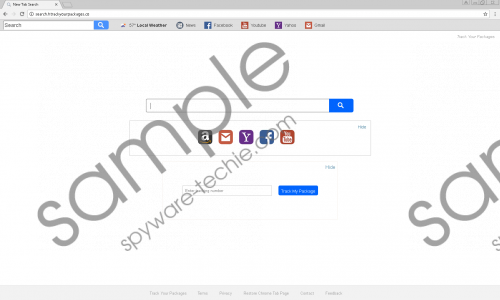 Search.htrackyourpackages.co screenshot
Scroll down for full removal instructions
If you contact the company, then all of the personal information such as your name, email or mailing address will be collected. As far as non-personally identifiable information is concerned, this hijacker is set to collect your browsing history, search queries entered, browser type, operating system type, Internet Protocol (IP) address, Internet Service Provider (ISP) domain name, approximate geographical location and so on. Note that this information is collected legally and can also be legally shared with third-parties that are unknown in this case.
As you can see, Search.htrackyourpackages.co is neither a safe nor useful search engine because its sole purpose is to hijack your browser's homepage and show unreliable promotional links in the search results. Without a doubt, its creators are more interested in the ad revenue they get than providing you with a safe, quality search engine. Therefore, it is recommended that you remove it from your PC as soon as you can. See the guide below on how to change the homepage address of your browser.
How to change your browser's homepage
Microsoft Internet Explorer
Lunch the browser.
Press Alt+T and click Internet Options.
Erase http://search.htrackyourpackages.co/
Enter a new URL.
Click OK.
Mozilla Firefox
Lunch the browser.
Press Alt+T.
Click Options and select General.
Erase Search.htrackyourpackages.co and enter a new address.
Google Chrome
Lunch the browser.
Press Alt+F keys.
Select Settings.
Click Set pages.
Erase http://search.htrackyourpackages.co/
Enter a new URL
Click OK.
In non-techie terms:
Search.htrackyourpackages.co is a malicious search engine that was classified as a browser hijacker because of the way its creators distribute it. It can end up on your PC as a result of installing a malicious software bundle and its purpose is to show ad-supported search results that can feature malicious links. Therefore, to keep your PC safe, we invite you to remove it using the guide above.