Do you know what Search.HolaInput.com is?
Although Search.HolaInput.com seems like a user-friendly search engine, security specialists alert us that it might violate your privacy while collecting a variety of information about you. This browser extension created for Google Chrome is considered to be a browser hijacker because it alters your preferences without asking. We doubt that anyone would like to have such uncontrollable and useless program in their system. If you think alike, we urge you to get rid of this hijacker, and you can do it with our removal instructions accessible below the article. After the deletion, you can set your preferences again while accessing the Settings option on the browser.
Hongkong Zoekyu Technology Inc. developed the extension that security specialists identify as the unwanted software publisher. As we mentioned before, it is compatible with the Google Chrome browser, but you cannot find it in the Chrome Web Store. It means Google Chrome does not approve the extension. This only proves that the tool is of dubious quality and is not worth to have on your computer.
Search.HolaInput.com travels together with a potentially unwanted program (PUP) HolaInput. This can only mean that you have this PUP in your system too. The program can be downloaded from deskick.com, but it can come bundled with other software as well. It is possible you thought that only one particular program would be installed and, after launching the installer, you accepted everything without reading the provided conditions, suggestions, etc. In this case, from now on, it would be advisable always to read the information that is given in setup wizard.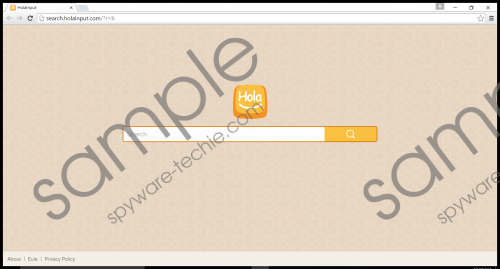 Search.HolaInput.com screenshot
Scroll down for full removal instructions
When the extension settles in your browser, it will change your new tab page, homepage, and search engine to Search.HolaInput.com. On the website, you can check the provided Privacy Policy and End User License Agreement, but they are not as conclusive as we would hope. The extension developers state that they do not collect or require private information, but they do not clarify what happens in case you provide this information yourself, e.g. while contacting them via email. Also, it seems they do collect a lot of information that they do not consider to be private, but such tracking on the web is not acceptable to some users. According to Hongkong Zoekyu Technology Inc., this anonymous data is: "<…> your web request, the Internet Protocol address and browser configuration of your computer, the date and time of your request, the Uniform Resource Locator (URL) of the referring and exiting Web sites. If you use our search services, we also collect information on the search terms you submit and the links you click upon the results pages." What's more, Search.HolaInput.com uses google.com to gather search results, which makes the software look more useless and it indicates that their primary goal is to collect information.
What is unusual for this browser hijacker is that the extension gathers data, which is usually used to show targeted ads, but it does not display any third-party or other untrustworthy advertisements in the results. It raises a question why do they collect such information at all? As they say themselves, the gathered data will be used to develop and design new products or services. Therefore, it might be possible that the information will be the main material for creating PUPs, adware or other browser hijackers in the future.
All things considered, the extension seems highly suspicious, so it would be advisable to remove it as fast as you can, and you can get rid of it either manually or automatically with an antimalware tool. In order to delete this browser hijacker manually, you will have to find a few particular locations on your computer and erase the entries created by Search.HolaInput.com. Naturally, if you go with manual deletion, we will guide you through the process with our prepared instructions a little below the text. If you have any more questions, leave us a comment here or reach us on social media.
Erase Search.HolaInput.com
Open Explorer window.
Copy and paste given location: %LOCALAPPDATA%\Google\Chrome\User Data\Default
Find listed files: Preferences, Secure Preferences, and Web Data.
Right-click on them to delete.
On the same directory locate Extensions folder and open it.
Find file "ihfckchjffmhmgklenlaagdoeoijplec" and right-click to delete it.
Close Explorer and press Windows Key+R.
Type regedit and click OK.
Navigate to: HKEY_LOCAL_MACHINE\SOFTWARE\Google\Chrome; HKEY_LOCAL_MACHINE\SOFTWARE\Wow6432Node\Google\Chrome\Extensions
Locate ihfckchjffmhmgklenlaagdoeoijplec key and right-click to delete it.
In non-techie terms:
The search tool is worthless and it might invade your privacy, so it would be better to erase it and go back to your usual search engine, which you can trust. Although you can do it manually, it might be easier for inexperienced users to download a legitimate security tool and remove the browser hijacker automatically. Also, the security tool of your choice could serve you well in the future too, since it would guard your system from various threats.