Do you know what Search.hmyquickconverter.com is?
Search.hmyquickconverter.com is a search page with special features that can show up in your major browsers and pose a threat to your virtual security. Our researchers say that this is not an unfamiliar new search engine, but simply a new clone of many from the same browser hijacker family. You should not keep or trust this search engine at all because it may present to you questionable third-party content, such as ads and links through its promoted pages or the search results, which it may alter. Since this malware infection uses unsafe distribution methods to spread on the web, it is quite likely that you will find other threats now on your system related to this hijacker. We recommend that you act immediately and remove Search.hmyquickconverter.com from your computer if you want to defend it from future attacks.
As we have mentioned, this browser hijacker comes from a huge family that includes very similar and also identical clones, such as Search.sonicpdfconverter.com and Search.yourinstantfileconverter.com. These infections spread in the very same way too: free software bundles. Although, it is also possible that you install this search engine directly by clicking on an unreliable third-party ad or link. Nevertheless, you can seriously harm your PC is you install any bundle with malicious content. Therefore, it is essential for you to know how this is possible at all. In all fairness, we need to mention that many installers inform you in a way about the components you are about to install so that you can make your choice. But this notification may not be visible or clear enough, it could be only revealed if you choose the custom option, or only in the license agreement, which most users tend to ignore completely. This is all done purposefully by schemers to make sure that all the malicious programs are installed by default. Clearly, when you delete Search.hmyquickconverter.com, you need to remember this and should use a reliable online malware scanner to detect all other questionable programs and malicious threats on your system.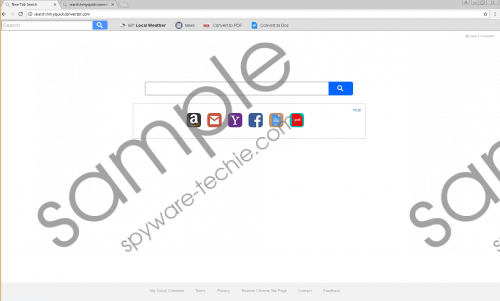 Search.hmyquickconverter.com screenshot
Scroll down for full removal instructions
In order for you not to be exposed to such bundles, you need to forget about using shady file-sharing pages to download free files and programs. Also, you need to give up clicking on third-party ads because you can never know where you might end up or what you might drop. Even more so when your computer is already infected with adware. This is why it is so important that you make sure that after you remove Search.hmyquickconverter.com from your browsers, you also eliminate all other threats. Otherwise, you can never feel safe while going online or simply using your computer.
When you find this browser hijacker in your browsers as your home page, you may not even pay attention or realize that something has changed. A lot of users have Google as their home page, for example, and since this reputable search engine keeps changing its logo, you may not even notice that it is not actually Google anymore. However, the main difference here is that this search page has a featured tool bar that provides you with easy-access links. You can find the good old search tool on the left, followed by the rest, including the usual local weather link, the news link, which are both characteristic to this family just like the search tool. The "new" theme in this case is the Convert to PDF and Convert to Doc buttons that take you to cloudconvert.com, which seems like a reliable page to be honest.
There is also a panel of thumbnails below the main search box that contains links to popular websites (e.g., Amazon, Gmail, and Facebook) as well as the aforementioned conversion page. You can either hide or show this panel if you click on the respective linked text. These links may be safe to use but we definitely do not advise you to use this search engine. The reason is simple: We have found that the results could be manipulated and thus potentially risky. Although, you will find yourself on a Yahoo search results page, you should not let it confuse you with its reliability. When you land on that page through this hijacker, chances are it will contain questionable third-party ads and sponsored links. If you engage with such content, you could get redirected to malicious websites or directly drop malware infections onto your machine. We suggest that you remove Search.hmyquickconverter.com from your PC right away.
It is time to talk about solutions finally. If you have got this far, you may be ready to act and delete Search.hmyquickconverter.com to put an end to the possible threats. Please use our guide below as your reference if you do not know how to change your browsers' home page settings. We also suggest that you consider employing a reliable anti-malware program (e.g., SpyHunter) because it could be hard for you to keep your PC clean in the future if you do not change your surfing habits radically.
Remove Search.hmyquickconverter.com from browser
Mozilla Firefox
Press Alt+T and go to Options.
Pick the General panel.
Press Restore to Default.
Google Chrome
Press Alt+F and navigate to Settings.
Under On Startup, mark Open a specific page or set of pages and click Set pages.
Enter a new URL address.
Delete the unwanted URL.
Press OK.
Internet Explorer
Press Alt+T and go to Internet options.
Choose the General tab and press Use default.
Press OK.
In non-techie terms:
Search.hmyquickconverter.com hit the web recently and should be removed from your browsers if you do not want to cause more system security-related issues for yourself. This browser hijacker is nothing new to our researchers, in fact, it is a newcomer in a well-known and notorious hijacker family. This search page provides you with easy access to document conversion websites and a questionable search engine that may show you modified search results. This hijacker mostly spreads in freeware bundles, which can mean multiple malware threats on your system. Thus, we suggest that you remove Search.hmyquickconverter.com as soon as you can. If you do not trust your IT skills enough, we recommend that you start using a professional anti-malware program to protect your PC.