Do you know what Search.hfreeliveradio.co is?
Search.hfreeliveradio.co enables easy-access to Amazon, Instagram, Twitter, Youtube, and a bunch of audio-streaming services, such as Soundcloud, Spotify, and iHeart Radio. Due to this, some users consider this browser hijacker to be a useful assistant. According to our research, it is compatible with Internet Explorer, Google Chrome, and Mozilla Firefox browsers, and, depending on the browser, it can take over the homepage, default search provider, or New Tab. It is most likely that users are tricked into accepting the browser modifications themselves, but it is possible that it could corrupt browsers without anyone's permission at all. Of course, if a threat slithers in without any notice, it is important to inspect the operating system for other infections that might have slithered in silently as well. Needless to say, all threats require removal, but, in this report, we focus on deleting Search.hfreeliveradio.co.
You might have been introduced to Search.hfreeliveradio.co by an add-on named "Free Live Radio." This add-on is created by Polarity Technologies Ltd., which is also the creator of the hijacker. It appears that the extension is created to spread the hijacker because it has no other function. Some users download it from chrome.google.com/webstore/detail/free-live-radio/pacogkibldhicojmklpbapiilaleilbp or the official website, freeliveradio.co/Radio, but many are offered this suspicious extension by unreliable installers. These installers could offer the extension packaged along with other unwanted programs or even malware. If any serious threats got in, a legitimate malware scanner could help you identify them. If you are lucky, you only need to remove Search.hfreeliveradio.co/Free Live Radio. Why should you get rid of this software? The short answer is that it is not reliable and not useful.
Whether or not you install Free Live Radio willingly, you have no choice when it comes to the suspicious Search.hfreeliveradio.co. This hijacker occupies your browser in the hopes of making you surf the web using its search tool. That, unfortunately, is dangerous because the search results can be modified to expose you to all kinds of unreliable content. That is something the users of Search.searchgetlnn.com, Search.searcheasyra.com, Search.loginemailaccounts.com, and many threats alike have to think about as well. The problem is that they redirect to Yahoo Search, and that is a search engine most users tend to trust. If you are redirected to anything without authorization, you cannot trust the service. On top of that, the longer you keep the hijacker running, the more information it will be able to record. Note that personal, private information is not safe either, and if you wish to stop the hijacker collecting this kind of data, you need to remove it from your browser as soon as possible.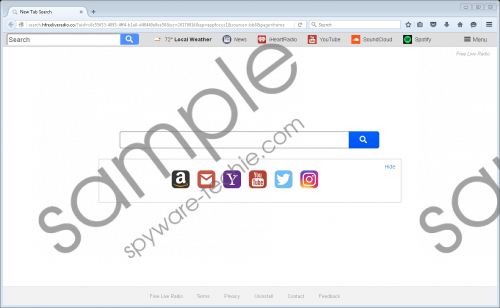 Search.hfreeliveradio.co screenshot
Scroll down for full removal instructions
Uninstall the app representing Free Live Radio via Control Panel to disable the extension on Internet Explorer. Delete the extension directly from Chrome and Firefox browsers. Also, check if homepage and default search provider settings require any modifications. Finally, erase data trackers. This is what you need to do to remove Search.hfreeliveradio.co manually. You also can choose to install anti-malware software, and that is what our research team recommends if the scanner we recommended using at the beginning has detected more threats that also require removal. If you want to discuss things regarding the undesirable software or removal, feel free to start a conversation in the comments section.
Delete Search.hfreeliveradio.co
Internet Explorer
Launch Windows Explorer by tapping keys Win+E.
Enter Control Panel\Programs\Programs and Features into the bar at the top.
Uninstall the undesirable application.
Launch Internet Explorer and then tap keys Alt+T.
Select Internet options and then click the General tab.
In the Home Page section overwrite the hijacker's URL.
Tap Alt+T again and select Manage Add-ons.
In the Search Providers menu Remove the undesirable search provider.
Tap Ctrl+Shift+Delete and mark the boxes representing the data you want to clean.
Click Delete and then restart the browser.
Google Chrome
Launch the browser and tap keys Alt+F.
Select More tools and then Extensions to find the unwanted add-on.
Click the trash bin button on its right and then select Remove.
Tap Alt+F again and select Settings.
Move to Search engine and click Manage search engines.
Remove from list the undesirable search provider.
Move to the On Startup menu and overwrite the hijacker's URL.
Tap Ctrl+Shift+Delete, select the time range, and check appropriate boxes.
Click CLEAR BROWSING DATA and then restart the browser.
Mozilla Firefox
Launch the browser and tap keys Ctrl+Shift+A.
Move to the Extensions menu and then Remove the unwanted add-on.
Tap Alt+T and then select Options.
Move to the General menu and overwrite the URL in the Home Page section.
Move to the Search menu and Remove the undesirable provider.
Tap Ctrl+Shift+Delete, select the time range, and check appropriate boxes.
Click Clear Now and then restart the browser.
In non-techie terms:
The interface of Search.hfreeliveradio.co is truly smart, and you might create an impression that the hijacker is a reliable and useful tool that offers access to popular sites, as well as a reliable search service. The reality is that the hijacker cannot be trusted because it can record personal information. Also, it can redirect you to a third-party search engine in an illegal manner, which, of course, must be taken into consideration. Finally, Yahoo Search results can be modified to promote sponsored content. These are the main reasons it is recommended that everyone removes Search.hfreeliveradio.co. It is easiest to get rid of unreliable software with the help of anti-malware software, but you should be able to get rid of this malware successfully using the instructions available above.