Do you know what Search.hemailinboxlogin.com is?
If you notice Search.hemailinboxlogin.com in your browsers as your new homepage and new tab, it can mean that you have been infected with a browser hijacker. This malware infection is not a unique one; in fact, our researchers have found that it is just another Polarity Technologies product. This team has given us dozens of browser hijackers, which are all very similar in essence, or better yet, some are even perfect clones of each other like, in this case, Search.searchlye.com. This "new" browser extension is indeed a search website with a fake toolbar offering quick links to major e-mail providers and other popular websites like Facebook and Amazon. Since this browser hijacker can show you manipulated search results, we do not advise you to use it or keep it at all. As a matter of fact, we recommend that you remove Search.hemailinboxlogin.com from your PC right away.
What is even a bigger issue here, this browser hijacker can infiltrate your system in a free software bundle. This means that there could be other threats on board as well. Cyber crooks like to use this distribution method since they can pack several potentially unwanted programs and malicious software installers as well. These bundles are mostly promoted through suspicious file-sharing sites, but you can also drop one unknowingly if you click on corrupt third-party advertisements while surfing the web. You should also be aware of the fact that when your PC is infected, it is way easier to drop further infections since threats like adware programs can expose you to malicious content anytime you go online. Our researchers suggest that after you delete Search.hemailinboxlogin.com, you scan your PC with a trustworthy online malware scanner to detect all other threats. Leaving these issues unaddressed could lead to serious system security issues.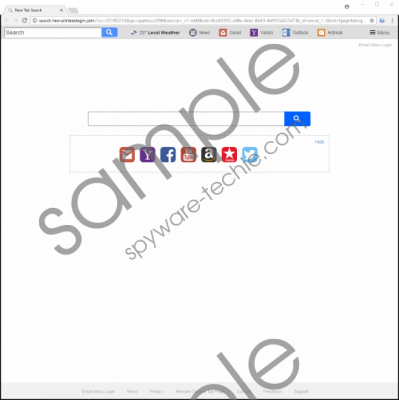 Search.hemailinboxlogin.com screenshot
Scroll down for full removal instructions
In all fairness, we also need to mention that you can install this questionable browser extension officially if you happen to find its official page at emailinboxlogin.com, or the Chrome web store page at chrome.google.com/webstore/detail/email-inbox-login/fgogklbdmggeigcfncjonabdeagiaeem. This family usually also pushes another useless browser extension that is offered for you after you pressed "Add extension." As a matter of fact, you may believe that this other tool has to be installed as well to finish your initial installation. We think that this is a rather suspicious and aggressive way to promote a tool. Therefore, we suggest that you do not tolerate it and do remove Search.hemailinboxlogin.com if you have already found it in your browsers.
Most of us use all kinds of e-mail servers and accounts every day, multiple times. This is why users may consider this tool as beneficial. But please note that you can easily bookmark these pages instead of using a risky tool like this one. The worst thing about this browser hijacker is that it can show you manipulated search results on a Yahoo page, which would make you feel safe. No wonder such hijackers use reputable search engine most of the time. But one click on the wrong content could have a steep price. You may, for example, download malware infections in the background and you would not even know it, or open new tabs with fake and malicious pages where cyber criminals could wait for you to fall for their scam and disclose sensitive information. The latter could lead to your bank account being drained or your personal details being used in other online frauds. Hopefully, you see now why we advise you to remove Search.hemailinboxlogin.com from your computer.
Please follow our guide below this article if you would prefer to take action now and do it manually. Let us remind you that, for all you know, your system could be swarming with all kinds of threats. If you do not stop this now, you will never be secure going online. This is why we advise you to find and install a trustworthy malware removal program, such as SpyHunter. This security tool can provide you perfect protection against all known infections when kept activated and updated.
Remove Search.hemailinboxlogin.com from Internet Explorer
Windows Vista/Windows 7/Windows 8/Windows 8.1/Windows 10
Press Win+R and enter control panel in the box. Hit the Enter key.
Open Uninstall a program.
Select the uninstaller and press Uninstall.
Windows XP
Access the Start menu and navigate to Control Panel.
Select Add or Remove Programs.
Select the uninstaller and press Remove.
Remove Search.hemailinboxlogin.com from browsers
Google Chrome
Press Alt+F and choose More tools.
Select Extensions.
Find the unwanted extension in the list and click on the Trash can on its right.
In the pop-up, press Remove.
Mozilla Firefox
Press Alt+T and choose Add-ons.
Select Extensions on the left.
Find the unwanted extension and press Remove.
In non-techie terms:
Search.hemailinboxlogin.com is a risky search website featuring quick links to e-mail providers that was created by the notorious Polarity Technologies Ltd. This team has given the world dozens of similar and identical browser hijackers as well as potentially unwanted programs. If you notice this hijacker in your browsers as your new homepage or new tab page, you could be introduced to questionable third-party content. Engaging with unreliable third-party advertisements and links could bring more infections to your system or you could also land on malicious pages and lose your money to an online scam. No wonder why our researchers say that you should remove Search.hemailinboxlogin.com as soon as you can. It is also advisable to install a reputable anti-malware program to protect your PC more effectively.