Do you know what Search.careerjobsearch.co is?
Search.careerjobsearch.co is yet another useless featured search website from Polarity Technologies Ltd. to promote potentially questionable third parties. This search engine page is very similar to all previous ones created by this company, including Search.htextfrompc.co and Search.testmyspeeds.co. Although this hijacker may appear to be innocent to inexperienced users, we are here to warn you of the possible risks. This malware infection can show you manipulated search results that could thus contain possibly unsafe third-party ads and links as well. In other words, engaging with any search result might result in infecting your computer with further threats or redirections to malicious websites. All in all, our researchers say that it is not safe to keep this browser hijacker in your browsers as it counts as a potential system security threat. Thus, we recommend that you remove Search.careerjobsearch.co from your browsers as soon as possible.
One of the most likely ways for you to install this hijacker is to download free programs off of shady torrent and freeware sites, including malavida.es and descargar.es. These pages often promote malicious software packages that may bundle a number of potentially unwanted applications and malware threats like adware programs, Trojans, fake warnings, ransomware programs, and browser hijackers. You could also be offered a software update or download presented by a pop-up or banner ad. Although this ad may seem authentic to unsuspecting users, you should know that most of the time these are malicious and drop malware infections like this browser hijacker behind your back. This is why it pays to stay away from suspicious websites with questionable third-party ads.
But you could also be exposed to such unsafe content when your computer is infected with adware programs, browser hijackers, or even certain potentially unwanted applications. These infections can usually collect information about you to show you customized advertising and thus deceive you and trick you into clicking, which obviously also may be a source of money (pay-per-click system) for the creators. Nevertheless, once you click, you could drop a full bundle of malicious threats or get redirected to a malicious page that could do the same or even scam you. All in all, we believe that it is essential that you run a full system malware scan right after you delete Search.careerjobsearch.co from your computer.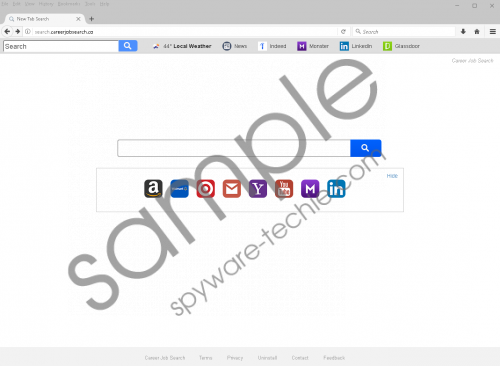 Search.careerjobsearch.co screenshot
Scroll down for full removal instructions
This browser hijacker seems exactly the same as its predecessors from the same family. However, it does offer you a bit different features apart from the default ones (search tool, news link, and local weather link). This particular search website features quick access to websites associated with career, including Monster and LinkedIn. Please note that visiting any third-party website through this browser hijacker could be risky since it might be able to inject potentially unreliable third-party ads. The same is true for the search engine itself, since it forwards your queries to its own web server first and only then, to Yahoo. Therefore, you cannot trust these search results even if seemingly they all come from the reputable Yahoo search engine. It is possible that you click on an ad or a link and drop an infection in the background or open a new tab with a fake website where you could be scammed by criminals. No wonder why we suggest that you delete Search.careerjobsearch.co from your computer; you could never feel safe using this search engine.
The only good news about this browser hijacker that it may only hijacker your home pages and it makes it all the easier to eliminate it. Please use our instructions below this report if you care to end this malware infection with your own hands. But remember that there could be more and more serious threats on your system right now. Therefore, we advise you to go on until you entirely clean your PC. If it is something you could not do alone and manually, we recommend that you install a trustworthy malware removal application, such as SpyHunter, as soon as possible. This security software can automatically detect and eliminate all known potential and malware threats so that you can have real peace of mind while surfing the web or using your computer.
Remove Search.careerjobsearch.co from your browsers
Mozilla Firefox
Press Alt+T and go to Options.
Choose General in the left panel.
Press Restore to Default.
Restart your browser.
Internet Explorer
Press Alt+T and navigate to Internet options.
Choose the General tab and click Use default.
Press OK.
Restart your browser.
Google Chrome
Press Alt+F and open Settings.
Select Manage on startup pages under On Startup.
Mark Open a specific page or set of pages.
Open the menu next to the currently set home page.
Select Edit and overwrite the home page address.
Click Save.
Restart your browser.
In non-techie terms:
Search.careerjobsearch.co is a useless featured search website created by Polarity Technologies Ltd that can provide you with questionable third-party content. This can put your system security at risk. In fact, since this search page can appear in your main browsers being set as your home page, our researchers have categorized it as a browser hijacker. This hijacker can affect your Mozilla Firefox, Internet Explorer, and Google Chrome as well. Since this search engine can show you modified results containing potentially risky third-party ads and sponsored links, we believe that it is best for you to remove Search.careerjobsearch.co from your browsers. It is also likely that this browser hijacker enters your computer along with other malware infections; therefore, it is advisable that you use a professional anti-malware program to automatically eliminate all known threats and protect your computer from future ones.