Do you know what Sear4m.xyz is?
Sear4m.xyz is an annoying and unreliable search engine that can appear in your Google Chrome browser after installing a malicious free software bundle. Therefore, it is possible that you do not even remember giving your permission for this infection to change certain browser settings. Based on its behavior, our researchers have categorized this infection as a browser hijacker. This infection is an undesirable addition to your browser since its presence may expose you to unreliable web content. In other words, interacting with this questionable search site can put your virtual security at risk. It is important that you remove Sear4m.xyz and detect all other potential threats if you do not want to fall prey to cyber criminals and their vicious online scams. If you want to know more about this browser hijacker, please read our full report.
Although user reports mainly mention Google Chrome as the affected browser, we cannot rule out the possibility that this browser hijacker can also show up in other major browsers, including Internet Explorer and Mozilla Firefox. Our researchers have discovered that this potentially harmful hijacker mainly spreads in freeware bundles. This method is widely used by schemers to distribute all kinds of malware infections packed together to hit computers with multiple threats in one go. So if you have installed such a package lately, it is quite possible that you will find some adware applications, browser hijackers, and potentially unwanted programs on your system after a deep malware scan.
It is easier than you would think to infect your own computer with such threats. For example, you can land on suspicious websites after a web search looking for free files and programs to download. You may not know but even reputable search engines, such as Google, Yahoo, and Bing can display fake and malicious websites among their results. It is only up to you whether you recognize such pages before clicking on the links or not. Ending up on an unfamiliar fake website can be quite confusing and you may easily click on unsafe content, including deceptive buttons (next-page, download) that are indeed third-party ads. This is how most users actually infect their systems. So if you have visited such suspicious file-sharing and gaming sites that displayed several advertisements, you should delete Sear4m.xyz right away and scan your system for more threats.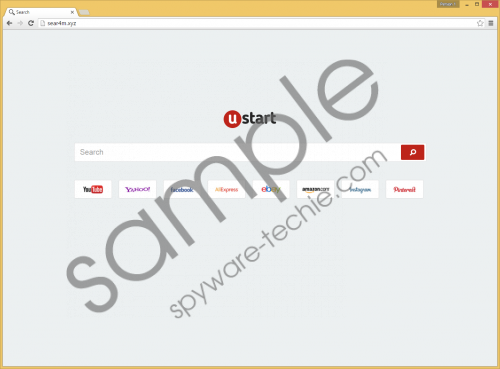 Sear4m.xyz screenshot
Scroll down for full removal instructions
Reports show that this browser hijacker is gaining popularity in the following countries: Mexico 36.4%, Argentina 28.1%, and India 10.9%. Do not be misled by these regions because you might also get infected even if you are from a different country. At first sight, this search page looks totally normal and innocent; although, we cannot say that it resembles reputable search engines as browser hijackers mostly try to in an attempt to mislead unsuspecting users. Below the unusually long search box, you can find several quick links to popular sites, including YouTube, Yahoo, Facebook, and AliExpress. We do not advise you to engage with any content coming from this search page. Mostly, we need to warn you about the search tool itself. As a matter of fact, this browser hijacker can collect information about you so that you could be targeted with customized advertisements and other content on modified search results pages. This gets more dangerous when criminals get hold of this information and use it to trick you into clicking on their corrupt links that can take you to malicious websites or drop a bundle filled with malware infections onto your system. Since you might get scammed by cyber crooks and lose your money as well as your identity, you should take it seriously and delete Sear4m.xyz right now.
In order to eliminate the undesirable potentials this browser hijacker has for you, it is best to reset your browser. If it is not only your Google Chrome browser that has been affected by this infection, you should do the same with all the others. We have included instructions for all major browsers in case you are not familiar with this process. Even if you are an inexperienced computer user, you can easily follow the steps and accomplish this in just a few minutes. If you wish to protect your computer, you should be a more careful surfer on the web. For example, do not open suspicious e-mails and attachments, do not visit unfamiliar and questionable websites, do not click on third-party ads and questionable search results. This way you can do a lot for the security of your virtual realm. However, the best way will always be the use of automated anti-malware software, such as SpyHunter. The Internet is full of all kinds of security tools now. You can choose any, but make sure that you are going for a reliable one because the number of fake tools grows by the day.
How to remove Sear4m.xyz from your browsers
Google Chrome
Press Alt+F and go to Settings.
Scroll down and click Show advanced settings.
Scroll down and click Reset settings.
Click Reset.
Mozilla Firefox
Press Alt+H and open Troubleshooting Information.
Click Refresh Firefox.
In the pop-up window, click Refresh Firefox.
Press Finish.
Internet Explorer
Press Alt+T and select Internet Options.
Choose the Advanced tab and click Reset.
Tick Delete personal settings and press Reset.
Press Close.
In non-techie terms:
If you see Sear4m.xyz in your Google Chrome browser after opening it, your home page and default search engine settings may have been changed by a browser hijacker without your knowledge. Unfortunately, this questionable search page can hold potential risks for you and for your virtual security as well. This hijacker enters your system in a malicious bundle that may contain several other malware threats. Therefore, it is quite possible that your system has become vulnerable enough for cyber criminals to access your files or scam you with fake advertisements. If you want to stop this rampage before it could cause real damage, you should remove Sear4m.xyz and all other related infections from your computer as soon as possible. We suggest that you download and install a reliable anti-malware product that will protect your system from all existing malware threats.