Do you know what ScanTack is?
ScanTack is an adware application that will display a lot of pop-up ads on your browser's screen. These ads will slow down your browser, and you will not be able to browse the Internet properly. ScanTack may also expose you to potentially dangerous content. This program does not try to infect you with malware, but cyber criminals often misuse ScanTack and similar applications for their malicious purposes. Therefore, you have no other choice, but to remove ScanTack from your computer right now. You might also need to terminate other unwanted applications as well.
There is a high chance that you have various unwanted adware applications on your PC because ScanTack is usually distributed bundled with other programs. Even though, this adware application has its own homepage at ScanTack.net, the website is dysfunctional. Clicking the Download Now button will lead you nowhere, and it is impossible to download the program directly. Thus, the only distribution method left is bundled downloads. Our lab team is certain that ScanTack setup file usually hides in third party installers and downloaders. It means that you download and install ScanTack onto your computer together with other freeware applications.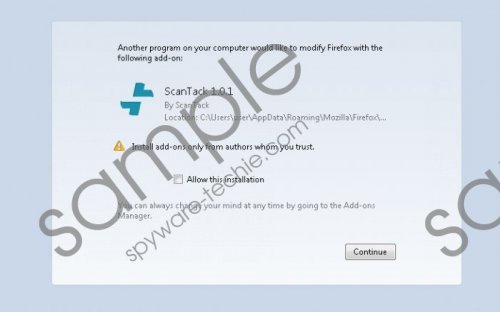 ScanTack screenshot
Scroll down for full removal instructions
The good thing about ScanTack is that we know exactly what to expect of it. ScanTack belongs to an ever-growing group of adware applications. All of them are developed by SuperWeb LLC, and this group includes such adware applications as TowerTilt, Cling Clang, Rock Turner ads and many others. It means that the adware creators are very eager to make easy money by using such applications.
The disturbing fact is that users often allow ScanTack to remain on their computers because they do not consider this application dangerous. It is true that ScanTack is not a malicious computer infection, but it does not mean that it cannot cause computer security issues.
Take note that ScanTack adds extensions to your default browser. This extension collects data on your web browsing habits. This information helps ScanTack generate a series of commercial advertisements that display various shopping suggestions and discount offers. Commercial ads appear on online shopping websites, such as ebay.com, bestbuy.com, amazon.com and so on. It may seem that ScanTack can help you purchase your favorite goods at an optimal price, but the problem is that you cannot trust its ads. ScanTack is not responsible for the security of ads content. It makes use of third-party advertising network to get the ad content. Thus, some of the links might not be safe to click.
It is for the best to remove ScanTack from your computer right now to ensure system security. When you are done with manual removal, scan the system with SpyHunter free scanner. It will help you detect other unwanted applications if any.
Manual ScanTack Removal
Windows 8
Move mouse cursor to the bottom right corner of your screen.
Click Settings on Charm bar and click Control Panel.
Open Uninstall a program and remove ScanTack.
Windows Vista & Windows 7
Open Start menu and click Control Panel.
Go to Uninstall a program and remove ScanTack.
Windows XP
Click Start menu and navigate to Control Panel.
Select Add or remove programs and uninstall ScanTack.
Remove ScanTack add-on from Mozilla Firefox
Press Alt+T and click Add-ons.
Disable and remove ScanTack from Extensions. Restart browser.
You can also try other instructions below this description if something goes wrong with ScanTack's removal.
In non-techie terms:
ScanTack is a browser extension that displays annoying pop-ups. These pop-ups can prove to be dangerous. You need to remove ScanTack from your computer if you want to protect yourself from dangerous threats.