Do you know what SaveitKeep is?
SaveitKeep is an adware application. It adds and extension to your default browser, claiming that it can help you save money when you show online. There are an extensive number of similar browser add-ons that promise to help you economize on online purchases, but the problem is that they cannot be trusted. You must remove SaveitKeep from your computer the moment you notice this program on your computer. It is also very likely that there are more adware programs on your system, so you have to scan your computer with a licensed antispyware tool to check for other unwanted apps.
To tell you the truth, there is nothing shocking about SaveitKeep, because we know exactly where this program comes from. It is a new version of AllCheapPrice, DownSave and other similar applications. These adware programs belong to the Coupon family. It means that SaveitKeep creates coupons and discount offers when you access popular online shopping websites. It gives the impression that it can provide you with relevant shopping offers that could help you spend less. Unfortunately, SaveitKeep cannot provide you with safe advertisement content.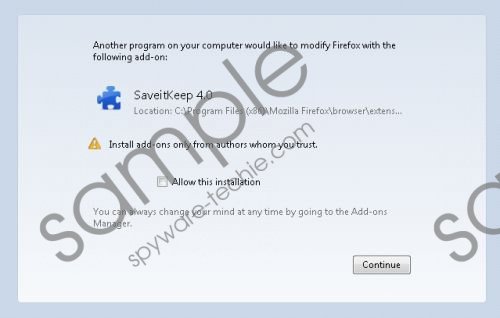 SaveitKeep screenshot
Scroll down for full removal instructions
It is the main security concern related to adware. Since these programs cannot generate commercial content on their own, they have to rely on third-party advertising servers. As a result, SaveitKeep does not review the commercial content that gets embedded into its pop-ups. Therefore, no one can guarantee that you will land on a safe website when you click a link on SaveitKeep ads. What is more, this adware application will try its best to provide you with relevant content so it will track your web browsing habits. Although it is not illegal, it could also cause serious computer and private security problems.
One of the most peculiar SaveitKeep's features is that this program can randomize its name. The same applies to other applications from the same group. It means that upon the installation, SaveitKeep might be installed under different names in different computers. It would still be the same program, but some letters in its name might be randomly capitalized, for example, SavEitKEEep, SAAVEiteePP, SavEITkeEP, and so on.
The best way to deal with SaveitKeep is to avoid installing it. This application usually hides behind fake pop-ups on random commercial websites. These pop-ups offer users to update their media players, Adobe Flash or Java plug-ins. However, you should NEVER download updates from unknown sources because you might end up installing adware.
To remove SaveitKeep from your PC, you need to uninstall the program via Control panel. It should automatically delete extensions from your browser. However, after manual removal you have to run a full system scan with SpyHunter free scanner to check whether all the unwanted files and programs are deleted for good.
How to remove SaveitKeep
Windows 8
Move mouse cursor to the bottom right of the screen.
Click Settings on Charm bar and go Control Panel.
Open Uninstall a program and remove SaveitKeep.
Windows Vista & Windows 7
Open Start menu and click Control Panel.
Go to Uninstall a program and remove SaveitKeep.
Windows XP
Open Start menu and click Settings.
Go to Control Panel and select Add or remove programs.
Uninstall SaveitKeep.
You can also make use of additional set of instructions below this article. Please do not hesitate to contact us if you have any further questions.
In non-techie terms:
SaveitKeep is a program that has to be removed from your computer right away. It may expose you to potentially dangerous websites, so you need to protect your system's security by getting rid of SaveitKeep as soon as possible.