Do you know what Save Serp Now is?
Save Serp Now is an adware application that usually enters your system accidentally with a number of freeware and adware programs. Adware programs can be used by cyber criminals to promote corrupted websites and other dangerous content, so you simply must remove Save Serp Now from your system in order to protect your computer from potential threats. Do not forget that manual removal may not be enough to terminate all the dangerous files, so we strongly encourage you to invest in a reliable antispyware application that would ensure your PC is protected against similar infections.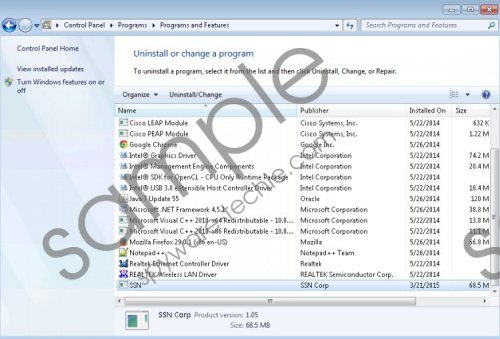 Save Serp Now screenshot
Scroll down for full removal instructions
The point with Save Serp Now and other similar infections is that users often download them willingly (albeit unwittingly). It should be obvious that you cannot download Save Serp Now from the official website (saveserpnow.com) because it does not provide you with any download link. Nevertheless, that is not something that would bother adware creators because direct downloads are not primary adware distribution methods anyway. Save Serp Now usually comes bundled with freeware applications that users download from third-party file sharing websites. You might also initiate the adware download accidentally when you click a pop-up ad on some commercial web page. Either way, the bottom line is that you are the one who installs Save Serp Now on your computer and so you must also remove it.
The official website is supposed to make users think that Save Serp Now is a useful application, but it is very hard to understand what they mean, as the generic information on the site is provided in very poor English. Technically, Save Serp Now should help you with search engine optimization, but, at the same time, the application explicitly states that it supports third-party advertisements and that by downloading Save Serp Now "you give your consent to display to you such Third Party Content (by using ads, pops, coupons, price comparison, in-line text and content recommendations)." The wording is rather awkward, but it is still possible to understand that Save Serp Now can promote third-party content.
Computer security experts often insist that users delete adware programs from their computer because the safety of third-party content cannot be verified. Consequently, it is not surprising that cyber criminals make use of such programs as Save Serp Now to promote and distribute malware. If you are not careful enough, sooner, rather than later, your computer will get infected with multiple security threats that will cripple your system with the intention to rip you off. Remove Save Serp Now right now because the application itself is not useful in any way, and it can only lead to computer security-related complications.
How to Remove Save Serp Now
Windows 8 & Windows 8.1
Move the mouse cursor to the bottom right of your screen.
Click Settings on the Charm bar and go to Control Panel.
Select Uninstall a program and remove Save Serp Now.
Windows Vista & Windows 7
Open the Start menu and select Control Panel.
Go to Uninstall a program and remove Save Serp Now.
Windows XP
Click the Start button and go to Control Panel.
Select Add or remove programs and uninstall Save Serp Now.
In non-techie terms:
If you are constantly flooded with annoying advertisements, you are most probably infected with Save Serp Now. You need to remove Save Serp Now from your computer immediately because adware programs often mark the onset of a far more dangerous infection. If you need any assistance with software removal, do not hesitate to contact us by leaving a comment below.