Do you know what SafetySearch is?
SafetySearch is a free browser add-on which is supposed to help you browse the Internet by informing you about dangerous websites. By using SafetySearch, you are supposed to minimize the risk of downloading malicious programs; however, SafetySearch is an advertising supported program, which means that it displays third-party ads, some of which may be related to unreliable websites.
SafetySearch is compatible with Internet Explorer, Google Chrome, and Mozilla Firefox and is available at safetysearch.net. This browser add-on is owned and maintained by a company known by several names, including Exciting Apps, Engaging Apps, Enchanted Apps, 215 Apps, etc. This software developer is infamous for its identical adware programs, including SlamDunk Savings, Lightning Savings, Savings Hunter, and many others, all of which are promoted on similar websites.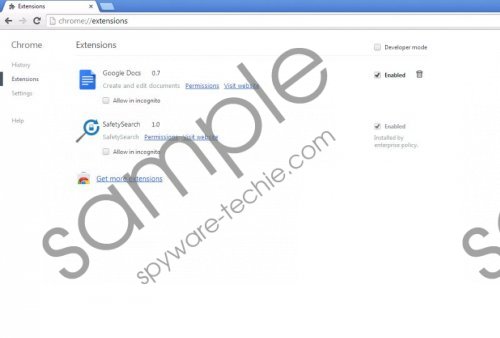 SafetySearch screenshot
Scroll down for full removal instructions
SafetySearch is capable of displaying web banners, pop-ups, pop-unders, interstitial ads, and in-line advertisements. All of them belong to certain companies, attempting to drive more traffic to their websites. The developers of the adware program do not monitor the activities of third-parties and are not liable for the content delivered to your browsers. The display of third-party advertisement should not be interpreted as the endorsement of those third-parties, so, if you want to be secure on the Internet, you should be very careful when dealing with SafetySearch ads. They may offer system scanners, updates for your browsers, online surveys, and other products and services. Not all of the advertisements displayed by SafetySearch are malicious; however, you should be aware of the danger of getting the computer infected with some malicious threats.
Another reason why you should remove SafetySearch from the computer is the fact that SafetySearch installs BenchUpdater, which is an adware helper. BenchUpdater modifies the hosts file by adding the line 54.225.95.126 fjnoekdlmmjagmmlchagfonjgbioomoo, which may vary on different computers.
SafetySearch and BenchUpdater should be removed from the computer as soon as possible, because SafetySearch also monitors your online behavior, whereas BenchUpdate downloads files from adware update server. As regards data collection, information about you is gathered for the purpose of providing you with targeted advertisements, so do not wait but remove the adware program if you want to prevent ads and offers based on your browsing history.
Our instructions given below should help you uninstall the adware program, but we recommend that you implement SpyHunter. This malware and spyware removal tool can remove SafetySearch and safeguard the system against multiple threats, so take action right now if you want to be secure on the Internet.
How to remove SafetySearch
Windows Vista and Windows 7
Click Start.
Select Control Panel.
Click Uninstall a program.
Remove the unwanted program.
Windows XP
Open the Start menu.
Click Control Panel.
Select Add or Remove Programs.
Uninstall the unwanted program.
Windows 8
Move the mouse to the lower-left corner of the screen.
Right-click.
Select Control Panel.
Click Uninstall a program and remove SafetySearch.
In non-techie terms:
SafetySearch is an advertising supported program which you should remove from the computer if you want to get rid of web banners, coupons, and advertisements. We recommend using a reputable anti-malware tool, and, if you do not know how to install our recommended scanner, use the below given instructions.