Do you know what Russianews1.ru is?
Russianews1.ru is a Russian website which has been developed to generate traffic to certain domains. Users usually do not see Russianews1.ru in the address bar of their browsers, or they see it only for a second because it immediately redirects to other pages with commercial advertisements. These redirections can indicate two things: a) an untrustworthy extension has been added to your browser or b) a malicious application has successfully entered your computer and created a Scheduled Task to open your browser with Russianews1.ru periodically. Theoretically, you could have been redirected to this Russian domain after entering some kind of untrustworthy web page too, but it is not very common. Since there are several possible reasons why Russianews1.ru is opened for you, it will not be easy to find out the real reason why you see it and then stop these irritating redirections.
Russianews1.ru is a domain that redirects straight to pages disseminating advertisements, so it is very likely that you will not even see it. Specifically speaking, users end up on it and then are immediately taken to ttraflabu-ok.ru (a Russian advertising server). From this URL, they are redirected to a website with commercial ads, e.g. http://traffic-media.co/mghtml/framehtml/c/1/t/603162.html and http://internetgazeta.cardvrmirrorr.ru/index.html?p=othermartuid&userid=_dawwi6s802zhs1a3. These redirections might occur if users open untrustworthy websites or click on malicious links. Additionally, Russianews1.ru might be opened to users and then redirect them to pages with ads automatically as well. If you notice that this domain is opened for you periodically, this might be a sign that a malicious application is present and working actively. Most probably, it has created a Scheduled Task on your system so that it could open this domain for you automatically from time to time. If it is the case, it will not be easy to stop this from happening. No matter how hard it might be to stop redirections to pages with ads, this task must be completed in the near future because not all these advertisements are innocent. Although they often look harmless, security specialists are sure that they might become your worst nightmare. You might even end up on a website with tons of malicious software by clicking on any of them once. Do not forget that you might click on those accidentally too, so the only effective way to avoid them is to make sure that Russianews1.ru is no longer opened for you. You should go to get rid of it to make sure that your privacy is not violated either. This might happen if you land on a page trying to extract personal information from users by any means.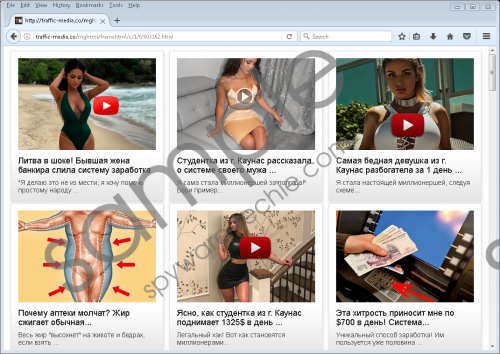 Russianews1.ru screenshot
Scroll down for full removal instructions
Even though users might end up on Russianews1.ru and then experience a redirection to a domain with commercial advertisements after opening a suspicious page/clicking on a suspicious link, research carried out by our experienced specialists has shown that the majority of users who encounter Russianews1.ru have some kind of malware associated with this domain active on their computers. This malicious software has, most probably, set a Scheduled Task and, as a consequence, your browsers open with this Russian domain automatically from time to time. Most probably, this malicious software associated with Russianews1.ru has arrived on your computer in Russian bundles. Although these infections making unauthorized changes usually arrive on computers without the user's knowledge, it does not mean that it is impossible to prevent them from slithering onto the computer. There is only one thing you need to do – install a reputable security application on your computer. You will not need to worry about the safety of your system as long as you have an automatic security application enabled.
As mentioned at the beginning of this article, there are several possible reasons Russianews1.ru is opened for you, so we recommend starting from closing all the websites you visit when you see it. If, after doing that, this domain is still opened to you, reset your browsers to default settings and check the Task Scheduler. If you manage to find any suspicious tasks there, delete them without consideration. You can stop irritating redirections with the help of an automatic malware remover as well.
How to delete Russianews1.ru
Reset browsers to their original settings
Internet Explorer
Open Internet Explorer.
Tap Alt+T.
Open the Advanced tab and click on the Reset button.
Mark Delete personal settings.
Click Reset.
Mozilla Firefox
Open Mozilla Firefox and click on the menu button (top-right corner).
Click on the question mark at the bottom of the window and select Troubleshooting Information.
Locate the Refresh Firefox button at the top and click on this button.
In the confirmation window, click Refresh Firefox one more time.
Google Chrome
Launch your Google Chrome browser.
Tap Alt+F simultaneously and click Settings.
Go to the bottom and click Show advanced settings.
Click on the Reset button.
Click Reset.
Delete suspicious Scheduled Tasks
Tap Win+E.
Type %WINDIR%\System32\Tasks in the address bar of your Windows Explorer.
Check all the listed tasks and remove those associated with Russianews1.ru.
In non-techie terms:
If you have successfully removed Russianews1.ru manually and no longer see it opening on your screen with advertisements, you should still go to perform a system scan with an automatic scanner because other untrustworthy applications might be active on your system too. They will not disappear automatically when you get rid of Russianews1.ru, so you will have to take care of them all yourself to have a clean PC.