Do you know what RobustCleaner is?
RobustCleaner claims it can help you to maintain your computer in tip-top shape. As much as you want to clean up your system, we would advise you to use more reliable tools. Unfortunately, this application is classified as a potentially unwanted program (PUP). Even though users install it themselves, later they choose to delete this PC optimizer from their systems. It seems to us it is quite understandable because the program claims to be an advanced tool that analyzes, cleans and optimizes computers, but, in reality, it offers you to remove browser cookies, empty Recycle bin, delete download files, and other useless functions. Apparently, the primary goal here is convincing you to buy RobustCleaner Pro. As a result, all you get is an annoying application that constantly reminds you to purchase the full version. If you want to get rid of this unwanted program too, take a look at our recommended removal steps at the end of the article or continue reading to learn more about the PUP.
RobustCleaner can be found on its official website robustcleaner.com. The site itself displays a detailed and convincing description of all the useful functions the application is supposed to have. However, you can easily perform most of these features without this PUP, e.g. you can empty the Recycle Bin simply by right-clicking on it. Accordingly, you can easily delete downloaded or other files just the same. We can only wonder why anyone would need another software for such simple tasks. On the website, you can choose between the free version and RobustCleaner Pro, which price ranges from 29.99 to 139.99 dollars and it seems rather expensive for a tool with such worthless functions. After buying the Pro version, you can still get your money back in 60 days. If it is really a possibility, we advise you to use this opportunity as there are better applications to invest in.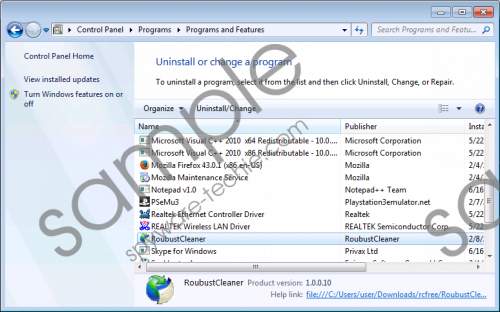 RobustCleaner screenshot
Scroll down for full removal instructions
After the installation, the PUP will auto-start with Windows, meaning that every time you turn on your computer, it will launch too. While using this PC optimizer, it should constantly remind you of the Pro version you can purchase. For instance, it might show you untrustworthy scans with lots of threats on your system. As a result, it may try to convince you that only RobustCleaner Pro can remove these threats. Moreover, while testing the PUP in our internal lab, the researchers have found out that it might download additional malware without your knowledge, so there is a risk your computer could get infected with more troublesome threats such as Trojans, worms or viruses. Therefore, if you notice that your computer's performance is slower than before or any other unusual activity, you should scan the system and check whether some malware settled in.
While some users download the program from its official website, others install it unknowingly. Since users tend to use automatic installation, they do not notice the suggested software in setup wizards. Mainly, it happens when you download freeware from unreliable web pages as they bundle applications with unwanted programs to help them spread. To avoid installing the needless software, you should always download it from sources that are trustworthy.
To conclude, it is highly unlikely that an application with such poor tools could manage to improve your computer's performance noticeably. Also, the PUP is not only annoying, but rather dangerous too. Although we cannot be absolutely sure that your computer will get infected while using the program, still it would be smarter to avoid any possible harm. If you want to keep your computer secure, you should look for more reliable software in the future. As for now it would be a good idea to remove the program from your system. All you have to do is to open your Control Panel, then locate the RobustCleaner, and right-click on it to uninstall. Naturally, we will guide you through the process with our step by step instructions below.
Delete RobustCleaner via Control Panel
Windows 10 & Windows 8
Press Windows Key+R.
Type Control Panel and click OK.
Select Uninstall a program.
Find RobustCleaner and click Uninstall.
Windows 7 & Windows Vista
Go to the Start menu and select Control Panel.
Pick Uninstall a program.
Choose the application and click Uninstall.
Windows XP
Click on Start and pick Control Panel.
Choose Add or Remove Programs.
Locate the program and select Uninstall.
In non-techie terms:
RobustCleaner is not a program we would recommend you to use or invest in. If you take the possible risks and doubtful benefits into consideration, you should realize that the best way to deal with the PUP is to remove it from your PC. It would be smarter to spend money on a reliable antimalware tool that would not only keep your computer protected, but also clean your system automatically too.