Do you know what RemoveAdsTube is?
RemoveAdsTube is a JustPlugIt-based browser add-on that delivers pop-up advertisements, coupons, web banners, and other advertisements to your browsers. RemoveAdsTubed is compatible with Internet Explorer, Google Chrome, and Mozilla Firefox, and is distributed alongside other free programs. Hence, it is crucial to pay close attention to every installation process so that you can protect the system against insecure programs. You should always pay close attention to the license agreement and deselect boxes related to the installation of optional programs.
JustPlugIt, also spelt JustPlug.It, is a platform that enables software developers to create browser extensions and browser add-ons. Recently, our team has dealt with numerous JustPlugIt-based browser add-ons, including SaverON, Less2Pay, LuckyCoupon, and many other programs, some of which are advertised on very similar websites.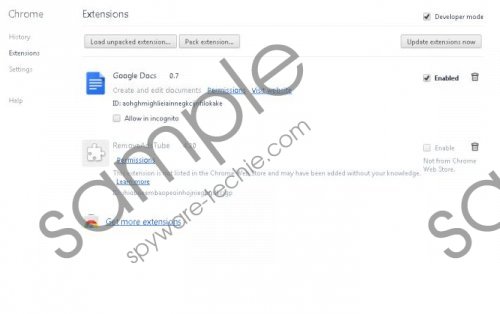 RemoveAdsTube screenshot
Scroll down for full removal instructions
Once installed, this adware program hyperlink certain words on different websites, and, when you hover the mouse pointer over a hyperlinked word, a pop-up advertisement is displayed. Moreover, you may encounter interstitial advertisements or hear some audio ads.
None of the advertisements displayed by RemoveAdsTube is owned by the developers of the programs. RemoveAdsTube only displays advertisements and has no control over third parties, which may include some questionable websites aimed at deceiving you. By installing any advertising-supported program, you agree to be provided with third-party advertisements, but we recommend that you avoid such programs because they may flood you with deceptive advertisements. For example, there is a tendency to provide computer users with advertisements promoting updates for Internet browsers and other programs. You should ignore questionable offers and rely only on reputable websites in order to prevent online privacy issues and system malfunctions.
Another reason why you should remove RemoveAdsTube from the computer as soon as you can is the fact the program automatically records certain non-personally identifiable information. The developers of the program are interested in your preferences, clicks, search terms, browsing history, and some other details concerning your Internet usage. RemoveAdsTube collects information for the purpose of providing you with new advertisements, which you can prevent by removing the adware program from the computer.
Our step-by-step removal guide should help you uninstall RemoveAdsTube from the computer, but we recommend that you install a reputable anti-malware program. If you have no security program on your computer, it is not enough to uninstall the unwanted program because your machine needs protection against malware and spyware. Our recommend security program SpyHunter easily removes RemoveAdsTube from the computer and fights off Trojan horses, browser hijackers, and many other malicious programs so that you can safely browse the Internet.
Remove RemoveAdsTube
Windows Vista and Windows 7
Click Start.
Select Control Panel.
Click Uninstall a program.
Remove the unwanted program.
Windows XP
Click Start.
Select Control Panel.
Click Add or Remove Programs.
Uninstall the unwanted program.
Windows 8
Move the mouse to the lower-left corner of the screen.
Right-click.
Select Control Panel and click Uninstall a program.
Remove RemoveAdsTube.
In non-techie terms:
RemoveAdsTube is an advertising-supported program, and, if you want to keep the computer adware-free, you should remove this program from your browsers as soon as you can. In order to have RemoveAdsTube removed, implement our recommended security tool.