Do you know what Registry Cleaner is?
Registry Cleaner and Pcobserver registry cleaner are two names of a single rogue registry cleaning application that can infect the system with a screenlocker. The name Registry Cleaner is a very general term, so it is important not to get confused among all those legal programs that are said to be able to detect and remove unnecessary registry keys and other elements. The rogue Registry Cleaner malware has been found to be promoted on the website registrycleaner.online./download-now. Moreover, it can be distributed alongside freeware programs available on various freeware sharing websites. The cleaner itself has no use as it cannot analyze the Windows registry and provide adequate results. Such programs used to be very common a few years ago, alongside fake antivirus programs programmed to deceive victims into thinking that their computers are heavily infected. The warnings and alerts of such programs should be ignored, and the same applies to the Registry Cleaner malware in questions.
Your biggest concern regarding this fake registry cleaner should be the fact that the malware is powered to install a screenlocker. There are different types of screenlockers, including ransomware infections, which encrypt files and demand the victim to pay a substantial amount of money to have the files decrypted. Compared to these aggressive infections, the screenlocker dropped by Registry Cleaner is less destructive. Nevertheless, it does cause a lot of inconvenience. This screenlocker utilizes the Command Prompt (cmd.exe) application for disabling Windows Task Manager, which comes in handy when there is a need to disable some processes. To shut down this part of the Windows OS, the infection uses the command "taskkill", which is used with the process ID or with the file name. Additionally, the screenlocker configures the keyboard by changing some functions. More specifically, the TAB key function is assigned to the ESC key. Most important, the screen locker does not allow users to access their files and documents stored on the desktop.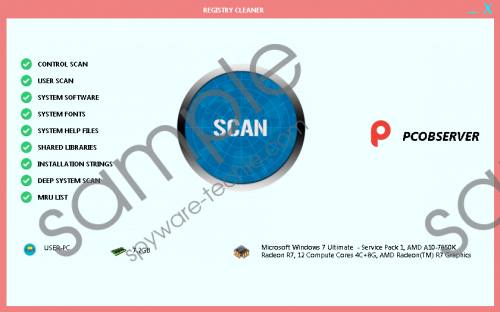 Registry Cleaner screenshot
Scroll down for full removal instructions
Luckily, malware researchers have come up with the code which disables the screenlocker installed by the fake registry cleaner.
Enter this code: 8716098676542789
Once the code is used, a prompt window pops up, and you should click OK to end the procedure of disabling the screenlocker. By doing so, you leave the infection within the system but regain access to your folders and files, which is done because the explorer.exe process restarts.
Such instances may happen any time if you tend to download setup files from questionable sources. If you want to have only reliable software programs running on your PC, you should pay more attention to their promoters and developers. As mentioned above, the Registry Cleaner can be bundled with free programs, some of which may also need to be removed in order to ensure that no danger is exposed to you. If you do not check whether the program you are about to install is reliable, you risk being infected with malware programs such as screenlockers, Trojans, and other threats. The case with Registry Cleaner and the screenlocker discussed is not the most complicated, but if you keep the system unprotected, your careless interaction with unreliable website may be the cause of further security issues.
Not only should you remove Registry Cleaner. You should also make sure that your operating system and your personal information are protected while you are surfing the Net. This can be achieved if you select and implement a reputable malware and spyware prevention program.
Any malicious program can be removed manually, but sometimes a professional may be needed. In the case of Registry Cleaner, you can try removing it by yourself with the help of our removal guide. Please note that your changes made within the operating system are your own responsibility. The fake scanner creates some registry keys in the registry, and if you choose to delete those keys manually, you do that on your own risk.
How to remove Registry Cleaner
Open Control Panel, which is available through the Start menu, and select Programs > Programs and Features. For Windows 8 and later versions, simply type in Uninstall a program in the Start menu or search box.
Remove Registry Cleaner or PCobserver.
Press Win+R and type in %APPDATA% and click OK.
Delete the folder Registry Cleaner or Pcobserver.
Open Windows Registry by pressing Win+R and typing in regedit. Click OK.
If the infection is named Registry Cleaner, remove these registry keys:

HKLM\SOFTWARE\Microsoft\Tracing\RegistryCleaner_RASMANCS
HKLM\SOFTWARE\Microsoft\Tracing\RegistryCleaner_RASAPI32
HKCU\SOFTWARE\Registry Cleaner\Registry Cleaner

If the system is infected with Pcobserver, remove these registry keys:

HKCU\SOFTWARE\DIS\Pcobserver
HKLM\SOFTWARE\Microsoft\Tracing\Pcobserver_RASMANCS
HKLM\SOFTWARE\Microsoft\Tracing\Pcobserver_RASAPI32
In non-techie terms:
The fake registry scanner named Registry Cleaner is a piece of malware which downloads and installs a screenlocker. The screenlocker disables your access to the desktop, which means that the information accessible through the desktop is no longer available. It is possible to disable the screenlocker, but after doing so, the malicious files remain on the computer. For this reason, it is important to remove both Registry Cleaner and the screenlocker.