Do you know what Registersearch2016.com is?
Registersearch2016.com is not a legitimate search engine, regardless of the interface that it has. The search box that is represented in the middle of this page does not work, which means that you will not be able to use it for web browsing. The quick-access search keywords represented via this search tool do not work either, which is why we consider it useless. Although this search tool does not work, that does not mean that you are safe using it. In fact, we do not fully know how safe or harmful this search tool is, and that is because there is very little information about it. Overall, from what we have found, we are 100% sure that it is best for you to delete Registersearch2016.com from your operating system. If you are not sure why you need to remove this search tool or how you should do it, keep reading.
A browser hijacker is a program that can modify browser's settings without permission or with your permission but using deceit. If a browser hijacker corrupts browsers without user's notice, it should be obvious that it is malicious and deserves removal. However, it might be more difficult to understand that a piece of software is malicious if you have let it in yourself. We classify Registersearch2016.com as a browser hijacker because it is most likely that it was introduced to you as a harmless and beneficial search tool that could offer reliable services. This is how Searchenger2016.com, Daiksearch2016.com, Mim-search2016.com, and other hijackers from the same family are distributed as well. Although you might install them yourself, the chances are that they are promoted in a misleading manner, which means that deception is used, and that is not okay. In fact, if a program is installed by tricking you into believing that it is something that it is not, it is a good indicator that you are probably dealing with malware.
As you might have figured out by now, Registersearch2016.com does not work. Surprisingly, that is not the main reason why we recommend removing this browser hijacker. According to our research team, legal information does not support this hijacker, and that is very important. If you want to trust a program, you have to know how it works, and that is impossible without privacy policies, terms of use, license agreements, and other legal statements that authentic companies always use to support their products. Well, what's the big deal? The deal is that you cannot check where the creator of Registersearch2016.com stands when it comes to your virtual security. In fact, you cannot even check who has created this hijacker. Because this search tool is unpredictable, the only thing we recommend thinking about is which search tool or page are you going to replace it with.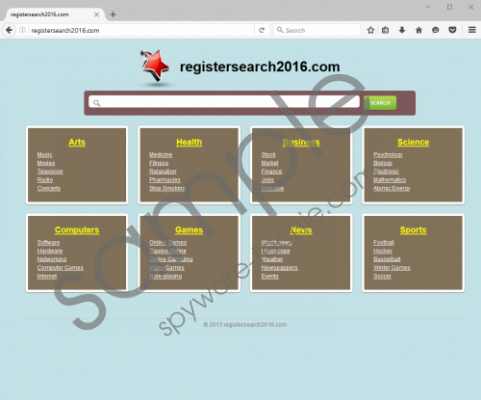 Registersearch2016.com screenshot
Scroll down for full removal instructions
Removing Registersearch2016.com is important for your own virtual security, and we suggest that you get rid of this hijacker as soon as possible. Our guide explains how to manually delete this search tool from your browsers. It looks like that is all you need to get rid of it. Of course, you should also check the cookies installed on your browsers to see if you need to eliminate any malicious ones. Also, it is a good idea to install a malware scanner to check if additional malware exists. Do not panic if a bunch of infections are discovered. Although it might be challenging for you to erase all threats manually, an anti-malware tool will immediately erase all infections automatically. We also recommend installing this software if you want to prevent dangerous threats and browser hijackers from entering your PC unnoticed in the future.
Delete Registersearch2016.com
Google Chrome
Simultaneously tap Alt+F and a menu will appear on the right.
Select Settings and then find the On Startup menu.
Mark Open a specific page or set of pages and choose Set pages.
Replace the hijacker's URL with the desired URL and click OK.
Internet Explorer
Simultaneously tap Alt+T to open the Tools menu.
Click Internet options and then click the General tab.
Overwrite the hijacker's URL with the desired URL in the Home Page area and click OK.
Mozilla Firefox:
Simultaneously tap keys Alt+T to access the Tools menu.
Select Options and then General menu will appear in a new tab.
Locate the Home Page section and overwrite the undesirable URL in it.
In non-techie terms:
What will you gain from trusting Registersearch2016.com? Nothing. In fact, you might lose your virtual security instead because this particular search tool is very unpredictable. Our recommendation is to delete this browser hijacker from your browsers, which you can do using the manual removal guide above or using a legitimate anti-malware tool. We suggest the latter option if other threats are present and if you want to take care of your system's protection to prevent malware from attacking you. Have something to say or ask? Do not hesitate to start a conversation/discussion in the comments section below.