Do you know what Rango Win 7 Antivirus 2014 is?
Are you sure that Rango Win 7 Antivirus 2014 is a legitimate, trustworthy antivirus that can detect and delete malware or shield the Windows 7 operating system against attacking threats? Our malware analysts can assure you that it is not! This suspicious application is actually a rogue antivirus which will never protect you against malware attacks and will never delete existing infections, simply because it has not been created for these tasks. Rango Win 7 Antivirus 2014 has been designed to trick unsuspecting users into registering for a pricey and useless service. Whether you spend $59.95 on a 1 year license, or the $99.95 for the life time license, you will not gain the protection you want, and malware will not be deleted. Only legitimate security software can safeguard your operating system, and right now you must delete Rango Win 7 Antivirus 2014.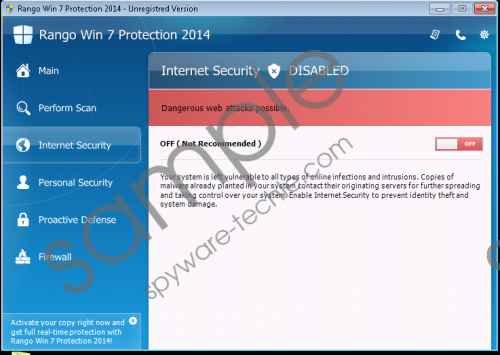 Rango Win 7 Antivirus 2014 screenshot
Scroll down for full removal instructions
Together with Rango Win 8 Antispyware 2014, Rango Vista Antivirus 2014, and Rango XP Antivirus 2014, all of which require removal, Rango Win 7 Antivirus 2014 is the newest addition to the Braviax family. Fake AVs within this family share one disturbing feature – they all target specific operating systems with appropriate interfaces. Even though this seems excessive, this is what has helped the schemers behind the malware generate immense profits. It has also been revealed that all of these programs can block the running of .exe files. Do you know what this means? This means that you will not be able to open the Task Manager or Registry Editor (both of these utilities are vital if you want to remove Rango Win 7 Antivirus 2014 manually) and launch web browsers. If you cannot connect to the web, you will not be able to research Rango Win 7 Antivirus 2014 removal or install legitimate malware removal software to delete the rogue.
All information presented by Rango Win 7 Antivirus 2014 is misleading. If you trust the pop-ups urging you to delete malware, the misleading interface, the bogus scan reports, and the advice to register for a full version of the suspicious security tool, cyber criminals will scam you before you know it. If you have wasted your money on the bogus malware removal tool already, you need to inform your bank and make sure that your private information is protected. Needless to say, the protection of the operating system is one more issue that you need to address. You must install legitimate security software to make sure that no other threats can be infiltrated in the future. Luckily, this software can help you remove Rango Win 7 Antivirus 2014 as well, which means that all of your virtual security issues can be fixed by employing one reliable tool.
Delete Rango Win 7 Antivirus 2014 from Windows
Restart the computer and wait for the moment that BIOS screen loads.
Immediately start tapping F8 to open the Advanced Boot Options menu.
Select Safe Mode with Networking using the arrow keys and tap Enter.
Launch a browser and go to http://www.spyware-techie.com/spyhunter .
Download and install a trustworthy automatic malware removal tool.
Run a system scan to locate the running malware and click Fix Threats to remove it.
In non-techie terms:
The fictitious antivirus Rango Win 7 Antivirus 2014 is an application that you must remove ASAP. The infection will push you to believe that your operating system is flooded with different computer infections that supposedly require removal, and then will force you to pay money for a security tool that is completely fictitious and that cannot delete any threats. Instead of wasting your money on a fake security tool, you should invest it in reliable and legitimate software. Use the instructions above, and you will not need to worry about your virtual security or the removal of Rango Win 7 Antivirus 2014 for much longer.