Do you know what Quick Search is?
If you are introduced to the installer of Quick Search, you should decline it, along with every other piece of software that might have been introduced to you along with it. Although this suspicious extension can be downloaded from the Chrome web store at chrome.google.com/webstore/category/extensions, some users are likely to acquire it using third-party installers. Regardless of how this add-on has entered your Google Chrome browser, we suggest removing it, and the reasons are discussed in detail in this report. To sum it up, our research team has found that the extension can showcase misleading search results, and it could be used to record private information. Due to these reasons, we suggest deleting Quick Search without further hesitation. If you are trying to get rid of Search.searchquicks.com, you are in the right place because by eliminating the add-on, you will eliminate the hijacker as well.
Search.searchquicks.com is a browser hijacker that is represented via Quick Search. In fact, this add-on was created for the purpose of spreading this hijacker, and that is the first reason why we classify it as a potentially unwanted program (PUP). The hijacker itself is unreliable because, first of all, it illegally redirects to search.yahoo.com. Although this search provider represents Yahoo Search, the results shown via it are not to be taken seriously. The add-on redirects via extsearch.maxwebsearch.com, and the results are modified, which means that the creator of the hijacker injects sponsored content. Though you might be able to surf the web risk-free using this search tool, it is very likely that you would end up interacting with unreliable links sooner or later, and so it is not recommended that you interact with Search.searchquicks.com at all. If you do, you might let in third-party tracking cookies to spy on you.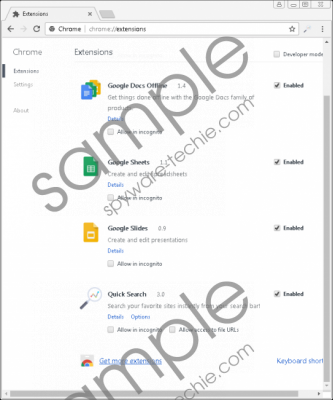 Quick Search screenshot
Scroll down for full removal instructions
Polarity Technologies Ltd is the developer of Search.searchquicks.com and Quick Search, and this company has created tons of suspicious hijackers (e.g., Search.searchuts.com) and potentially unwanted programs (e.g., Internet Speed Pilot Extension). All of them follow the same privacy policy, which suggests that your personal information is not safe. That is one of the main reasons to remove Quick Search from your operating system. After all, its services are not worth getting your virtual security at risk over. Also, if you have downloaded this extension via searchquicks.com/DS? (this site represents the installer available at Chrome web store), you must have been shown a pop-up indicating that it can "read and change all your data" on all sites you visit. Are you comfortable with that? It is most likely that you are not. Overall, all things considered, it is best you delete this potentially unwanted program ASAP.
If you can open your browser and tap a few keyboard keys together, we are confident that you can remove Quick Search as well. This Google Chrome extension is not stubborn, and it should not leave any leftovers once you get rid of it. Needless to say, if you erase the extension successfully, you will have Search.searchquicks.com removed as well, and that is what you want. Are you dealing with the PUP and the hijacker on a different browser? If that is the case, you can contact us to request more information using the comments section. If you discover infections running along with the suspicious PUP, we advise implementing anti-malware software to eliminate it from your operating system automatically. Note that this software can also keep away all other infections that might to attack in the future.
How to delete Quick Search
Open your Google Chrome browser.
Enter chrome://extensions/ into the address bar to open the Extensions menu.
Identify the unwanted extension and click the recycle bin on the right.
Select Remove and then restart the browser.
In non-techie terms:
Quick Search is quick to introduce you to an unreliable search engine, Search.searchquicks.com, and start spying on you. It can perform that using its own cookies, but third-party data tracking technologies are likely to be employed as well. Due to these reasons, it is strongly advised that you remove Quick Search. If it has corrupted your Google Chrome browser, you can follow the instructions above to get rid of it manually. However, we suggest thinking about using anti-malware software as well. With highly malicious ransomware on the rise, it is crucial that you take all security measures to keep your personal data and virtual security protected. So, if you install anti-malware software, you will have the PUP erased along with all active threats, and your virtual security will be protected.