Do you know what Qip.ru is?
Qip.ru will probably replace your default homepage, search page, and start page immediately after you install QIP IM on your system. QIP IM itself can be downloaded from welcome.qip.ru/im, and it is considered to be a legitimate application. We cannot call Qip.ru a browser hijacker as well because users are informed that it will be installed and can decide whether or not to agree with that. Even though Qip.ru looks like a good search engine at first sight, we are sure that it is not that decent. First of all, it cannot be removed via Control Panel and it definitely does not disappear after the QIP IM removal. In addition, researchers say that users of Qip.ru might find third-party ads that redirect to questionable web pages on the Start page of this search engine as well. Of course, there are also users who simply do not like it but struggle with its removal. Do not worry; we are going to help you to get rid of it further in this article.
Research has shown that Qip.ru is hosted on this IP address: 195.16.127.102. We have checked all the necessary information about this IP and found that its server is located in Moscow, Russia. The domain itself is registered through Media Mir Ltd. The domain of Qip.ru, i.e. .ru also shows that it is a Russian product, so it is not surprising at all that the majority of users who have installed this potentially unwanted software live in Russia (82.1% of all the users). It has been observed that people living in Ukraine and Belarus tend to install Qip.ru too. According to the Alexa rank, Qip.ru is in the 172 position. It means that this page is rather popular. We want to emphasize that only Internet Explorer and Mozilla Firefox users see Qip.ru because it is compatible only with these browsers.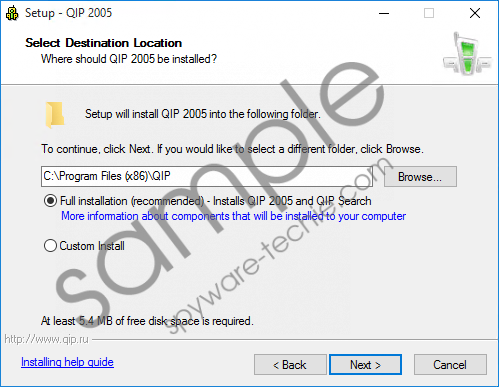 Qip.ru screenshot
Scroll down for full removal instructions
If you have already encountered Qip.ru, you, undoubtedly, know that it provides users with interesting articles, allows them to search for the information on the web, play games, and, finally, users can use easy-access links placed at the top to access useful websites. Even though Qip.ru seems to a trustworthy search engine, specialists have observed that it might still provide users with advertisements. They are usually visible on the main page of Qip.ru. In addition, there is also a slight possibility that Qip.ru will incorporate ads among the search results which will be provided for you after you enter a keyword into the search box placed at the top of Qip.ru. These ads might look reliable, but there is still a risk that you will be taken to corrupted web pages after clicking on any of them because links of untrustworthy websites might be incorporated into them. There is also a slight possibility that Qip.ru will gather data about your activities on the web. In most cases, search engines do that in order to be able to provide users with more relevant advertisements.
As you already know, users usually notice that Qip.ru has made several changes on their browsers after they install the QIP IM software; however, we are sure that it is distributed somehow differently too because there is a great number of users who encounter Qip.ru. A more thorough research has shown that Qip.ru might come bundled in malicious installers as well. Of course, Qip.ru does not travel alone in most cases, which means that users themselves might agree with the changes. We know that they tend not to pay much attention to installation windows, so they might have been informed about Qip.ru, but simply did not notice that.
Unfortunately, Internet Explorer users will not be able to delete Qip.ru easily because they will have to modify the registry. In case of Mozilla Firefox users, they can get rid of Qip.ru by resetting their browser. Users can also leave this job for an automatic malware remover, such as SpyHunter. This is the easiest way to eliminate Qip.ru but, of course, it is up to you how you are going to do that.
Remove Qip.ru
Mozilla Firefox
Open your browser and tap Alt+H.
Select Troubleshooting information from the menu.
Click on the Refresh Firefox button.
Click on this button once again.
Internet Explorer
Launch RUN and enter regedit. Click OK.
Move to HKCU\Software\Microsoft\Internet Explorer\Main and modify the following Values by changing their data from qip.ru to another reliable web page, e.g. google.com.
Start Page
Search Page
Search Bar
Default_Search_URL
Default_Page_URL
In non-techie terms:
There are thousands of untrustworthy applications these days and they might enter systems really quickly, i.e. it might be enough to click on some kind of untrustworthy link or download software. Therefore, we suggest that you install a security tool on your PC as soon as possible. As long as you keep your tool enabled, malicious software will not manage to slither onto your computer.