Do you know what Pulpy Ransomware is?
Beware of ransomare infections if you keep your computer without any security application. The Pulpy ransomware is ready to encrypt your files once it reaches your computer, so, if you have recentely found a warning in .txt file saying that all your data is encrypted, that is a sign that you should consider forming new habits if you do not have a back-up of your lost file yet. The Pulply ransomware has been found to remove itself after completing encryption, and in this particular incident, all that you could do is to take some preventative measures so that a new ransomware infection does not affect your computer in the near future.
When the Pulpy ransomware encodes a file, the file gets the extension .aes next to the existing one. Additionally, the file Instructions.txt is created in the folder containing the encrypted files. According to the warning of the Pulpy ransomware, you have to contact someone responsible for the encryption malware via email at pulpy2@cock.li. If the email address in your ransom warning is pulpy@protonmaail.ch, that means that you have another variant of the infection. The Pulpy ransomware is very similar to the Rapid ransomware which is also known as two similar variants displaying its ransom notes in notepad files containing only a short notification saying that that the user's data has been encrypted and that the email address given should be used to contact someone for more information about further steps towards file decryption.
The Pulpy ransomware does not encrypt all possible file formats; moreover, it bypasses certain directories, including Program Files, Windows, Program Data, AppData and a few others. As for the files skipped by the Pulpy ransomware, it does not encrypt files with the extensions .dat, .SYS, .rtp, .mod, .ocx, to mention just a few.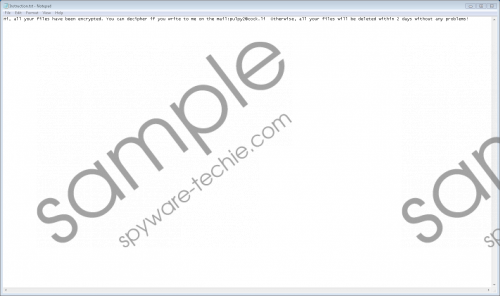 Pulpy Ransomware screenshot
Scroll down for full removal instructions
In order to prevent the infiltration of ransomware or any other threat, which would probably result in your urge to remove the threat immediately until no more damage is caused, you should pay more attention to your online security. Every computer that has no security program can fall victim to malware. Anti-malware software aside, it is critical to be careful with spam emails which are one of the major methods of ransomware distribution. Ransomware is usually attached to the email and presented as some important document. The victim inadvertently initiates the installation of the threat by downloading or launching the file attached, so, if you do not want your computer to be affected by malware or ransomware, beware of this types of malware distribution. Additionally, it is advisable to avoid browsing advertising-supported websites, including software sharing websites, online gaming websites, dating websites, and other unreliable service providers that could display deceptive advertisements or deceive you into downloaded some software. Malware, including ransomware, is also spread by pop-up advertisements displayed by adware. If you encounter pop-ups offering you some questionable services or activities, or you find suggestions to check the security status of your operating system, do not click on the ad so that you do not land on some harmful website.
Since the Pulpy ransomware terminates itself once the encryption process is done, all that you can do now is remove its ransom notes left on your computer. The fact that the Pulpy ransomware has tampered with your files suggest that your OS is not protected against malware, and, even though the ransomware might not be present on the PC, you could scan it to make sure that no other destructive programs are running in the background on the system. To do so, we recommend using the software available below. If you have any questions, our team is ready to help you, just leave a comment below.
In non-techie terms:
The Pulpy ransomware is a destructive infection that encrypts files and creates a ransom note in every effected directory. The infection skips given folders and file extensions and removes itself from the computer after encrypting your data. To prevent similar incidents in the future, shield your PC against malware and spyware threats, which could attack you at any time soon after you connect to the Internet.