Do you know what Protectium is?
Protectium is an Internet browser based on the Chromium platform, which was used to create Google Chrome. Due to the fact that Protectium is very similar to the famous Internet browser, a lot of users get confused when they find that some changes are made on their computers. There are some other programs similar to Protectium, including BoBrowser and CrossBrowser, which are developed by CLARALABSOFTWARE and bundled with third-party programs. The two programs based on Chromium fall into the category of potentially unwanted programs, and Protectium is no exception. Protectium is also a potentially unwanted program, and, if you have no intention of using it, remove it from the PC as soon as you can.
Protectium may seem to be useful and reliable, especially if you find its official website, which is protectium.com. However, this website is not the only source of the program. Moreover, the official website does not prove that you will use the program advertised safely.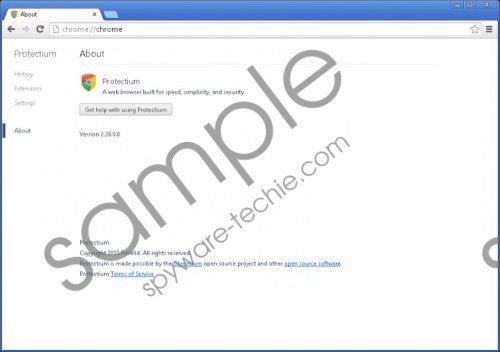 Protectium screenshot
Scroll down for full removal instructions
Protectium, as well as the programs mentioned, can be bundled with system optimization programs, adware programs, which are usually installed as browser add-ons, and some other programs. For example, it may be bundled with SpeedChecer, MySafeProxy, and MyPC Backup, all of which add little functionality to your operating system. Hence, it is highly advisable to pay close attention to every offer provided by the installation wizard.
Additionally, it is important to mention that the Protectum browser deletes the desktop shortcut of Google Chrome and replaces it with its own shortcut. On top of that, Protectium makes itself the default browser.
In order to restore your former settings, you should remove Protectium from the computer and create new shortcuts. Regarding the removal of Protectium, we recommend that you rely on a powerful malware and spyware removal tool. Protectium is just a potentially unwanted program, but, if you do not remember installing it, it is plausible that your operating system contains some other unreliable programs. A security tool that can identify malware, fake anti-virus programs, browser hijackers, and other malicious program is all that you need at the moment, and we recommend that you install SpyHunter. This program easily terminates unreliable programs and safeguards the system against new malware attacks.
In case you are determined to remove Protectium from the computer, use the following removal instructions. But bear in mind that, after removing the unwanted program, you should shield the system against malware and spyware threats.
How to uninstall Protectium
Windows Vista and Windows 7
Click Start.
Select Control Panel.
Click the Uninstall a program option.
Remove Protectium.
Windows XP
Click Start.
Select the Control Panel option.
Click Add or Remove Programs and uninstall the unwanted application.
Windows 8 and Windows 8.1
Press Win+R and enter control panel.
Click OK.
Select Uninstall a program.
Remove the unwanted application.
In non-techie terms:
Protectium is a browser distributed alongside unreliable computer programs. If you are not satisfied with the changes made on your computer, remove Protectium right now. Below you will find instructions that will help you install our recommended scanner, which you can upgrade to its full version at any time. If you have any questions, feel free to contact us.