Do you know what Protected Ransomware is?
Undoubtedly, Protected Ransomware is a malicious application that was created for only one purpose, and that is to extort money from you. This infection installs itself without user's permission and encrypts all files that have value to the user, e.g. various documents, photographs, video clips, and so on. If this ransomware infected your computer too, we advise you not to make rash decisions. Cyber criminals who developed the malware promise to restore your data once you pay, but the truth is that there are no guarantees. You should evaluate encrypted data and remember if you have any copies of it on removable media devices or another computer. If you think that paying the ransom is out of the question, you should delete Protected Ransomware with the instructions provided below the article.
Most likely, the malware is spread through Spam emails that carry malicious attachments. Unfortunately, users often risk their computer's security to satisfy their curiosity as they open suspicious files that come from unfamiliar sources. Once you launch an infected file, there is no coming back. Ransomware applications are hard to notice because they silently encrypt your data and only later you are informed about their presence. If this is how Protected Ransomware entered your system, you should be more careful next time. Perhaps, it is a time to consider getting an antimalware tool as well.
The malware may encrypt many different file types, so the chances that some part of your personal data might be spared are quite slim. Files that have been locked by the ransomware should have additional .protected extension, so you can quickly identify the affected data. What's more, the infection should also leave an HTML file called "HOW_TO_RESTORE_YOUR_DATA.html," which can be viewed in any browser. Every folder that contains encrypted data should have a copy of this file. If you open it, you will see a note from the malware's developers. It says that "Decrypting of your files is only possible with the help of the private key and the decription tool, which is available for a small fee."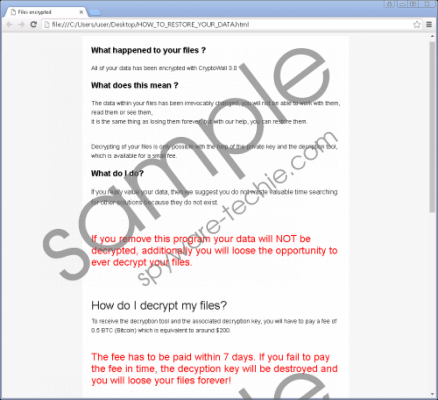 Protected Ransomware screenshot
Scroll down for full removal instructions
Apparently, whoever created Protected Ransomware demands you to pay them 0.5 Bitcoins. At the moment, this sum would be around 230 US dollars and compared to other similar infections it is not that small. Also, according to the note, users have only seven days to make up their minds or else the decryption key will be destroyed. The note's purpose is not only to scare users but also to convince them that cyber criminals behind this malware can help you. However, you should be aware that they might be giving you empty promises. After all, their goal is to extort money from you and what happens to your data is not their concern.
If you do not want to give your money away to cyber criminals, you can delete the malicious program from your system. After that, you can transfer copies of your files from external storage devices if you made them before the malware encrypted your data. Sadly, computer specialists still do not know how to remove Protected Ransomware manually. That is why the instructions below will show you how to get a legitimate antimalware tool and use it to eliminate the ransomware. If you keep this tool updated it should help you avoid similar infections or other malware in the future.
Delete Protected Ransomware
Launch your browser.
Copy and paste the following link into the address bar: www.spyware-techie.com/download-sph
Download and install the antimalware tool.
Launch the SpyHunter and do a system scan.
Wait till scanning is over and click Fix Threats.
In non-techie terms:
If Protected Ransomware locked your files, there is not much you can do. Even if you make the payment, you might not receive the decryption key. The ransomware is still rather new, and that is why we can offer you only an automatic removal with a security tool. It cannot unlock your data, but it can clean your system from malware. As for the future, we advise you to back up your files as often as possible. At least make copies of data that is irreplaceable to you. Also, do not forget to update your security tool, or it might not be able to fight the newest threats.