Do you know what Private Search Plus is?
Private Search Plus is a very suspicious extension that appears to be tangled in a web of various suspicious applications, services, and privacy policies. At the moment, you can download this add-on from chrome.google.com/webstore/detail/private-search-plus/eobfmappnlklkpjkfjodjceecmlgnall, where the link at the top routes to gamesshop.co.in. However, if you go to this page, the installer is represented via chrome.google.com/webstore/detail/gogamego/bfcapcappajoppmnagjcpnbdmphlbgme. This page represents an entirely different add-on called "GoGameGo." Needless to say, we do not recommend installing either of these extensions, and if you do not understand why, you should read this report. If you have already installed them, you should delete them. Do not worry if you have no clue how to get rid of unwanted extensions because the guide below is very easy to follow. Even if you cannot wait to remove Private Search Plus, we suggest reading the report first.
When installing the suspicious Private Search Plus, you might find information indicating that this add-on allows surfing the web without having your history and personal data tracked. Once you install it, a tab is added at the top, and when you click it, a window pops up representing myprivatesearch.com. Should you trust this search engine? Our research team is very skeptical about this, especially considering that the website that supposedly introduces the users to it is actually representing something else. The GoGameGo extension is just as suspicious. While it is stated that it was created by APN, LLC, the Privacy Policy link at the bottom of the page redirects to thewhizltd.com/privacy (by The Whiz, Ltd.). According to the statement, the extension can record and share personal information, as well as allow third parties to spy on you using their own technologies. To top it off, GoGamesGo, hijacks the New Tab to introduce the user to Yoto Search (yotosearch.com) that is "powered by Google Custom Search" and can showcase sponsored content.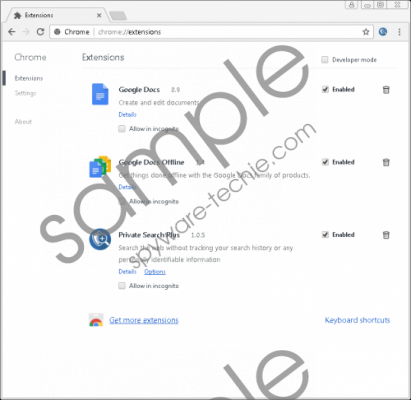 Private Search Plus screenshot
Scroll down for full removal instructions
Although myprivatesearch.com allegedly can help you browse the web safer and quicker, it is not as great as it might appear to be at first. If you go to the "About" section, you are informed that this search engine uses Google and Bing to deliver search results. Unfortunately, it appears that Private Search Plus might be used to showcase unreliable search results after exploiting reputable search engines. Its services are questionable as well. First of all, all reliable web browsers have built-in private searches, using which your browsing history is not recorded. Second, reliable services do not track personal data for malicious purposes anyway, and so Private Search Plus is not all that useful. In fact, the chances are that this add-on was created to record information and to enable third parties to showcase their offers via the search results. Due to these reasons, we strongly recommend deleting the suspicious extension immediately.
Whether you are facing Private Search Plus or GoGameGo, we recommend deleting it from your browser as soon as possible. At the time of research, these extensions were compatible with Google Chrome only, and so the guide below shows how to get rid of unwanted add-ons from this browser. If you are having issues with manual removal, do not hesitate to leave a comment below, and we will assist you. Of course, you should consider using anti-malware software as well, especially if other threats are active. Since third-party installers could have been used, you might find that you need to delete Private Search Plus along with other suspicious programs.
Remove Private Search Plus
Open Google Chrome.
Tap keys Alt+F to open the Chrome menu.
Select More tools and click Extensions.
Click the trash button next to unwanted add-on.
Select Remove and then restart the browser.
In non-techie terms:
Private Search Plus is a Chrome extension that does not offer highly beneficial services, and, therefore, is classified as a potentially unwanted program. This PUP might look great, but, in reality, it is pretty worthless. In case you have downloaded it along with malicious infections, you need to eliminate them as well. The guide above shows how to delete Private Search Plus manually, but we advise employing anti-malware software in case more unreliable programs are active because it can erase all of them at the same time. If you need help or you want to discuss something regarding the threats active on your operating system, do not hesitate to start a discussion in the comments section.