Do you know what Privacy Dr is?
Privacy Dr is one of those hardly useful applications that have gimmicky features that only appear helpful to the average user. Our security experts have classified this program as potentially unwanted and suggest removing it. They tested this application and have come to the conclusion that it is unreliable and not worth the 39 dollar price tag. If you are unsure whether you should purchase this application, then the short answer is — no, but if you are not convinced, then we invite you to read this whole article. In it, we will tell you everything you need to know about this program, so, without further ado, let us begin.
Privacy Dr is not the first or the last program of its kind. Previously, we analyzed programs such as PC Accelerate Pro, JunkSweeper, Clean PC Master, and PC Clean Plus that also offer less than useful services, but are set to convince users that they are the next best thing since sliced bread. The first thing our researchers checked was who made Privacy Dr. Apparently, no one because its main website at Privacydr.com does not indicate the name of the company that created or published it. However, that is not the only issue plaguing this program.
This program has two known distribution methods. The first one is its main website at Privacydr.com that hosts Privacy Dr's standalone installer. However, our researchers say that it is also being bundled with malicious software installers hosted on shady freeware sites. These bundles are set to install it by default, so you will have to deselect its installation by opting for advanced installation settings. However, some installers might not give you this opportunity and install it without your permission. Now that we know a bit about this program's origins, or lack thereof, and distribution methods, let us point our attention to how this program works.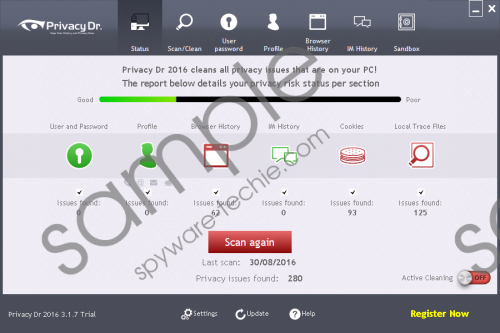 Privacy Dr screenshot
Scroll down for full removal instructions
It is rather odd that this application assesses your privacy standing prior to scanning the computer. So, if the privacy is rated as poor, then even even bother scanning the PC? Regardless, once the scan is complete, a female voice will point out the obvious: that your privacy is not in good standing. However, if you click Clean all, the program will present you with a window that states that you have to need to register your version. This arguably useful application costs 39 USD, but it can also come with a combo featuring Registry Dr for 59 USD.
The bottom line is that this application is set to delete browsing history, cookies and other browsing-related information on the grounds that your privacy is somehow under threat from them. The fact of the matter is that nothing that this program removes can pose a real threat to your personal security. Yes, browser cookies store some information, but it is of non-personal nature. Also, this program is set to scan for passwords and logged in profiles, but do you really want it to log you out and force you to reenter your passwords that you saved specifically so that you would not need to enter them.
Furthermore, our security experts say that Privacy Dr can be configured to show commercial advertisements while you browse the Internet, but at the time of our research it did not display any ads. In conclusion, this application offers nothing that your web browser could not do, so we do not recommend keeping it. You may also find this program to be intrusive because you cannot close it when clicking the Close button. Clearly, this is not a mark of a reliable application. To terminate this program, you have to go to Task Manager, select processes, find Privacy Dr and right-click it and click End Task.
After terminating Privacy Dr's process, you can proceed to uninstall it via Control Panel. Please refer to our manual removal guide for more information. Even though this application is not malicious, we still do not recommend that you trust it or purchase it for that matter because it is set to make money and not provide you with a reliable service. Do not be fooled by cleverly crafted advertising and do not hesitate to get rid of it.
Uninstall this program from Control Panel
Windows 10
Right-click the Start menu.
Go to Programs and Features.
Find the application.
Double-click it and click Uninstall.
Windows 8/8.1
Press the Windows+R keys.
Type Control Panel and click OK.
Go to Uninstall a program.
Find the application and right-click it.
Click Uninstall.
Windows 7 & Vista
Open the Start menu.
Select Control Panel.
Click Uninstall a program.
Find the program and click Uninstall.
Windows XP
Click Start and go to Control Panel.
Click Add or Remove Programs.
Find the undesirable program and click Remove.
In non-techie terms:
Privacy Dr only appears as a unique application dedicated specifically to protecting your personal privacy. However, it does not of that and is set to delete trivial browsing-related data such as saved online passwords and logins, browser cookies, browsing history, and so on. Therefore, this program is not worth the money, so feel free to Uninstall it whenever you are ready.