Do you know what Price-hipo is?
If you are looking for an application to save you money and time while you are shopping online, we must tell you that Price-hipo is not the program to use. Even though it is advertised as a tool that should do exactly that, in reality it will not do anything like that. Price-hipo is just another adware program that will make browsing the web an annoying and frustrating process to say the least. Do not trust anything that this invasive adware program as all the ads are worthless and in some cases could turn out to be malicious. Removal of Price-hipo is necessary if you are a security conscious user. Malware experts at Spyware-Techie.com have crafted a comprehensive removal guide that you can use in order to delete Price-hipo once and for all.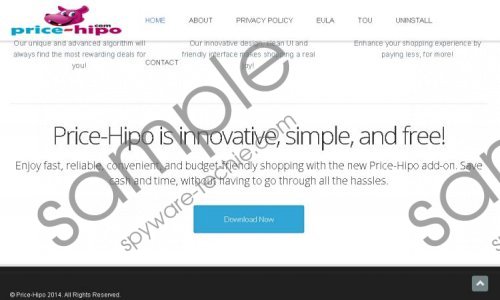 Price-hipo screenshot
Scroll down for full removal instructions
Most users report that they have not consciously installed Price-hipo onto their system. This is not at all surprising, as the direct link on the official website is down; thus, it is safe to assume that Price-hipo is spread in a way like other adware programs. It is no secret that the most popular way to distribute Price-hipo and other adware programs is via software bundles. In order to reduce the risk of getting your PC infected in this manner you should implement a reliable malware detection and removal tool, as it will provide overall security of your system at all times.
Just after gaining access into your system, Price-hipo will affect your web browser. Numerous third-party commercial adverts and annoying pop-ups will flood your browser and make using the Internet a miserable task. You will be more concerned about closing all the adverts than anything else as long as Price-hipo is active on your PC. In addition to being annoying, the adverts provided by Price-hipo could turn out to be malicious in some cases. For example, you could come across an advert that contains a redirect link, and clicking on such an ad could redirect you to a suspicious website promoting malware. Remove Price-hipo if you want your browser to function the way it used to and to keep your operating system safe and secure.
Use the removal guide provided below way you will delete Price-hipo in an easy and timely manner. Keep in mind that sometimes traces of the infection could still be active on your PC even if the manual removal was executed successfully and even if the invasive activity stopped. Conduct an in-depth analysis of your PC for potential leftovers and delete them all if you come across any.
How to remove Price-hipo from your operating system
How to remove Price-hipo from Windows Vista and Windows 7
Click the Windows button.
Select Control Panel.
Click Uninstall a program.
Remove Price-hipo.
How to remove Price-hipo from Windows XP
Click Start.
Select Control Panel.
Click Add or Remove Programs.
Uninstall Price-hipo.
How to remove Price-hipo from Windows 8
Move the mouse pointer to the lower-left corner of the screen.
Right-click.
Select Control Panel.
Click Uninstall a program.
Remove Price-hipo.
In non-techie terms:
In some cases users might not be confident enough to execute manual removal by themselves. If you are one of those users, please follow the instructions provided below. This is an alternative method, which will remove Price-hipo automatically.