Do you know what PresidentialBuzz Toolbar is?
PresidentialBuzz Toolbar is another Mindspark Interactive Network Inc. toolbar presented as extremely beneficial software. Users are told that this piece of software will help them to find out what the president is saying, access the latest news, and "search for more news and briefings." Because of this, some people consciously install this application on their computers. Some of them find it useful, whereas others get disappointed with it and thus decide to remove it. If you belong to the latter group of people, remove PresidentialBuzz Toolbar today without further consideration. You should get rid of it if you have found it installed on your PC without your knowledge too. This program is just a potentially unwanted application, so its removal should not be problematic at all. Continue reading to find more about its manual removal.
PresidentialBuzz Toolbar is far from harmful malicious software, but some users still find its presence undesirable because it applies changes to Mozilla Firefox, Internet Explorer, and Google Chrome browsers once installed on the system. Without a doubt, not all users read its description carefully before clicking the Download button, so the changes they find applied to their browsers is quite a surprise for them. Users who find PresidentialBuzz Toolbar installed on their systems without their permission do not know anything about the appearance of a new page as well. Yes, this browser plugin sets a new page on all users' browsers. It looks like an ordinary search tool with a bar consisting of NBC News, USA Today, Politico, Facebook, and several other quick-access buttons that open third-party services. While some users find this feature useful, specialists say that this page has one significant drawback too. It has turned out that the promoted search engine hp.myway.com might show some modified search results since it is powered by the modified Google search engine. The main problem with these modified search results is that they might take users to websites that do not contain what they are searching for. In other words, they only drive traffic to certain websites they promote. If you know nothing about the appearance of this page on your web browsers, you should get rid of it today. To make it gone, you will need to delete PresidentialBuzz Toolbar fully from your computer.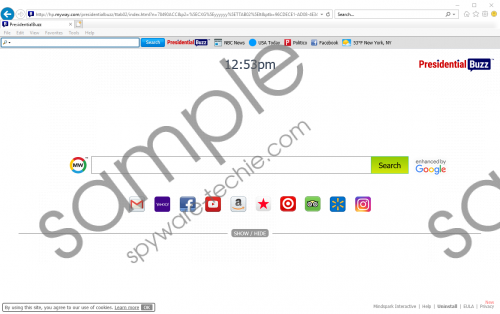 PresidentialBuzz Toolbar screenshot
Scroll down for full removal instructions
There is one more thing you need to know about PresidentialBuzz Toolbar if you decide to keep it. The analysis of its Privacy Policy document has shown that it records various details about users, meaning that it will gather data about you too as long as you keep it installed. It records all details users provide consciously: "We may collect and store any information you provide when using the MS Services or that you provide in some other manner." Also, it might record some information automatically. The automatically-captured information consists of the following details: IP address, browser type and language, browser-related information, the content of undeleted cookies, etc. Mindspark Interactive Network, Inc. will not keep the recorded information to itself. As mentioned in the Privacy Policy document, all these recorded details might be shared with authorized service providers, advertisers, ad networks, business partners, etc. We know nothing about these third parties, so we cannot promise that they will treat those collected details with respect.
You need to remove PresidentialBuzz Toolbar from your computer today if you know nothing about its installation and, additionally, do not like the page set on your web browser. It will be a piece of cake to remove it if you use Internet Explorer. In this case, you will simply need to find the entry of PresidentialBuzz Toolbar in Control Panel and then delete it normally. If you are a user of Mozilla Firefox or Google Chrome, you will need to remove the extension representing this application from these browsers. If you have never done that before, our manual removal guide will help you.
How to delete PresidentialBuzz Toolbar
Internet Explorer
Windows XP
Click Start.
Select Control Panel and click Add or Remove Programs.
Select PresidentialBuzz Toolbar and click Remove.
Windows 7/Vista/8/8.1/10
Press Win+R.
Insert Control Panel in the box and click OK.
Click Uninstall a program.
Select PresidentialBuzz Toolbar.
Click Uninstall.
Mozilla Firefox
Open Mozilla Firefox.
Tap Ctrl+Shift+A simultaneously.
Locate the PresidentialBuzz Toolbar extension.
Click Remove.
Google Chrome
Launch Google Chrome.
Press Alt+F.
Click More tools.
Click Extensions.
Select PresidentialBuzz Toolbar.
Click Remove and then confirm the removal.
In non-techie terms:
PresidentialBuzz Toolbar is a new Mindspark Interactive Network, Inc. creation. Once it is installed on users' computers, it sets a page containing quick-access buttons and a search box. Since it is set in the place of the default homepage, many users find its presence undesirable. Also, it has been observed that the promoted search tool might show some modified search results, which is quite a drawback.